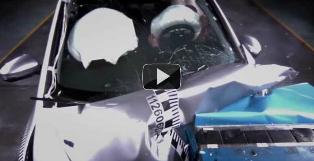 2012 Honda Civic's crash test safety video released
The 2012 Honda Civic might not be actually a pretty car but it is definitely high on technological advancements.
Most important new cars receive a five-star Euro NCAP crash rating nowadays, which means that automotive producers have to make special marketing efforts in order to make their vehicles stand out in the crowd from this point of view.
Civic with its new ACE (Advanced Compatibility Engineering) chassis, Side curtain airbags, and the auto braking system which will slow down your vehicle if you do not slow it down yourself if you come to close to the vehicle in front of you and also it will automatically pretension your seat belts.
Honda has released a video giving us a complete tour of the new Euro Civic's safety features which are truly remarkable. The official crash test results of the vehicle haven't been released yet, but Honda has many ways of sending its message to us.
"Honda has a high-tech crash test facility in Tochigi, Japan. There we were able to crash the new Civic into vehicles of different sizes and at different angles and speeds. We wanted to make sure that we are offering the best 'real world' safety for our customers," said Mitsuru Kariya, the man in charge of the new Civic's development.
Let's just hope that we get 1% of the safety features rest of the world will get.