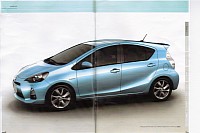 Brochure of the next Toyota Prius C leaked
Internet helped in getting the GT-R the fame none of the cars in its league has ever had before, all the teasers etc were released to the internet to build hype for the cheapest supercar. The internet helped it sincerely and generously however, there are always two sides of a coin, while the internet has helped some car companies in a positive way others in negative, for instance, brochure of the next generation Toyota Prius C was released to the internet by anonymous or it maybe by Toyota to check out the response.
It's the new Toyota Prius C, a model that made its debut in concept form early this year, and has now been revealed in production spec, due to some leaked brochure scans that have fallen in the hands of Carscoop from a Japanese source.
The car looks nothing like the concept that was revealed by Toyota earlier, and offers plenty of uncharacteristically sporty lines for a Toyota hybrid. The bad news is that it looks like the interior has been built to a budged, though that might actually benefit the customers looking to pick up a more affordable hybrid.
The smallest Prius yet is 3,995mm (157.3-inches) long and has a wheelbase of 2,550mm (100.4-inches).
According to the brochure scan, the hybrid drivetrain centers around a 1.4-liter gasoline engine with 74 hp and 111Nm (81.9 lb-ft) of torque. This is coupled with an electric motor that produces 61-horses and 169Nm (125 lb-ft) with the combined output of 100 hp is directed to the front wheels via a CVT while on de combined Japanese test cycle, the Prius C got 35.4 km/lt, which is equal to 83.3 mpg US or 2.8 l/100km.
This new Prius is quite alike the new Yaris when the both are compared through their sides, also reflecting Toyota's new design language of being 'Emotional'. The debut of the Prius C will take place at the 2011 Tokyo Motor Show in December, and the US version will be shown in January at the Detroit Motor Show.