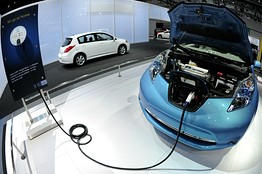 Chinese and Japanese companies to introduce Electric Vehicles in Pakistan coming Thursday
An avid Pakwheels member broke this news to us about plans of Chinese and Japanese automakers are about to introduce electric vehicles in Pakistan on 20th of October, 2011 which roughly means that we are just one day from the big reveal that will take place at Expo Center, Karachi.
The Expo is quite large and is open to only legitimate buyers which means that you and I aren't allowed to attend however, the last two days of the exhibition will open for general public.
Some 450 international buyers are expected at the Expo and news reveals that 250 out of those 450 have already bought the tickets to Pakistan as well.
The press release further states that Chinese and Japanese will introduce cars and scooters which run on electricity. Moreover, they will also be revealing solar technology.
Meanwhile, we have electricity as well as car crisis and for the beginning, why don't these companies first aim to solve the car's crisis by giving the people new options and than proceed towards EV.