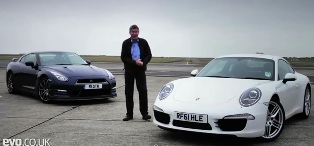 2012 Nissan GT-R vs 2012 Porsche 911 Carrera S on a track
We all know about the melodrama that took place back when Nissan was preparing the supercar beating GT-R. It got Porsche worried as 911 Carrera S's timing on the Nurburgring were challenged and defeated which led to a war between automakers.
The war got us enthusiasts quite spectacular results as both automakers didn't accepted defeat and went back to the factory to build even better, even faster, even more terrifying track experience a car can provide.
Former F1 driver and Top Gear presenter, Tiff Needel takes both the cars on the track to see which is better, faster, more agile, and even a better driver's car even though we all and even Tiff admires manuals more than paddle-shifters but you can't rule out the addictive GT-R's performance with all those gadgetry.
Watch the video to know who wins.