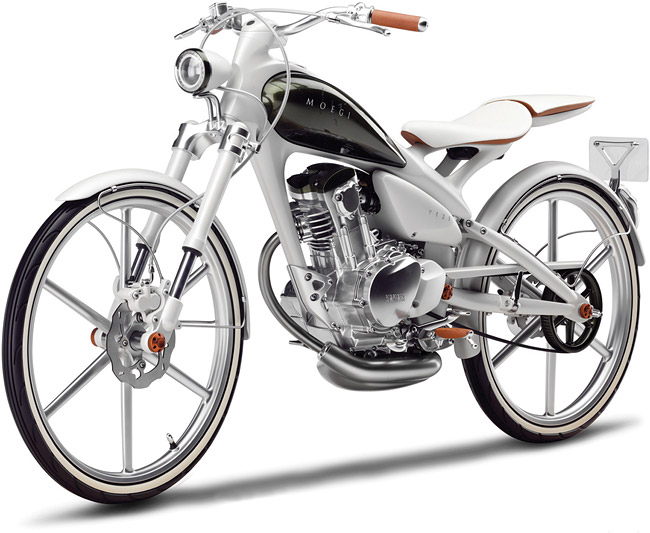 Yamaha Y125 Moegi Concept will do 80 KMs per liter
When it comes to motorcycles, we Pakistanis have been very reluctant to change in the motorcycle industry which is why, we still have 4-5 decades old designs on sale and advertised with new and exciting vinyls on the petrol tank.
The world has however moved over and newer technologies have enabled to achieve greater mileage and performance from engines but we're reluctant to accept those engines as well even though their reliability, mileage and performance is far superior than what we currently have.
For example; the new imported Toyota Surf has many engines to offer but the one with smaller engine, the 3 liter D4D engine doesn't have the same – better mileage as the 3.4 liter V6 engine.
One such breakthrough concept is the Yamaha Y125 Moegi Concept which is advertised to give 188 Miles per gallon which means 80 kilometer to a liter. The motorcycle though, with those tiny wheels looks pretty skinny for our roads but Yamaha has created an ultimate weight saving, economical motorcycle in wake of the whole green movement.
Weighing in at a mere 176 pounds due to its 90 percent aluminum frame, made lighter due to Yamaha's proprietary process that reduces air bubbles in the construction allowing for both rigidity and thinner materials that are 30 percent lighter. The Moegi is essentially, an ultra-light, ultra fuel efficient motorcycle (powered by a single cylinder four-stroke 125cc engine). Potentially capable of 50 mph and a mindboggling 188 miles per gallon, this can be just the new workhorse if Pak Government's deal with Yamaha ever materializes.