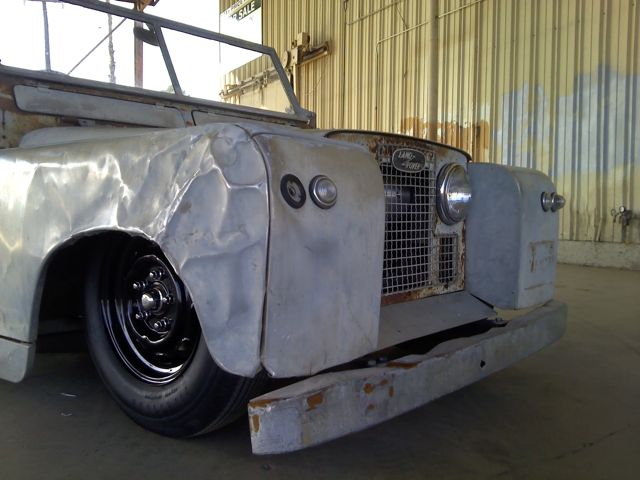 Is this the best way to ruin a Land Rover with a VW Beetle engine?
To the Land Rover enthusiast, this is an abomination when they catch the first glimpse of this 1962 Land Rover series 2 however, there's more to it than meets the eye.
This custom built vehicle is not a Land Rover actually, in fact, it isn't anything as this is a custom chassy, with a VW Beetle engine and transmission and the worst part probably is that it is rocking a Land Rover Series 2 body.
The custom chassis was especially built to allow the makers to slam it to the ground and make it look like a rat-rod as it is the newest scene in car customization arena.
So this may not be the a sacrilege after all in the eyes of the Land Rover enthusiasts now that we know everything about this turkey-curry.
Here's what the seller had to say about the vehicle:
Custom 2*4 1/8 wall tube chassis with bolt in Type 3 rear torsion housing.
Hydraulic clutch and brake using stock rover pedal assembly.
RHD rack and pinion steering with stock Rover steering wheel and fabbed column.
KYB shocks.
4″ narrowed/adjustable ball joint Beetle front axle with 2.5 inch dropped spindles.
Swing axle "pro street" Rancho trans with close ratio 1st and 2nd. Heavy duty axles.
Porsche pattern 4 wheel disc brakes.
1600cc with stock carb.
Spun aluminum fuel cell.
Porsche 911 Steel wheels powdered gloss black. Current Rear tires are 29″ Military spec knobbies. Fronts are 27″ Vintage Firstone street tires.
Vented engine compartment with hinged bed lid.
Very reliable and plenty fast.
All new wiring with Generator and oil light.
Gauges are "props"
Custom bench seat and door panels wrapped in NOS vintage "snakeskin" look heavy duty vinyl.
Current reg. and California title.
Comes with roof and door glass.
You can check out the website where it's for sale here. [link]