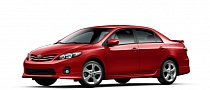 2013 Toyota Corolla for the U.S. gets…..umm, a new grille
A Corolla, made for any part of the world bears a very special place in Pakistan, people are always interested in it for some reason even though it has not been completely faithful to our love and support as it has been consistently trying to get out of our reach, trying to run away from us and yet Pakistanis will follow, this time, we've followed it to U.S. where it has gotten some new updates.
In top three of the best selling cars around the world comes two Toyota, the top position is held by Prius while the third is held by Corolla and while Toyota is talking about redesigning the whole Prius, Corolla has been updated in the U.S..
A new chrome accented grille and a premium package is all that shall be offered in the updates.
The chrome accented grille though can be very popular with Pakistani consumers/buyers as they have a thing for that's gaudy and chrome.
The update info apart from that grille is as follows:
Three trim lines are available for the Corolla: L, LE, and S. A 6.1-inch touch screen is now standard equipment on the LE and S trim lines, along with six-speaker stereo, USB port with iPod hookup, Bluetooth hands-free phone capability, and automatic sound leveling that adjusts for outside noise. The system also comes equipped with an auxiliary input jack.

The S and LE models are both now available with three different options configurations: the premium, premium interior or premium complete packages. The premium package offers 17-inch (16-inch on LE models) 5-spoke alloy wheels, and a power tilt/slide moonroof with sliding sunshade. The interior premium package includes automatic climate control, automatic halogen headlights with black sport trim, and a leather-wrapped steering wheel with audio controls.