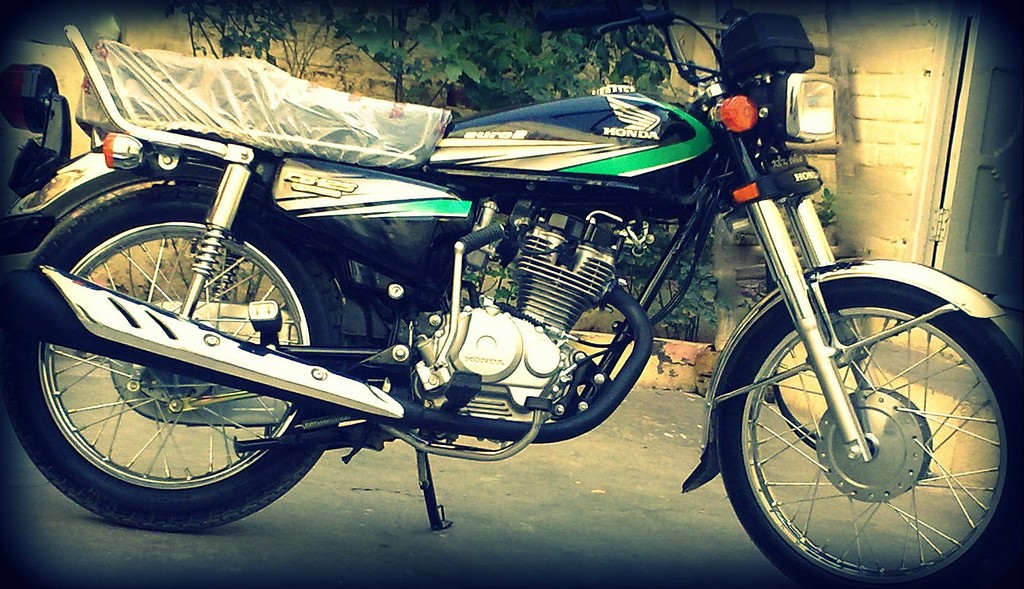 5 Reasons Why Honda 125 Has Not Been Replaced in Pakistan
Honda CG125-it's not a motorcycle, rather it has become the very personification of Pakistani Consumer. And it is very unlikely that we will be seeing a new improvement very soon.
Many of you might argue, that what I just presented as my hypothesis for this article is very bold, but bear with me and allow me justify my statement.

Atlas Honda; Pakistan's biggest motorcycle manufacturer announced lately that it is going to invest more around US$100 million, to increase the production capability of their plant at Sheikhupura. Apparently, the expansion phase was announced to be three years long. And it would be aimed to double the production capacity of their plant. It should be noted that Atlas Honda will be aiming to increase their production capacity to 1.2 million units.
Once again, I refer back to what the CEO of Atlas Honda said at the announcement of company's plans to expand the production capacity:
Given an improved outlook for the economy, the company foresees the demand of motorcycles to rise steadily. With a youthful population and fast changing customer sentiments, the company is excited about the growth opportunities and intends to further expand its model line-up. With a continued focus on quality, technology and localization, the company aims to deliver even greater value.
So, now that the stage is set, following are the reasons on which, I formulated my theory about Atlas Honda representing Pakistani consumer and not changing the CG125 for a long time
#1: Bike Design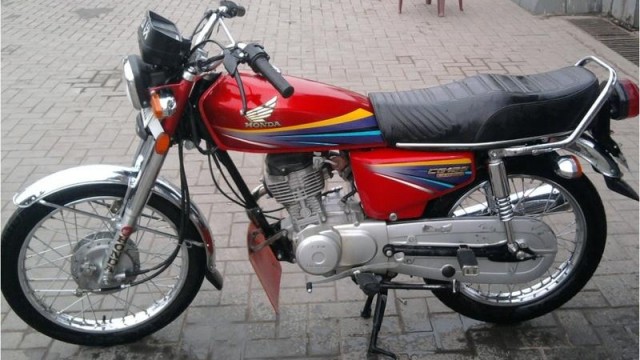 This thing is loud, it is simple and it performs in almost every weather condition and terrain. If you ask any fanboy of this bike about their favorite feature, they will instantly rate its sound as the best feature. Couple that with its simple and straight lined design, which gives it the benefit of overloading; that a lot Pakistanis do, because they prefer using it as a family saloon. But my personal critique aside, this bike has been endorsed on multiple levels in our community due to its ability to bear pressure, load, and work without maintenance over an extended period of time.
Furthermore, due to its low signature on the road, less weight and good pick-up speed; it is a very good machine to lane split and quickly get out of traffic situations.
#2: Engine
I will go ahead admit that the four-decade old engine is brilliantly designed. It can continue to perform on just ¼ of the engine oil level. More importantly, this bike does not have any fancy gadgets, and it produces vibrations on high-revs, basically this bike is the epitome of naked-style motorcycles. But, where modern bikes come with a lot of safety and ride comfort features, this bike (CG125) is just a pre-historic motorbike as compared to a lot of new models being offered internationally.
#3: Maintenance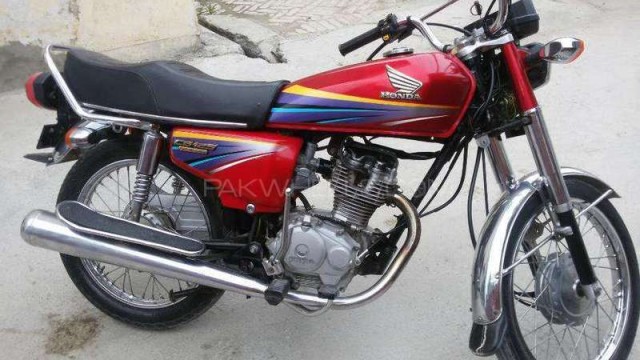 As I mentioned before, this motorbike does not have any fancy stuff on it, which can fall off or needs replacing time and again. It is very simple to maintain and understand. And since our local mechanics are unfortunately uneducated and under-privileged, they understand and appreciate simple things; which is partly responsible for this bike's notoriously high resale value (Because majority of the mechanic can address to its problems). Furthermore, its electrical system does not need a battery to stay alive, it relays directly on available current produced by the engine's own stator.
#4: High Sales Figures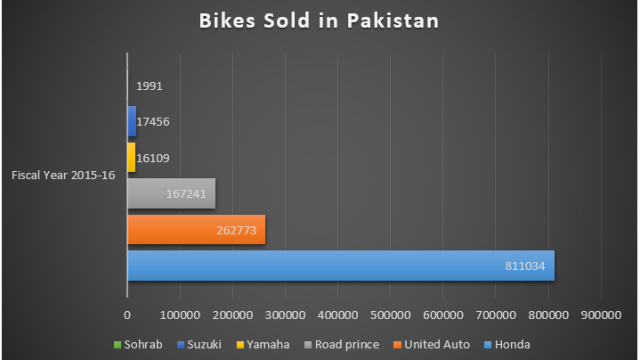 This is where, it gets really simple and frustrating for a lot of people (including me). A lot of Pakistanis understand, what this 40-years-old bike brings, but they continue to buy it. Moreover, the fault does not lie on them alone, the lack of timely changes in the automobile manufacturing policies and no interest to promote competition by the various Governments in the market, leads to monopolizing the already stagnating market.
According to PAMA statistics, the company has managed to sell 811,034 units in the Fiscal Year 2015-16, as compared to 653,193 units in the Fiscal Year 2014-15. And then, there is the resale value, which is partly due to company's huge dealership network, readily available mechanic, availability and economical parts; this bike really, is the hot favorite of Pakistani consumers.
#5: Lack of Competition
Globally, auto-industry has a trend of not striving to implement new features in their cars, until the Governments pressurize them. We have the example of Takata airbags killing passengers in different countries of the world. So considering this attitude, it is nothing surprising that we will not be seeing any massive improvements in the design of CG125 or Atlas Honda's product line-up, until they are forced to let go of their globally obsolete motorbikes. There is a lot of room for improvement in our local market. But the monopoly of one company is not very good.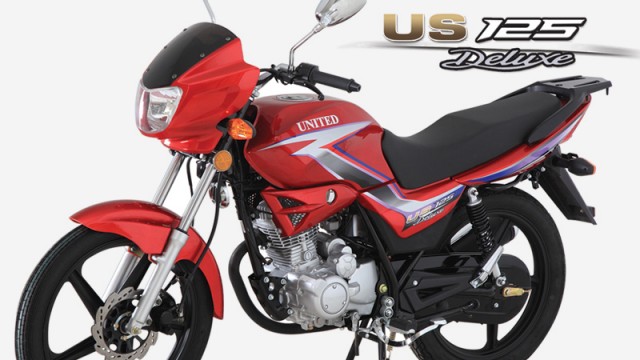 In our local market the closest to a competition Honda faces is from United Autos, which in my opinion isn't much. Because, Atlas sold more than 811,034 bikes in the Fiscal Year 2015-16 and United Auto managed to sale 262,773 units, which is noticeably less than the humongous target achieved by Atlas Honda and let's not forget, Atlas Honda is still in the expansion phase, which will boost their production capacity to 1.2 million motorbikes a year.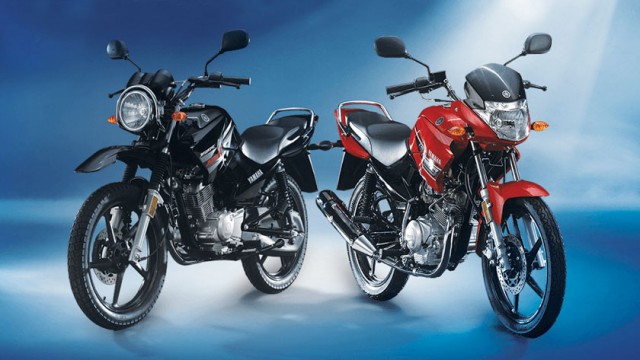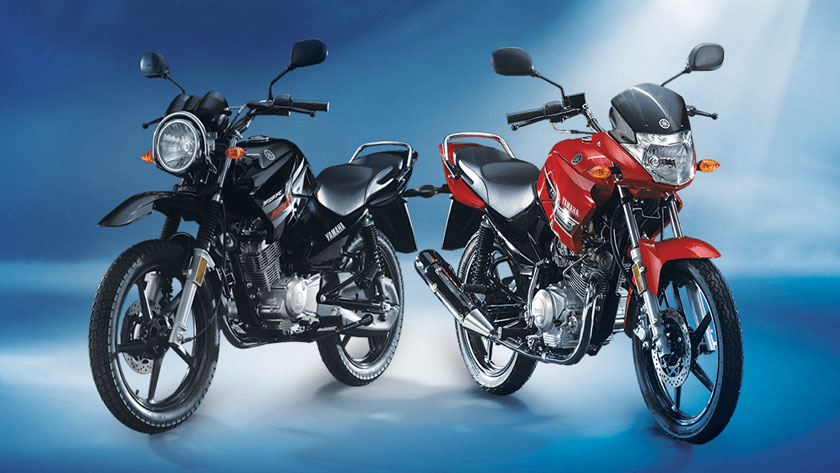 The rest of the competition, however poses very little threat to the big giant of local motorbike industry, in terms of sales figures. Although 'Yamaha' boasts only 16,109 units sold in the Fiscal Year 2015-16, the idea of the introduction of relatively new, modern and economical bikes is the biggest threat. Before the arrival of 'Yamaha' (not DYL), Ravi Piaggo and Hero 125 Chopper were the only alternatives.
Final Thoughts:
Atlas Honda is meeting more than half the demand of motorbikes in Pakistan on its own and in the next year or so, the company is looking to double their production capacity. But the fact still remains that they are going to multiply what they are already producing by 2, which means a very plausible no-no for anything new and we will be witnessing the arrival of Honda bikes with different stickers. Although the investment being poured into Pakistan is always a big welcome, but the need for new and modern bikes should be addressed, as it will appeal to the youth of the country, provide better fuel mileage and engine emissions.
But let's be fair we can't fault any company or organisation to insure the sustenance of its business. I mean, if we are not bothered with what we are buying, then why would they consider changing anything? I believe Pakistanis need to realize that 'Old is Gold' is not good for the environment and fuel economy. And should seriously reconsider the idea of 'New Motorbikes'.
As I mentioned before, Yamaha and Keeway 150 are a breadth of fresh air. But since the Keeway 150 has yet to be delivered and tested on Pakistani roads, I am pretty sure the bike's superior build quality and good looks will manage to sway the interest of many people. However, before the arrival of Yamaha and Keeway, Ravi Piaggo and Hero 125 Chopper were the only alternatives.
And finally as much as we are happy about the investment and its potential economic benefits in Pakistan, it would be really great if Atlas Honda took the initiative to add some 'New' options to its product line-up.
This was an attempt on my part to present some of the supportive arguments on my theory. Do share your feedback on what you think of above mentioned things.