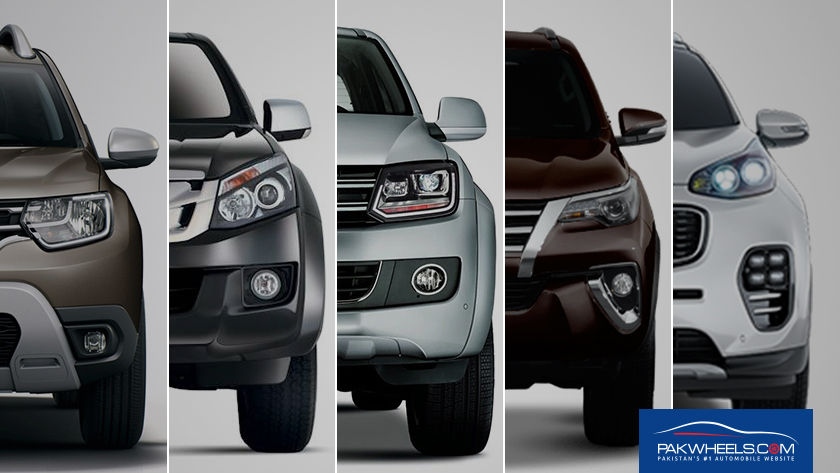 5 Expected Upcoming Pickups and SUVs In Pakistan!
Just about last week I came across a muscular and sparkling new pickup truck parked near Wapda Town Lahore. At first, I wasn't able to recognize it. However, when I saw the rear it clearly had a "Wingle" badge. It was exciting to see a different yet attractive pickup truck other than the common Toyota Hilux. Since it's not confirmed whether it was there for testing or someone imported it for self-use, but the good news is that a number of SUV/Pickups are planned to be launched here in Pakistan as their market still holds strong as many people buy the imported ones at a much higher price than the regular. What new SUV/Pickups are expected in Pakistan? Let's kick things off with the Toyota Fortuner Diesel.
Although the petrol version of the Fortuner is available in Pakistan for a couple of years now, sources claim that Toyota Indus is interested in launching the diesel version of the SUV somewhere next year. While in international market there is a choice between a 2.4L, 2.8L or a 3.0L liter diesel but we are quite positive that Indus motors will release the 2.8L engine instead of the 3.0L. Which is a good thing actually as the 2.8L engine outputs 176HP along with 420N.m of torque at 1400-2600rpm which is more than the other two engines. In comparison, the 2.7L petrol engine is capable of 160hp and 256N.m of torque. This means the diesel version will be able to carry more weight and have the better off-road capability. So if the petrol variant seemed underpowered then there you have it. Things are about to change.
But if you are looking for a proper 7-seater, the Fortuner can get a little crampy in the rear. Also, the diesel engine does come with its inherent noise and vibrations which some do not like.
When it comes to pickup trucks, Volkswagen doesn't really come to mind, but Amarok is a perfectly capable pickup for day to day task of carrying stuff over. Yes, it isn't really designed to match Hilux in terms of off-roading ability nor the toughness but it targets families who are looking for a big vehicle to suit their family needs, and they want to do it in style. Amarok looks not only good but also feels good on the inside. Volkswagen is the parent brand of Audi, so their cars also give a more premium feel in terms of material feel and quality. VW cars also share their platforms with Audi's so there is a strong chance that this pickup might share its platform with the Audi Q5 or Q7 (Volkswagen hasn't disclosed the platform for Amarok. So this is just an assumption). When it comes to engine choices, this pickup comes with three engines. Two 2.0L petrol and one 3.0L diesel. Though the 3.0L V6 diesel is the most loved engine for Amarok as it has better output and an overdrive system which can boost the engine power when needed. However, due to higher taxation system in Pakistan chances are more in favour of 2.0L petrol/diesel engine.
However, Amarok is smaller than other SUV's. While it sure has a huge rear luggage compartment but that comes at the expense of cabin room. So taller passengers at the back seat might feel a little unconformable due to cramped leg space.
Most people might think Isuzu D-max as a cheap and unreliable pickup and won't consider buying one. But guess what Isuzu D-Max shares its ladder chassis platform, body construction, mechanical componentry and interior design (dash, center stack, steering wheel and doors) with the 2013 North American Chevrolet Colorado. Which is a massive compliment because General Motors has been known to produce one of the most popular pickups on the planet. In fact in some countries, D-Max is sold under the Chevrolet badge.
D-Max is a well-equipped vehicle too and comes with a Flex-Ride suspension which guarantees a compliant ride on the road. When it comes to engine, there are quite a lot of options here. However, there is no hint on which version will be introduced in Pakistan. We think 2.4L petrol is the one with the highest chance.
Numerous reviews have indicated that the cab's rear section is typically cramped, and when sitting in a rear seat, a passenger will only have 35 inches of legroom. Additionally, the cab's rear only provides 38.3 inches of headroom.
The Duster is the signature model for Renault which was introduced in 2009, and since then it has pretty much dominated every market it has been introduced. No, it isn't very posh, nor it has best in class off-roading capability. Then what has made Duster a worth SUV? Actually, Duster falls into the sweet spot of practicality and price. Duster is also big enough to accommodate five adults with ease and possess a decent boot for all your luggage. Then comes the base price which is a staggeringly low 9,500 GBP (14 Lakh PKR). Which is cheaper than most hatchbacks. Whereas being realistic for the market dynamics in Pakistan expect it to be somewhere in early 20's. Believe me; it will still be a steal. Though keep in mind Duster is an entry-level family SUV not designed to take on off-road even in your thoughts. It sure has a decent ground clearance but not the power or equipment to back it up. Since we are on the topic of power, Duster has many engine option ranging from a 1.2L Turbo all the way up to 2.0L naturally aspirated engine. However, Renault has not disclosed any information on which engine will make it to Pakistan.

But you do not get decent off-road capabilities, and interior materials might feel cheap with almost no soft-touch materials for the base models.
While KIA Sportage (1st generation) has been on Pakistani roads even today after 17 years of release. However, this Korean legend is set to return back to Pakistan. KIA has grown quite a lot over this period of time, and their vehicles have secured a respectable place in the auto industry throughout the world. KIA is so confident about its cars that all its cars come with best in class 7-year/100,000 miles warranty.
New Sportage has received a complete redesign in 2016, and it has become one of the most head-turning compact SUVs on the planet. Critics around the world have pointed out the brave design, amazing built and host of features present in this vehicle as standard. It is big enough to accommodate five adults and their luggage easily as it has best in segment rear passenger space and boot. The ride is very good making it an excellent choice for families looking for a comfortable family vehicle for long trips. With all the emphasis put on the word "family," you will also be pleased to know about the top pick safety ratings awarded to this vehicle by IIHS. Keep all this in one place, and you have yourself one of the greatest vehicles money can buy today. Lastly, the engine choice is also where this vehicle shines as you get a choice between petrol, diesel, and two turbocharged engines. But since we have to keep Pakistan in mind so the base 1.6L petrol might be the one we will get, though it will be sweet if KIA decides to bring the 1.6 Turbo along.

The design is a little unconventional which might not rock everyone's boat and fuel economy isn't very good.
Which of these will become an instant hit, and which one will be a complete miss? Let us know in the comment section below.