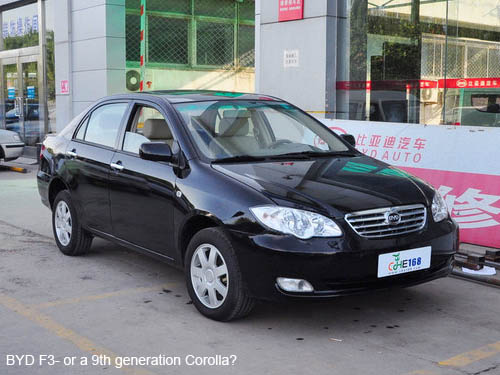 A perfect blend of Toyota, Honda & Mitsubishi..
Ever dreamed about a car which looks like a Toyota & Honda and runs like a Mitsubishi? Sounds strange right? However its not just a dream but this is something which exist in reality. Chinese automaker BYD, which literally stands for 'Build Your Dreams' have blended all the above 3 in an interesting and highly successful product called the F3 sedan.
BYD is considered among the most successful Chinese auto makers, they are the masters of reverse engineering and almost every car in their lineup is based on a popular automobile. BYD isn't shy about admitting its practices, since they believe replicating a design saves the time as well as cost to a great extent, in developing an automobile. BYD's prime target in terms of copying has been Toyota, majority of the BYD vehicles are either completely or partially inspired by a Toyota product.
The car in discussion, the BYD F3 is actually a 9th generation Toyota Corolla with a rear end of 4th generation Honda City, interestingly enough the car carries either a 1.5 liter Mitsubishi 4G15 engine or a 1.6 liter Mitusbishi 4G18 engine under its hood. Even the transmission is similar to the ones used in Mitsubishi Lancer, while the interior is exactly the same as 9th generation Corolla.
Since its launch, the F3 has been a remarkable hit for BYD in Chinese market. It topped the sales chart in November 2008 and for more than 2 years period, remained the unshaken best seller with average monthly sales of more than 25,000 units per month.
The F3 is also the first car ever to achieve a monthly sales volume of 30,000+ units in China, its highest ever has been 36,000 units in a month. As of September 2010, the total number of F3 on road is estimated to be more than 700,000 already while the life span of the car is hardly 5 years. The sales volume of F3 totaled 168,800 units in the first seven months of 2010, outperforming all other car models in China.
The performance of BYD F3 is quite satisfactory however the fit & finish and the quality of interior has a significant difference from Toyota Corolla. Despite the front grill pattern of F3 which is slightly different from Corolla, the space provided for the oval shaped emblem is exactly the same, so the owners can swap the BYD emblem with a Toyota emblem spending just a few yuan, this is a common practice in China, thus the F3 give its customers, a pride of owning a Toyota at almost half the price. F3 is also being manufactured in Russia with BYD's local partner TagAZ, at Taganrog plant in southern Russia. F3 is also exported to various parts of the world including Africa, South America and the Middle East.
Features offered are CD/MP3 player, power steering, power windows, power outside mirrors, drive-passenger air bags, auxiliary front fog lights, upgraded audio/ IVI (in vehicle infotainment), 3 point safety belts, electric sunroof, alloy wheels fitted with 195/60 R15 tires, 4 wheel disk brake system with ABS, and LED tail lights etc.
In addition to sedan version, the F3 is also available in hatchback form called as the F3R. While the plug-in hybrid version, the F3DM, is the world's first ever true plug-in hybrid in mass production. It was launched in December 2008, prior to the launch of Chevrolet Volt and Toyota Prius plug-in version.
What if this car comes to Pakistan?
To see more options in our automobile market other than a handful of Suzuki, Toyota & Honda is a dream of every Pakistani car enthusiast. But the question, if any of these options will ever be available in our market is still unanswerable. However we can assume the BYD F3 to be a massive hit in our market, "if" someday it makes it way here, why? lets have a look;
*The core issue remains the availability of spare parts & their prices, when it comes to choose an out of market brand. Thankfully the F3 uses the same Corolla parts in & out.. the doors, door handles, windscreen, suspension, the interior everything is 100% same as Corolla, all these parts are easily available in our market.
*The road clearance is ample just like Corolla, so taking the F3 into suburban areas and villages should not be a problem at all.
* The engine & transmission is same as Mitsubishi Lancer, which already exist in our market.
*Since most of the parts are already available in the market, resale wont be an issue at all.
*Price of the F3 is almost the half of actual Corolla, so it would be extremely affordable too.
All the above points strongly favor the success of F3, whenever it would make into our market. But the question is, will the government allow competition to develop among the auto sector? Will the government allow new comers to enter our market, particularly Chinese brands? Are we ready to accept something other than the ruling trio? We can only hope at this stage, if cars like this will be available in our country too.