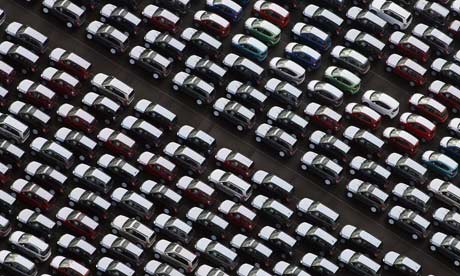 A rather haste endeavor: Govt. allows import of 5 year old cars
Recently, Honda announced Civic's exit from Japan. They told the reasons were the small Kei cars have brought down the sales of Civic in Japan, but many saw it coming. Due to the fact that Japan is running out of space quite fast which also means that the average Civic buyer is also running short of space to park the fat, bulgy Civic in his driveway if he has one. Much of the Civic owner's in Japan are middle-class folks which don't have a garage mostly or have tiny ones. Parking space in the city is another issue but the Kei cars have solved this to an extent, especially the problem of in city driving.
Kei cars are basically small cars, vans, pick ups, trucks, etc. The engine size does not exceed 660cc and were built to evade tax. These were small cars which did not require a lot of parking space and due to their smaller engines, consumed less fuel.
Doesn't the above description sound very reasonable for Pakistan? Well it definitely does, but somehow the only Japanese known to be manufacturing cars in the range of ordinary people are Suzuki. I do not want to make this look like just another useless rant by a keyboard warrior against Pak Suzuki, but look through my eyes, Mazda sells Suzuki engineered Kei cars.
Pakistan should also be declared as a Kei car market, I mean the Kei cars; small cars with small engines for cities and people just like us. We are a key market for 30 year old new cars, to sell the entire garbage the world refuses to buy and we are the key market for such isolated products built with defunct technology, for instance; Coure, Mehran, Bolan, Ravi, and Cultus.
Why aren't we declared a suitable market for Suzuki Cervo, Suzuki Wagon-R, Honda Jazz, Toyota Rukus, Daihatsu Move, Honda Life, Honda Zest, Toyota Etios, Toyota IQ. These cars are very suitable for our driving conditions; congested, no driving manners, folks drive at 30KMH in the fast lane, Bikes scattered all over the road, no parking,  Smaller engines in terms of displacements and in consumption.
When the world was envying China's economic boom and India's domestic consumption, Toyota was worried, its pioneering and top selling product Corolla just doesn't fit India's domestic market with Fiat working to introduce the hot hatch Figo and Toyota's biggest competitor VW was gaining India's market, Toyota Chief engineer for Passenger cars heard the bells ringing and that moment he realized how much Toyota needed a small car for such markets.
Toyota has one small car and many big plans in India, that small car is Etios. Toyota folks are perfectionists, to lower the car's cost they made a special machine to make the bumpers which consumes just 40% of the power as compared to similar machines.
But the competition doesn't end there, Chevrolet also has a diversified range with Spark, Beat and U-VA in small cars whereas on this side of the border we are stuck up with Cruze which costs 2.6 Million PKR.
Pakistani Government finally realized how badly they are being played by our auto assemblers that they increased the age of used car imports from 3 to 5 years expecting that the local auto assemblers will feel tremors, this move came after knowing that a local assembler earned 3.4 Billion PKR in 2009 and still increased the prices and continuous neglect of Governments order to lower car prices.
Imports will destroy this country and is just a haste attempt to satisfy both the consumer and the manufacturer, forex rates are sky high so even the imported junk will cost a lot. Also, it gives the idea that our Government eyes short term results which I am sorry to say won't give birth to a Pakistani car. Consumers with low purchasing power benefit the most from availability of options, as I have said above, that the current manufacturers should introduce their diversified portfolio over here as well and as far as the Government is concerned;
What needs to be given to this Country is the freedom to manufacture auto mobiles, no don'ts, how and why should be asked, make one or two or thousands, build well. Set up the correct goal which is to start simple and aim higher.