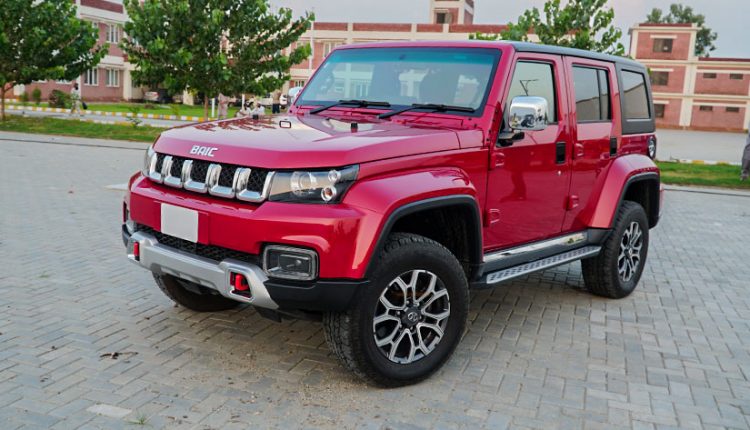 And Truth Behind BAIC Starting Pre-Booking is…
Earlier today and yesterday, multiple media outlets reported that BAIC has started online pre-booking for its upcoming cars. However, upon researching, we found that the news is false. As per Sazgar Engineering, the local partner of BAIC, there is no truth in pre-booking news. "The website needs an update as we have not started any online bookings," the Sazgar Engineering official told PakWheels.com. 
The media outlets gave a link to a booking form from the SazgarBaic website, claiming that the booking is underway; however, this is a false information. We have always tried to bring you authentic news after proper research, so we would like to tell our readers that you should beware of such news and don't book any BAIC vehicle as yet. Furthermore, there is no confirmed date for the start of booking of BAIC vehicles.
It is pertinent to mention that Sazgar BAIC will reportedly launch three vehicles in Pakistan, including a jeep, a sedan and a compact crossover SUV. The jeep's name is BJ40 Plus, while D20 is a sedan and X25 is a compact SUV.
So, just wait and after the official announcement from the company book your vehicles.
Sazgar Launched Haval Compact SUVs: 
Earlier this month, Sazgar Engineering launched and started booking of two Haval SUVs, Jolion and H6. Both compact SUVs with 1.5L Turbocharged engines are new entrants in this already saturated segment. According to the company, the price of Jolion is Rs5,525,000, while its booking amount Rs2million. Meanwhile, the rate of H6 is Rs6,295,000, and the booking amount Rs2.3million.
However, the bookings were closed last week. In a statement, the company shared the reason for closing the bookings of their SUVs, which is the global semiconductor chip shortage. They have promised to reopen the bookings shortly without mentioning any dates. And finally, they advised the customers to steer clear of any unauthorized dealers.