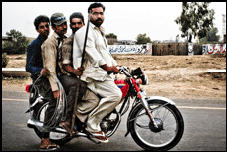 Announcement made to lift ban on pillion riding in Sindh
After two long years, the ban on pillion riding has been lifted by Sindh Interior Minister, Dr Zulifqar Mirza while talking to the reporters in Hyderabad.
Home Department imposed the ban on pillion riding on November 2,2008 due to the increasing number of crime and target killing in Sindh, especially Karachi.
However, Karachi CCPO Fayaz Laghari did not know about the announcement by the Interior Minister when contacted, while the Home Department has yet to issue a written notification on the orders.