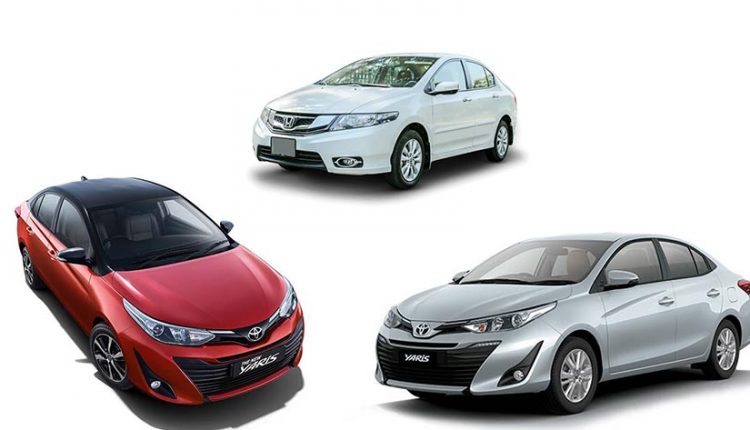 Are Pakistani Cars worth buying? A brief comparison of Pakistani Vs Indian Sedans
Around the globe, automakers are making new cars, introducing the next generations of their vehicles; however, in Pakistan, there is still an automaker who has not provided a new generation of its cars to its customers since 2010. The car is none other than the City, and the company is Honda.
The company has time and again launched facelift after facelift but not a new generation. Ten years have been passed since the company launched Honda City – which is a fifth-generation Honda City car. On the other hand, people around the world are enjoying 7th generation Honda City. Even in our neighboring country, India, customers are enjoying the 6th generation of the said vehicle We know the Indian car market has no comparison with us, but, still, the company should give something new to its customers as they are paying as much as their Indian counterparts.
Note here that India has achieved a very good number when it comes to passenger Cars production per year; its number is 4.09 million per year. However, Pakistan's total production was 221k per year in 2018-19. The industry is smaller in size and is en-route to further establish itself. Moreover, duties on cars in India vary from 15% to 30%, whereas Pakistan's rate of duty varies from 30 -46%, which is quite high.
One important to mention is that hourly minimum wage in India is $0.61 while in Pakistan, the minimum hourly wage is $1.23 – one of many reasons car cost is higher in Pakistan.
Now coming to the comparison of Indian City and Pakistani City. We will be comparing City VX grade of India with City 1.5L Aspire of Pakistan. Indian City has airbags, CVT transmission, rear parking sensors, inline led headlamps, 16-inch alloy wheel, one-touch sunroof, steering switches, sequential shift, cruise control, auto ac, led rear light, rear ac went smart entry, etc. that Pakistan City does not have.
Pakistani Honda City
Indian Honda City
Furthermore, Indian City is in its 6th generation while in Pakistan, the City is 10 years old. Despite being a decade-old car, the price of both the vehicle is almost identical. Honda City Aspire costs at PKR 2,719,000; on the other hand, Indian VX CVT City is priced at INR 1,312,000, which translates to 2,899,520 Pakistani rupees.
See the comparison specification and feature table below: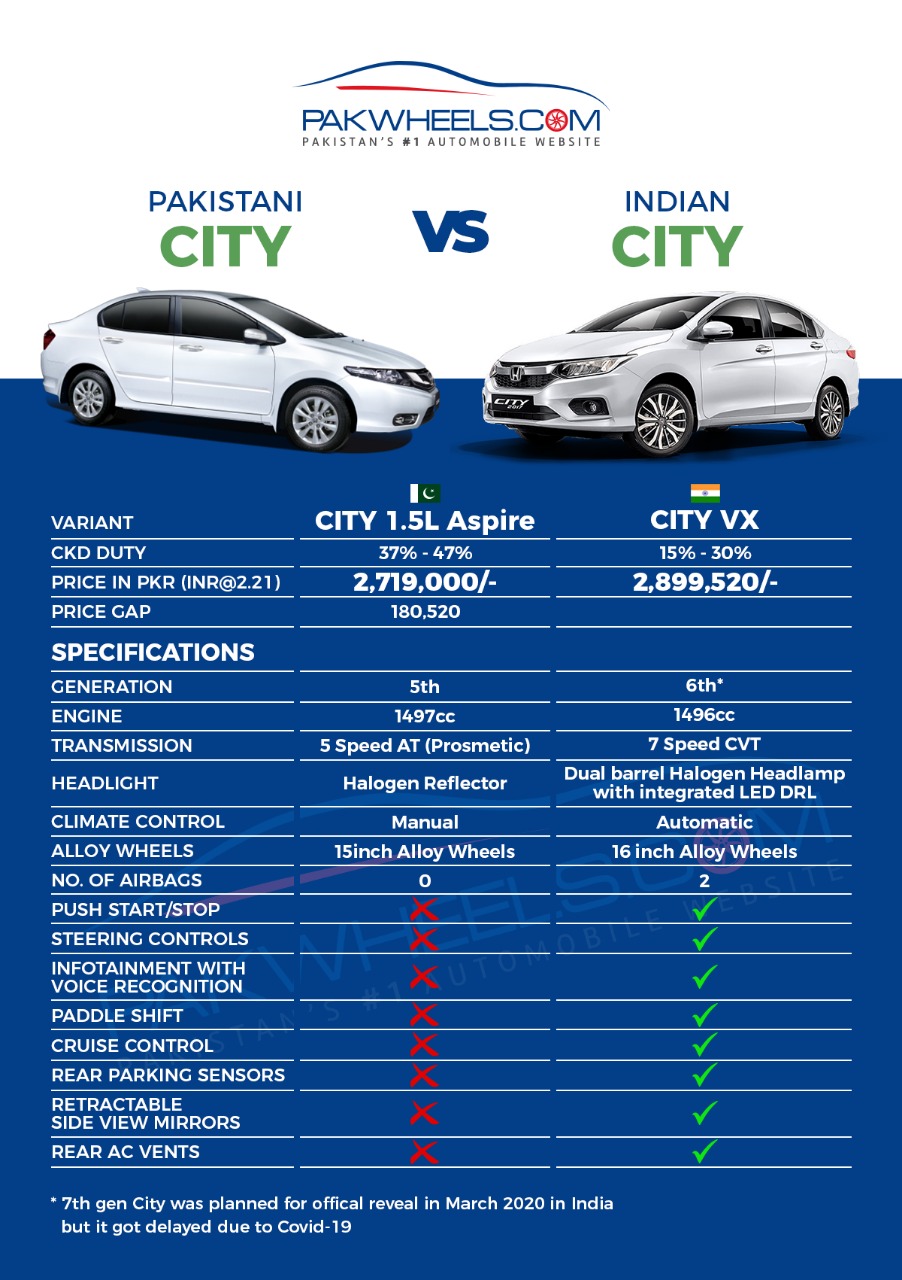 Aside from Honda City, let us take another Car in the same Sedan category, which is Yaris. Toyota Pakistan has recently launched Yaris in Pakistan in favor of Corolla XLi and GLi. The company is not only updating its model line but also adding more features to its cars. Compared to Honda, which is not giving airbags even in its high-end City variant, Toyota has provided airbags in all its cars.
Let us make a comparison of Pakistanis Yaris and Indian Yaris. For the comparison, we have chosen Yaris ATIV X CVT from the Pakistani side and VX CVT from India. Apart from Pakistani Honda City, Toyota Yaris in Pakistan is not only offering good features but is also offering features that are not even present in Indian Yaris such as 15-inch TRD alloy wheel, trunk chrome garnish, eco mode switch, sports mode switch, etc. Just like Indian Yaris, Pakistani Yaris has airbags, smart entry, auto ac, push start, led rear light, steering switches, etc.
Pakistani Yaris
Indian Yaris
Toyota Yaris in India costs INR 1,418,000 – which is 3,085,480 in Pakistani rupee, while the Pakistani Yaris is priced at PKR 2,959,000.
See the comparison chart below: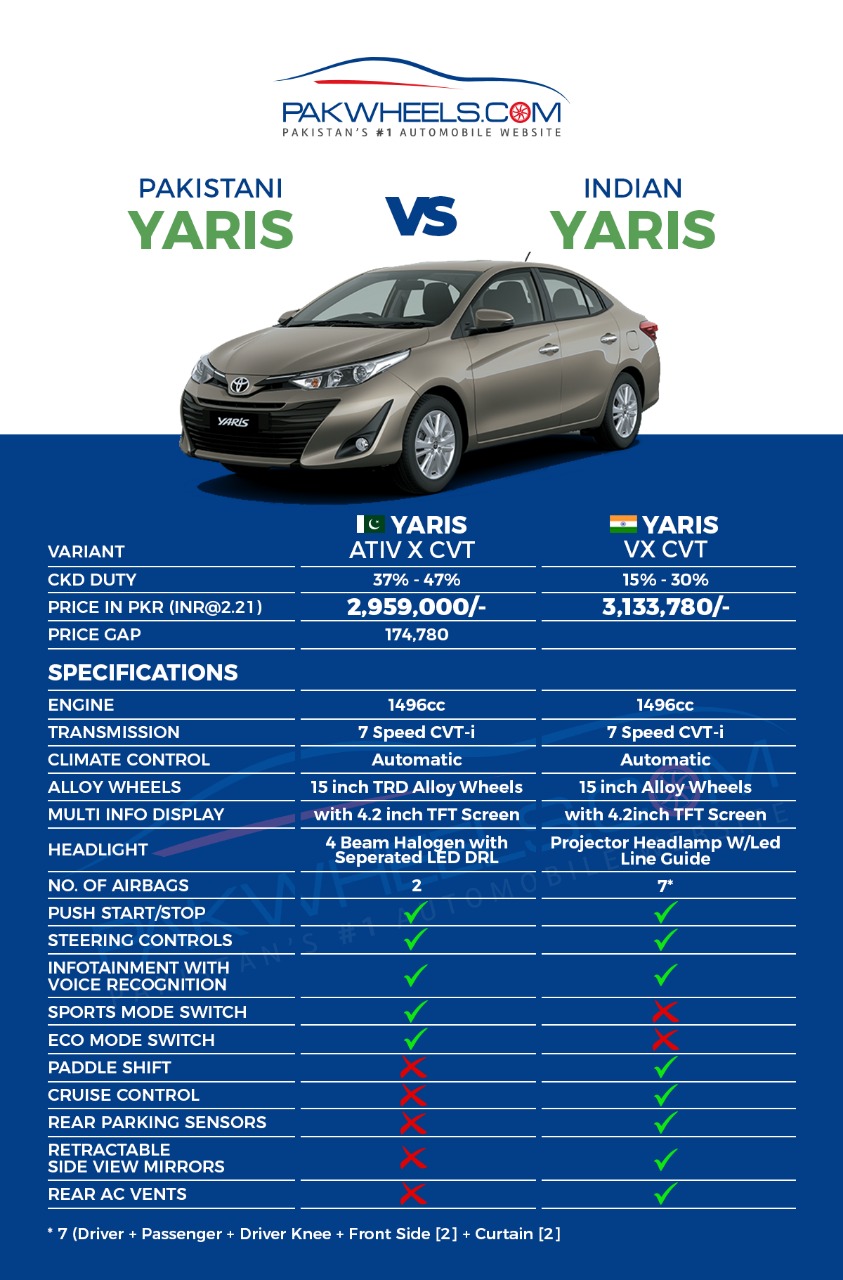 As we have already mentioned above, India is a huge market, with cheap labor and high localization of vehicles, still, Pakistan automakers are trying hard to get what its customers want, be it Honda, Toyota, or Suzuki.
If we compare, Yaris India to Yaris Pakistan, the additional specifications offered by India can be incorporated in the Pakistani model with an addition of 170k in the RSP. However, as far as the comparison of Pakistani City and Indian City is concerned, Indian city is lower priced with much better specifications. In my humble opinion, Yaris seems to be positioned at a justifiable price, probably because it is a new introduction, but Honda city is missing the competitiveness by a margin.