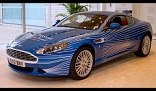 Aston Martin DB9 1M Facebook Edition
Social media marketing really gets the name across better than emails and better than forums as well because only enthusiasts of one particular thing are active on forums while on social media websites such as Facebook, you have a diversified resource of potential clients.
Aston Martin on achieving one million likes on their page designed exclusively with the help of their Facebook page fans a Facebook special edition named DB9 1M. They released the final car, the Aston Martin DB9 1M today via their Facebook page.
The vehicle was designed by Facebook fans and build by the British car maker at its Gaydon headquarters. The luxury special edition has been fitted with a blue streamlined paintwork, 20 inch Silver Diamond rims, black brake calipers, and an interior combining the colors Obsidian Black & Spicy Red.
More pictures are available at Aston Martin's Facebook page.