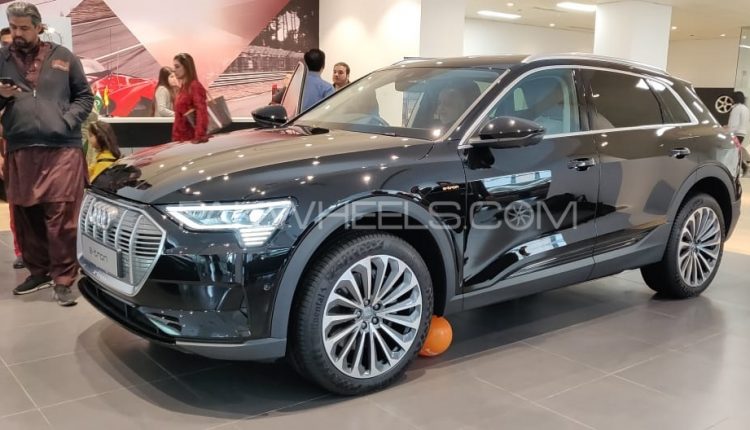 After formally joining the electric vehicle game in Pakistan with the motto "Electric has gone Audi," Audi Pakistan launched the e-Tron Quattro SUV on Sunday, 8th March at Audi Pakistan's Karachi showroom and now is bringing the electrified SUV in Lahore!
Let's take a detailed look at the electrified Audi and see what it promises.
Exterior:
Unlike its rivals like BMW and Tesla, Audi has resisted the urge to endow is the first electric car with a radical design. Indeed, the E-tron's exterior is not a significant departure from contemporary Audis and shares a lot of its design DNA with the Q7 and Q5 SUVs, which is certainly no bad thing. A large, hexagonal single-frame grille dominates the front, and the rear features a broad light strip– both design elements are a signature Audi trait. The reserved styling adopted here aims to avoid alienating more conservatively minded buyers and coax them into an all-electric SUV; an outlandish approach, though, might have given the E-tron a more distinctive presence on the road.
That being said, the E-tron's exterior is as much form as it is a function, and aerodynamics played a crucial part in its design. The car's shape – combined with a completely flat underbody, trick alloys, a controllable cool-air inlet in the front grille and optional camera-based wing mirrors, allowed Audi's engineers to get the E-tron's drag coefficient drop as low as 0.27. The Jaguar I-Pace manages a figure of 0.29 by comparison, though the Model X does edge it out at 0.24.
Interior and Features:
In a similar fashion to the exterior, the E-tron's cabin doesn't represent a great departure from the sort of architecture seen im the Q7 and Q5, but, again, that's no bad thing – those cars have all received praise for their levels of perceived quality and sensible ergonomics the same applies here.
As with nearly all new-generation Audis, the inside is dominated by the dual screens of the MMI Navigation Plus infotainment, 10.1-inch display on top, and an 8.8-inch unit below it, which are housed smartly within the central dashboard fascia and angled towards the driver. Audi's excellent virtual cockpit (which replaces the traditional analog dials with an LCD screen in the gauge cluster) comes as standard while Apple Carplay and Android Auto, and a Bang and Olufsen audio system are optional extras. The car also sports a Wi-Fi hotspot and wireless charging.
Safety and driver assistance technologies are also plentiful, the e-tron earned a five-star crash-test rating from the National Highway Traffic Safety Administration (NHTSA) and was named a Top Safety Pick+ by the Insurance Institute for Highway Safety (IHSA) due to the availability of semi-autonomous driving aids such as adaptive cruise control, self-parking assist, forward-collision warning and automated emergency braking, blind-spot monitoring, cross-traffic alert, and lane-departure warning.
Performance and Driving Dynamics:
Audi's first all-electric production SUV, the e-tron is motivated purely by battery power, foregoing combustion entirely; it is powered by two electric motors, one at each axle: the two combine to deliver a maximum of 308HP and 561Nm of torque; as a result, the e-tron completes the 0-100km/h sprint in a sprightly 6.6s. These motors are kept juiced by a 95.3 kWh lithium-ion battery pack that gives the e-tron a WLTP rated range of 417km. Though Audi claims a real-world range of 276-300 km. As for charging, the e-tron can make use of 150.0-kW DC fast-chargers that allow it to regain roughly 80km in 10 minutes and about 260km in 30 minutes. Those using a more conventional 240-volt outlet will be able to charge the e-tron in about nine hours fully.
All of this sits on an adapted version of the Volkswagen Group's MLB Evo platform, which is shared with the Q8, Q7, and Q5 SUVs. Air suspension and adaptive dampers are standard, while a multi-link suspension architecture is employed at both the front and rear axles, all of which contribute towards the e-Tron's sublime, comfortable ride and impressive handling for the size. 
Pricing and Final Thoughts:
The e-Tron is available in several configurations and has an endless options sheet, as you would expect from a premium German vehicle.  With that said, the E-Tron is going to cost between PKR 14 900 000 – 16 000 000 as most people would buy it.
While the exotic sticker price puts it out of reach for you and me, the E-tron is a step in the right direction: electrification is the future and buyers at the bleeding edge, though small in number, do exist and should be offered an alternative to the gas-guzzling Range Rovers, Land Cruisers, BMW X5s, Audi Q7s, Porsche Cayenne and Mercedes-Benz GLEs.
That is it for today, what do you think about Audi's foray into Pakistan's EV market? As always, feel free to leave your thoughts in the comments below and stay tuned to PakWheels for more news and updates.