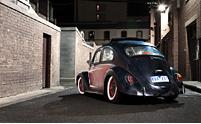 Automotive Photography Awards are finally here folks
The lamest award I've ever seen was the catwalk award at Lux Awards, made me wonder, why can't be there awards for us? For the people who bring color and life to our otherwise lifeless desktops, well they finally are here.
APA, Automotive Photography Awards are for those individuals which you don't know, see or meet but you thank them deep in your hearts for giving you beautiful picture of cars that leave you spellbound and, when you're bored of work you just view your desktop for inspiration to work harder to become the center point of their next picture.
The winner of the APA will get a solo show at Zen Garage Sydney for the entire month of February 2012. Moreover, the top 20 select entires will be printed, framed and exhibited at Zen Garage Sydney in January 2012. The opening night party will be photographed and filmed for media coverage post event.
To take part in the competition, there's a fees of 15 AUD but you also get a subscription APA Annual. A full colour print publication featuring every single photograph submitted to APA 2011.
By submitting your photograph, you do retain all the right to your image however; APA website has the right to use them on their website, APA annual publication and APA Exhibition.
Visit the full gallery here and drown in the world of automotive goodness.