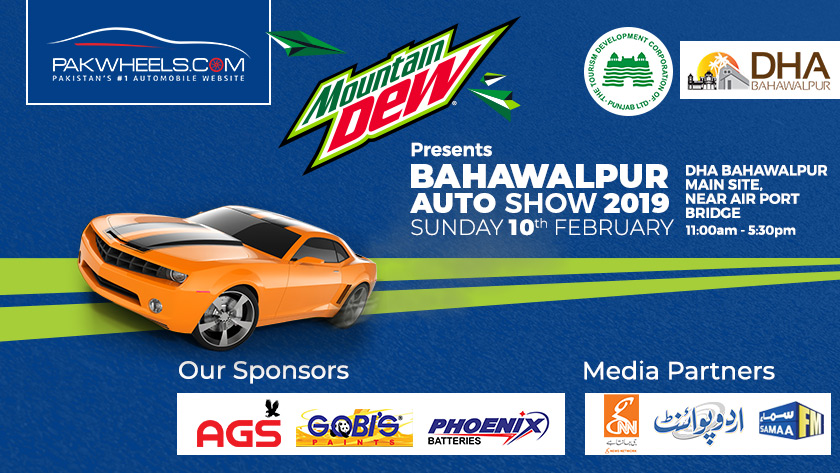 Bahawalpur Auto Show 2019
For the biggest auto show in Pakistan, be in Bahawalpur on February 10, 2019, at DHA Bahawalpur – one of the sponsors of this event. PakWheels will be there along with a variety of vintage cars, including Rolls-Royce, to name just a few. Our exclusive media partners for this event are GNN, Urdu Point and Samaa FM 107.4.
This will be PakWheels 2nd consecutive episode of Bahawalpur Auto Show. The last episode of Bahawalpur Auto Show was presented on February 14, 2018, at the Bahawal Stadium, popularly known as Dring Stadium.  It was the biggest event of its type in the city where over 30,000 car enthusiasts from all south Punjab showed up. More than 150 selected automobiles took part in the event from all over the country, including vintage, exotic, luxury, 4×4 vehicles and bikes.
This year too, the Bahawalpur Auto Show 2019 will be sponsored by DHA Bahawalpur, The Tourism Development Cooperation of Punjab, Mountain Dew, AGS, Gobi's Paints, and Phoenix.
Bahawalpur Auto Show 2019 will also be the venue for the inaugural ceremony of another automotive event in Pakistan – The Cholistan Jeep Rally. Scheduled to be held from February 14 to 17, this is the BIGGEST automobile rally of its type in Pakistan.
Keeping with the tradition, PakWheels Bahawalpur Auto Show 2019 promises to be the biggest event of its type in the city. Scheduled for February 10, 2019, it will be held at DHA Bahawalpur. Bahawalpur Auto Show 2019 will also showcase a collection of vintage and exotic cars. So be there.
About PakWheels.com
Since its inception in 2003, PakWheels.com has helped millions of Pakistani(s) buy and sell automobiles, becoming the no.1 automotive portal in the country. From news to reviews, PakWheels.com help people to stay updated about the local and international auto industry.
From amazing auto shows and rallies to organizing the first of its kind Certified Used Car Mela, We are thrilled to be pioneers of revolutionizing the auto sector.