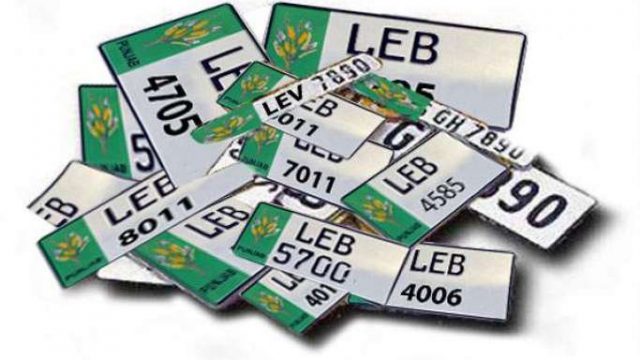 BEWARE! No More Bogus Number Plates in Lahore
Lahore Traffic Police have decided to introduce harsher punishments for the car/bike owners with fake and bogus number plates. As per details, the police would not issue challans over this; instead, it would register a case against the individual. 
The reports further said that Chief Traffic Officer (CTO) Lahore Captain (r) Syed Hammad Abid has ordered a crackdown against tinted car windows and unregistered number plates. "The police will register a case against owners with official number plates and blue lights on their private cars," the order read. Furthermore, the motorcycles without number plates would be confiscated. 
The authorities would also take strict action against people who have installed police flasher lights on their cars, as per the order. "Police would not accept any excuse over fake, tempered or unclear number plates," the CTO said. 
To avoid any inconvenience, the citizens should get proper registration plates from the Excise and Taxation Department. 
Universal Number Plates: 
Back in August 2020, the Punjab government had launched universal number plates across the province. According to a notification, the Punjab Excise Taxation and Narcotics Control Department decided to issue number plates with the same serial numbers.
"Vehicles in all Punjab cities will now be registered under one serial from August 17, 2020," the government said. 
The Excise department added that it is ending the plates with LEA, RN, BW, and MA serials, as there will only be 'Punjab' number plate in the province.
As per reports, the provincial government introduced universal registration plates to phase out the bogus number plates. Furthermore, the universal plates mean the registration of vehicle from every city would be equal; for example, the car/bike with Lahore plate used to be expensive than other cities. 
What is your take on this decision by Lahore Traffic Police? Would it prove to be a success?
For more news, views and reviews, keep visiting PakWheels Blog.