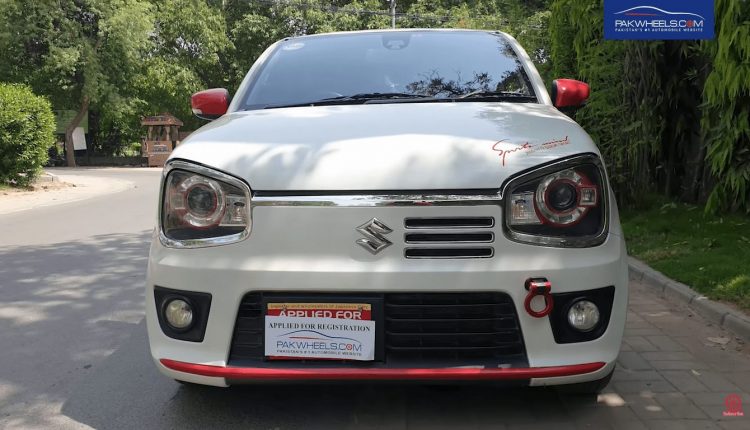 "Imported Suzuki Alto Turbo 660cc Is More Powerful Than Local 1000cc Cars in Pakistan" — Owner's Review
Today, we bring you the owner's review of an imported Japanese car, the Suzuki Alto Turbo RS 2016. The owner is proud of his choice of buying this car; here's why.
Purchase and Price
The owner told PakWheels that he bought the Alto Turbo RS 2016 for 14 lacs and 75 thousand rupees.
Discussing the purchase process, the owner said that he was considering four imported car options in his budget. Daihatsu Move, Suzuki Alto Turbo RS, Honda N Wgn, and Toyota Passo. He chose to go with Alto Turbo because this one had a lot more features than the others. Another interesting reason for choosing this car was its rareness in Pakistan. 
Engine Performance
Suzuki Alto Turbo RS has a 660cc turbocharged engine with automatic transmission, which, in the owner's opinion, makes it more powerful than the local 1000cc cars in Pakistan. Unlike the local 1000cc cars, this one never feels underpowered, even on a long route. 
Fuel Average
The owner says that he gets a mileage of 18 kilometers per litre in the city. On a long route, the fuel average goes up to 23-24 kilometers per litre.
Key Features
Automatic climate control

Traction control

Automatic radar braking system

Multimedia control steering

Pedal shifter

Dual airbags

Heated driver seat

15-inch alloy wheels

Fog lamps
Missing Features
The only feature that the owner of Alto Turbo RS misses in his car is cruise control. 
Interior of Suzuki Alto Turbo
The owner is very impressed with the interior of the Turbo variant of the Suzuki Alto. The car has a three-toned beautiful, spacious, and comfortable interior. Three meters show the rpm, fuel average, and gears of the car. Leather-covered steering wheel with multimedia controls completes the inner look. 
AC Performance
The owner is satisfied with the AC performance of his Japanese car, says, "It's pretty good".
Maintenance
Alto Turbo is a low maintenance car. The owner can easily get an oil change service for 2,500 – 2,700 rupees at any local service station. 
Parts Availability
The parts of this imported Japanese car are available in Pakistan. The owner says that if you can't find them in Lahore, you will definitely find them in Rawalpindi. However, these parts are expensive compared to the parts of local cars.
Pros and Cons of Suzuki Alto Turbo
Pros
Faster than local 1000cc cars

Spacious and comfortable interior

Powerpack features
Cons
Bad resale (not many people want to buy a used Japanese car)
Final Statement on Suzuki Alto Turbo
According to the owner of Suzuki Alto Turbo RS, the car is a win for a powerful 660cc drive in Pakistan. 
If you want to buy an imported Japanese car in Pakistan, get its verified auction sheet from PakWheels and buy the car with complete peace of mind!
Watch Video