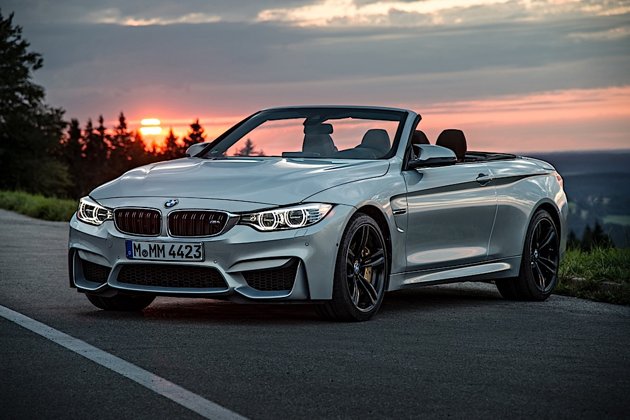 2015 BMW M4 Cabriolet is a tech fest
How can one not dream while shaving in the morning? Not to become the president or something powerful but rather have the new M4 Convertible on a nice sunny windy day to get to work and back, or the occasional leisure drive. There are plenty of roads in Pakistan which offers such scenic and great drives.
BMW recently changed their naming conventions and introduced 4 Series as the two door line up and 3 Series, its 4 door. Now, the 4 Series convertibles are coming out.
The convertible is powered by the six-cylinder 3.0 liter BMW M TwinPower Turbo which develops a maximum of 431 hp at 5500 rpm to 7300 rpm and a torque of 550 Nm at 1850 rpm to 5500 rpm. The M4 convertible hits 100 km/h in just 4.4 seconds with the M double-clutch seven-speed option gearbox and 4.6s with the manual transmission. Such a small difference in performance invites take up knitting with a box.
As the M3 and the coupe, the convertible version has also benefited from the general relief given to the design of the range. For example, the bonnet and the front side panels are made of aluminium like many other components. The new M4 Cabriolet also uses a CFRP (Carbon Fiber Reinforced Plastic) driveshaft, which allows it to perform as one unit which reduces the rotating mass and hence the angular momentum. As a result, it offers more rigidity than a comparable aluminium part.
Active M differential mounted on the rear axle increases the propulsion and dynamic stability with a multi-plate clutch. Its control unit is connected to the system for driving assistance DSC (dynamic stability control) and also takes into account the position of the accelerator pedal, the rotational speed of the wheels and the yaw rate of the car. The clamping torque on the rear axle is adapted in fractions of a second, the modulation range from zero to 100 percent.
The reason we put light on this technical details is they are pretty cool to know how much far ahead the car has arrived.
Enjoy the pictures.