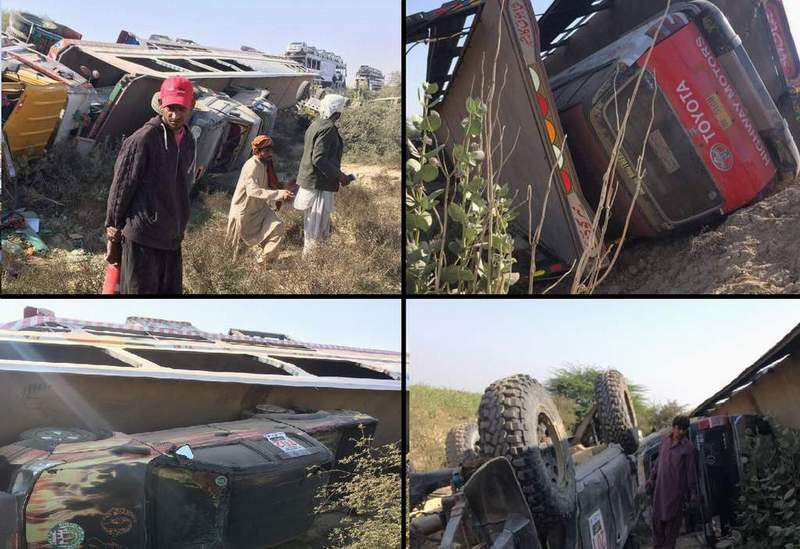 Car Carrier Carrying Jhal Magsi Rally Cars Crashes – Costs Millions Worth of Damage
Earlier today, an automobile carrier, carrying rally jeeps and SUVs crashed on its way back from Baluchistan. The carrier was reportedly carrying vehicles, which had taken part in the Jhal Magsi Rally 2016, a rally which is organized each year in Baluchistan.
The off-road event, which was started in 2005, just went through its 12th successive iteration. This year's rally took a bigger spin with increased local participation and an even more aggressive terrain for the rally that covers over 200kms.
Although the motor-sports are gaining popularity in Pakistan, the less-than-adequate arrangements for vehicle transportation to such events is a serious issue. In the last couple of months, three such events have been reported by sources in which car carriers crashed and millions worth of cars were ruined. To add an insult to this injury, the spokesperson of All Pakistan Car Carriers Association had stated previously that the drivers are trained professionals and that a car carrier's length is according to the international standards. So the question, in this situation is, how come there is an increase in the car carrier trailer crashes? And if it is not due to trailer's length, then who is at fault here and what actions are being taken to address this issue?
Furthermore, its not like motor-sports are economical in Pakistan. It takes millions of rupees to prepare a car and then there is a total lack of support from Government to promote such activities in Pakistan. It's not like participation in these events is cheap, take Cholistan Rally – a government organized event-  it's entry fee can be rounded in a five to six digit figure and on top off it; is the lack of any substantial award in such events. Participation in these events requires self-funding to build, maintain and bear the load of logistical costs; the end result spells a lot of expenses for the participant.