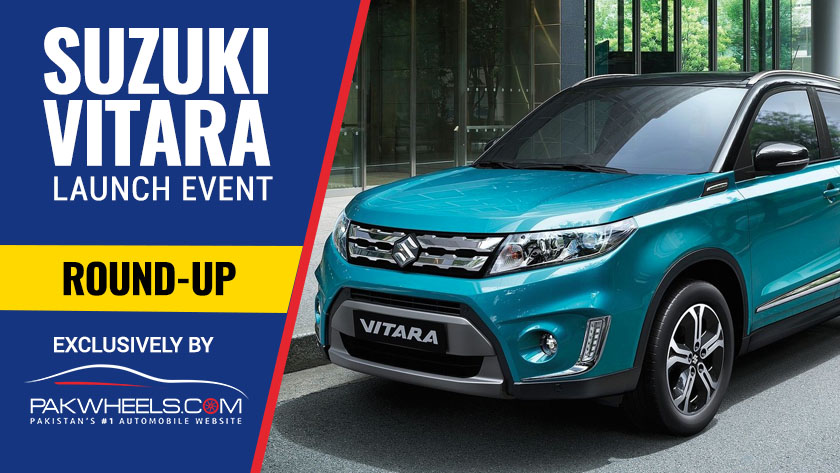 All New Suzuki Vitara Launch in Pakistan – Live Blog
Pak-Suzuki's attempt to change its brand conception in Pakistan checked for another surprising update at the company's latest launch event. It's been only a few short months since the new auto policy was drafted and implemented, Pak-Suzuki's launch of Kizashi was just a small step. The company's launch event to introduce Suzuki Vitara – a CBU – in Pakistan started off with the recitation of Holy Quran. The ceremony featured two speakers:
Mr Hirofumi Nagao – Managing Director Pak-Suzuki Motor Company Ltd.
Mr Azam Mirza – General Manager Marketing Pak-Suzuki Motor Company Ltd.
"Vitara has scored a 5-star crash rating in European crash testing agency Euro-NCAP," said Mr Hirofumi Nagao, while speaking about the vehicle's safety ratings. He further remarked that the people of Pakistan have greatly appreciated our products ever since the inception of Pak Suzuki Motor company. The M.D recognised the new auto policy stating that it has opened new horizons for automobile sector in Pakistan. He said that the corporation is planning to extend its product range.
The event took a fascinating turn when a symphonic orchestra -first in any automobile event in Pakistan- started performing. The musical performance managed to up the ante, which was immediately followed by the arrival of the second speaker of the night; Mr Azam Mirza – General Manager Marketing Pak-Suzuki Motor Company Ltd. While sharing a presentation on the history of Pak-Suzuki, he said:
We at Pak Suzuki are optimistic about the future of auto industry in Pakistan.
He added that CPEC would play a great role in promoting long road travelling and will fuel the need for quality vehicles in the country. Mr Azam emphasised that with Pak-Suzuki's strong dealership and industry rapport, the company is sure that Vitara will change the game. He bid the audience farewell by signalling the reveal of Suzuki Vitara, which was brought to the stage in an extravagant display of typical countdown, fireworks and illumination. Not only did Pak-Suzuki unveil Suzuki Vitara but to endorse the product; the company had invited Vitara's brand ambassador – Fawad Khan on to this event as well. Pak-Suzuki has offered this vehicle in two variants:
GL+ which is priced at PKR 3.49 Million
GLX priced at PKR 3.79 Million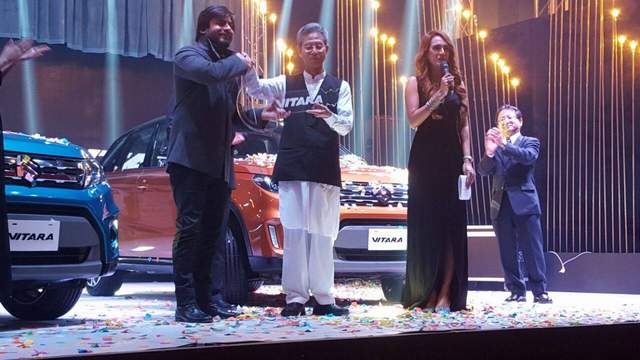 The event was gracefully brought to its end when Mr Hirofumi Nagao handed over the keys of first Suzuki Vitara to Fawad Khan. Thus, the guests were invited to have first-look at this vehicle.