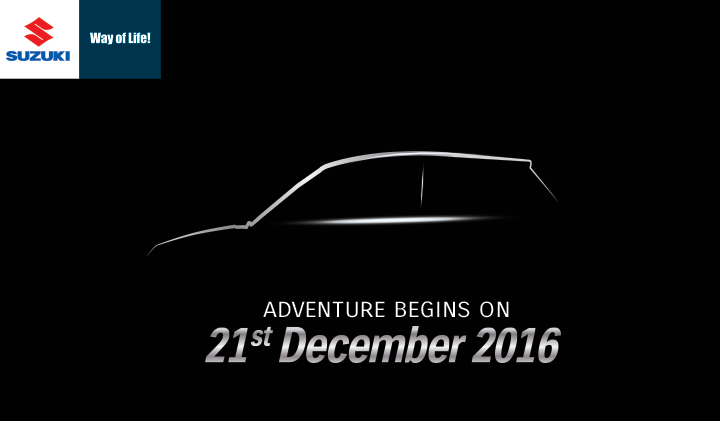 It seems that the year 2016 will end with a big bang as far as Pakistani automotive industry is concerned. Launch of the 10th Generation Civic, BMW X1, Mercedes E-Class, Toyota Revo & Fortuner and the recent news about upcoming Audi Q2 , SsangYong Tivoli  Nissan Datsun GO are really good signs. A few weeks ago, the news broke about the arrival of all new Suzuki Vitara when PakWheels sources shared pictures of a large number of imported Vitara crossovers at Port Qasim. I posted a detailed article previously about it as far as what we can expect.
Also Read: The Arrival of New Suzuki Vitara: What We Need to Know
This weekend , a new image has gone viral as shared by the official Pak-Suzuki Facebook page and it make things very confusing rather interesting. Pak-Suzki used hashtags #WayOfLife #TheGameChanger with image reflecting a message about an adventure beginning on December 21st. Few hours earlier to the teased image Pak-Suzki also shared a 8-second video clip and that is the new Suzuki Vitara. We all are expecting official reveal of Vitara but the shadow image as teased by Pak-Suzuki forces us to scratch our heads and rethink. The teased shadow image looks more of the rumored Suzuki Celerio than a Vitara. Although the "A" pillar of the real Celerio, the roof line and the teased image still do not match. The teased image does not match a Vitara as well.
Celerio
Vitara
Celerio always remains on cards and rumored to be replacing the 1000cc category car which is currently in form of Suzki Cultus. Pakwheels has been reporting extensively in the past about Celerio but there was never a concrete news about its real existence. Last Friday, there was another image in circulation which is an invitation regarding the launch of  all new Vitara at one of Pak-Suzki dealers in Karachi and is scheduled on December 25th, 2016. This also suggest that Pak-Suzuki will reveal the Vitara officially on December 21st but it will go on display at authorized dealers on 25th December, 2016.  This means, and what I personally think, that the teased image is more of a generic image by Pak-Suzuki social media team about the upcoming Vitara and does not necessarily portray any other vehicle as being shown as shadow image.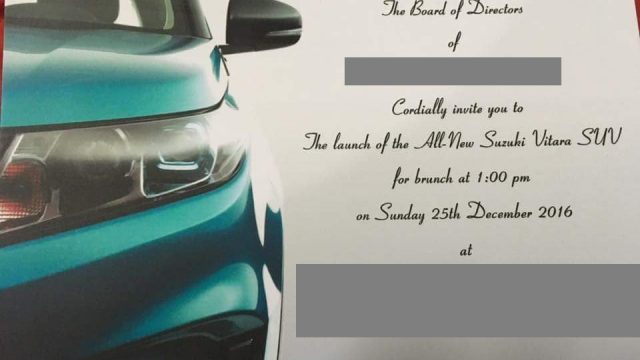 A few days ago, Suzuki Ciaz Sedan was also spotted at Port Qasim and later some cars were seen on the transport trailer but again, the teased image does not resemble any sedan and its a little early for Pak-Suzuki to officially reveal Ciaz, but you never know if Pak-Suzki surprises us and reveals not one but three models, that is a Celerio hatchback, a Ciaz as mid-sized sedan and Vitara as crossover.
It has been observed that after the new Auto Policy, Pak-Suzuki has re-thought its strategy, which is the reason why today we all are confused what Pak-Suzuki is going to offer new to us. In fact this confusion, or in other words, this excitement also shows that Pakistani Auto industry has taken a fresh start in the right direction and it will flourish year by year and a lot more to come.
So, guys what do you think is coming on December 21st, 2016?
Celerio
Vitara
Ciaz
All of the Above