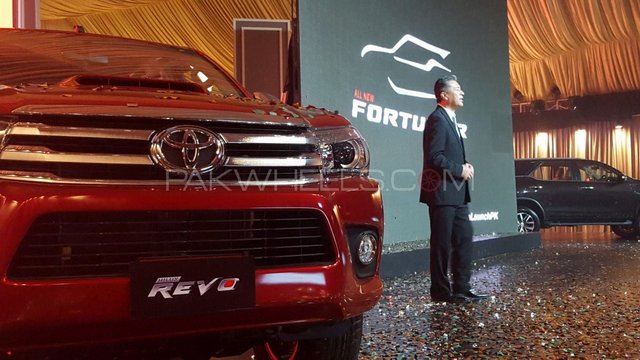 Earlier today in a much anticipated event, Toyota Pakistan made the new Hilux Revo and Fortuner available for the public. This event was organised at Royal Palm Golf and Country Club, Lahore. The event was attended by several top level employees, stake holders and media personnel.
The proceedings began with the recitation of Holy Quran, followed by the national anthem of Pakistan. The ceremony featured three speakers:
• Mr T. Azuma – Vice Chairman Indus Motors Company
• Mr Ali Asghar Jamali, Chief Operating Officer – Indus Motors Company
• Mr Hiroki Nakajima, Chief Engineer- Toyota Motor Company
Also, Check out Toyota Fortuner 2018
The bottom line of this event was all about the launch of two new vehicles by the company in Pakistan. Mr. Ali Asghar Jamali (COO – Indus Motors Company) primarily focussed on the laurals and history of the company. Ali Asghar Jamali further gave off a narrative on the development and growth phases of Pakistan's automotive market. Mr. Jamali concluded his speech by sharing company's performance and market prediction for the future, which will, according to several company officials, contribute positively for both, the consumers and the economic conditions of Pakistan.
The Chief Engineer – Toyota Motor Company, Mr. Hikori Nakajima focussed on describing both products (Revo and Fortuner) and their highlighted features, which will hopefully manage to attract and appeal to a lot of consumers.
Check Out: Double Cabin Cars