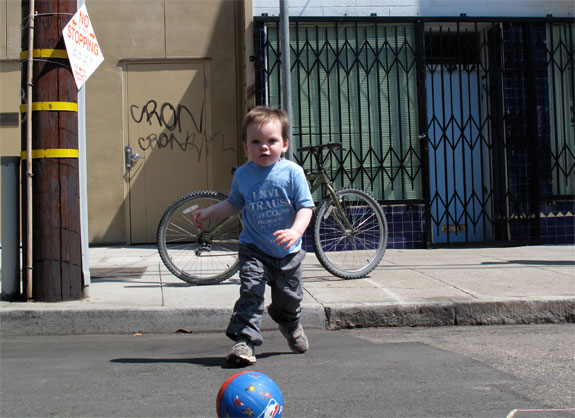 Children instead of 'Speed bumps' in the future.
Star Trek and Star Wars really have dominated our future imagination with flying cars, roaming the Universe in Hyper mode in just about few hours and of course; how the moon will look like after the influx of our Political Parties, which color would it be?. But none of us surely expected this one coming.
In a city called Vancouver, which consists of a snotty BCAA Traffic Safety Foundation and the public awareness group Preventable.ca has devised a plan for $15,000 that they believe will be more efficient then speed breakers.
A trompe-l'œil actually, the innocent 3D girl & her ball will be located near the École Pauline Johnson Elementary School is actually a 2D painting on the road similar to the one shown above.
The 2D image will look so real, infact gain 3D realism at 100 feet distance that you'll apparently crash into the sidewalk and kill someone probably, also, since most of our cars/bikes don't have ABS. God forbid if the real mad authorities of Pakistan plan to have something similar over here.
After looking at the latest stunt by our Health ministry of Pakistan, which intends to refrain people from smoking through printing horrible pictures of mouth cancer patients on the packs. I pull out a cigarette from the packet with my eye's closed these days.
Anyways, It is designed for the driver's who travel at the recommended speed(18 MPH/30KMH) of the road, giving them enough time to slow down or stop.
David Duane of the BCAA Traffic Safety Foundation told CTV news that the bump was meant to bring attention to driver-caused pedestrian injuries, and that the fake girl should not cause accidents:
"It's a static image. If a driver can't respond to this appropriately, that person shouldn't be driving…."
Right, lemme know if this works out for Canada as it did(a bit) for Philadelphia, though not a girl but Megatron's Claws.
"It kind of surprised me," said Mr. Morris, a retired machine shop welder, "but I slowed down when I went over it, and everyone behind me did too."
Exactly what the City of Philadelphia and federal safety officials expected from these delusional paintings.
Mr. Morris almost stalled the whole traffic and once he passed over it, the herd behind followed him in ease.
However, I am indeed up for the little girl & her ball to come to Pakistani service roads where everyone drives above 40 km/h, especially, the bikers, they don't ride, they fly without even drinking, with absolutely no respect to the purpose and function of a service road.
via Discover Magazine via NYTimes.