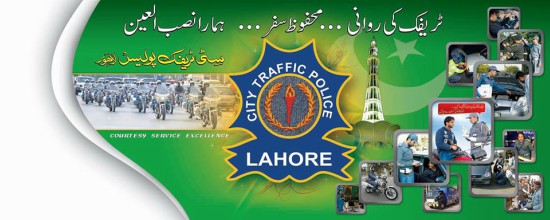 In order to keep a steady flow of traffic and to prevent traffic jams in Lahore, City Traffic Police has prepared a schedule of alternative, closed and open routes. This has been divulged to the public so that no one faces inconvenience. Roads are usually closed for security reasons and to give way to the teams trying to reach the stadium.
If you are going from Mozang Ferozepur Road to towards cantt or Kasur, you will have to go from Muslim Town and then through Wahdat Road. From Wahdat Road, you can go to Barkat Market, Center Point, Firdous Market, Defense Mor, and Walton Road. From Kasur, you will have to go to Peco Road and Walton Road. 
Roads that are closed on account of PSL include the road from Muslim Town to Kalma Chowk. When the teams will be on the move, certain roads will be closed momentarily and will be opened as soon as teams have passed. Canal Road will be opened for all sorts of traffic, and it will not be closed at all. Moreover, Jail Road and MM Alam Road will remain open for traffic and will also not be closed at any moment.
Kalma Chowk underpass and the road going from Center Point to Firdous Market will also be open for traffic. Traffic going through DHA will also not face any hindrance. 
Main Boulevard of Gulberg (fountain 1) to Kalma Chowk and Barkat Market will also be open for motorists. Parking places for PSL include Jam-e-Shireen Park, Punjab University Parking, and FC College Parking. In order to avoid inconvenience, keep in mind the following points:
All occupants in your car must have CNIC for identification as this is necessary for security reasons

Keep match tickets with you at all times 

Coordinate with police personnel and management of PSL 

Do not travel unnecessarily towards Gaddafi Stadium 

Use Metro Bus Service whenever necessary as this will result in less traffic congestion 

Make use of free shuttle service that the government is providing 

Use Rasta Application to avoid inconvenience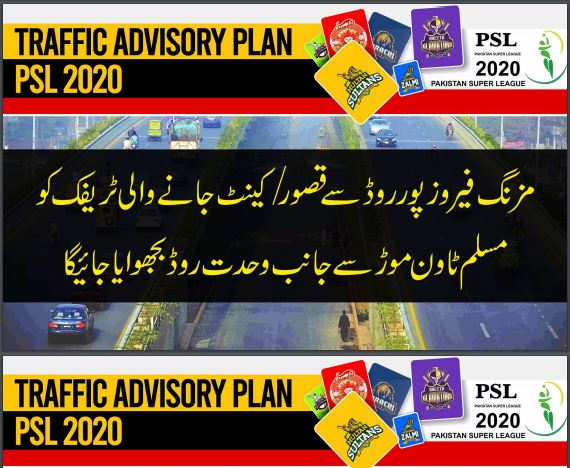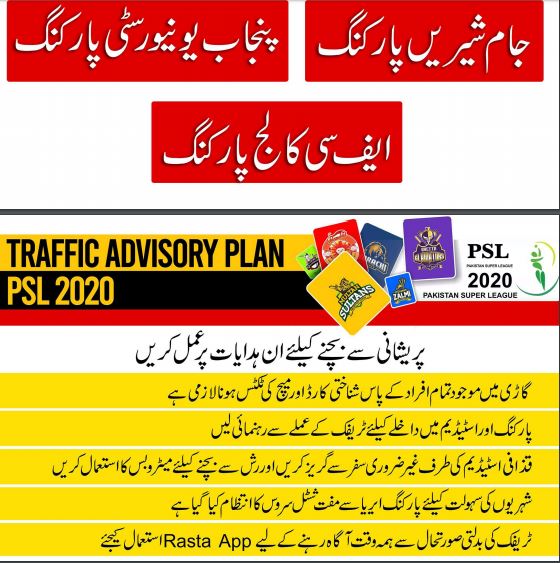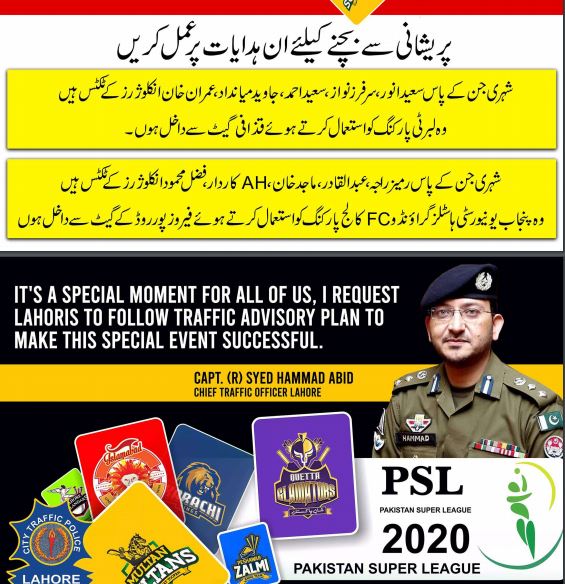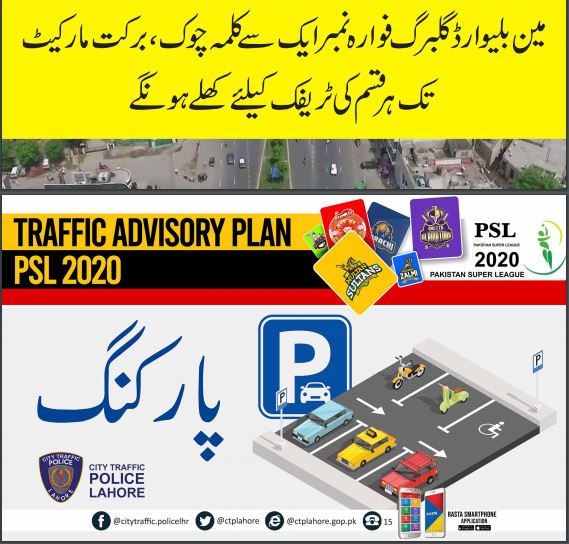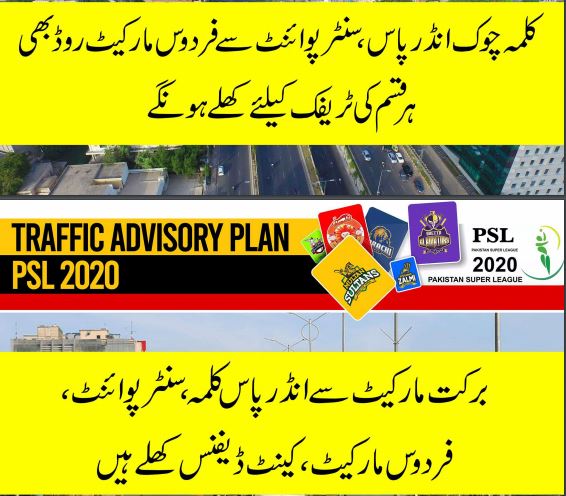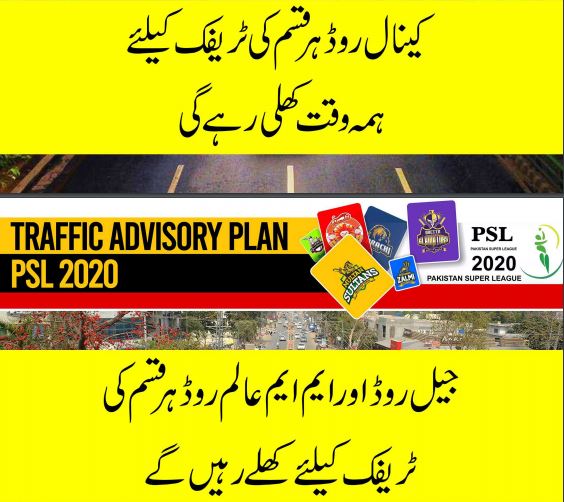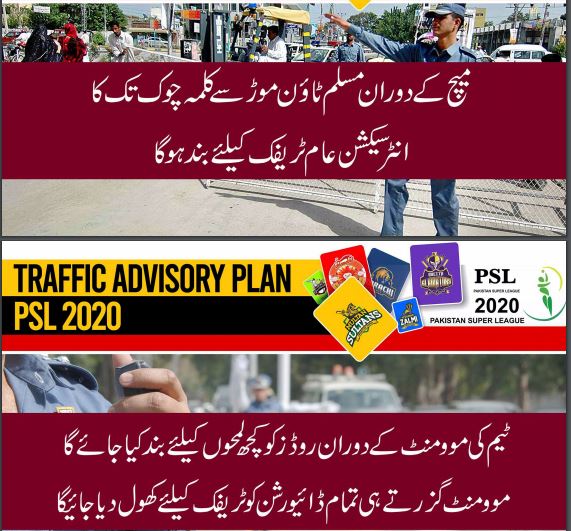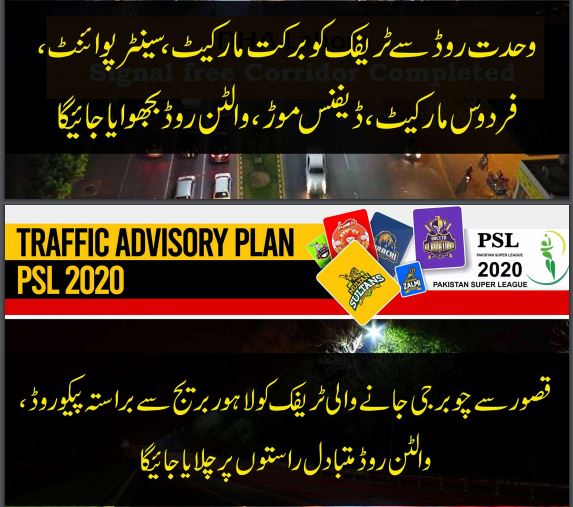 People who have tickets for Saeed Anwar, Sarfraz Nawaz, Saeed Ahmad, Javaid Miandad, and Imran Khan enclosures must use Liberty Parking to get into Gaddafi Stadium.
People who have tickets for Ramiz Raja, Abdul Qadir, and Majid Khan enclosures must use Punjab University and FC college parking to get to the Ferozepur Road entrance of Gaddafi Stadium. Make sure to clear roads and avoid traffic congestion. Also, be mindful that you are not creating a nuisance for other people. 
Stay tuned for more news-related and informative content like this one. Drop your thoughts in the comments section below.