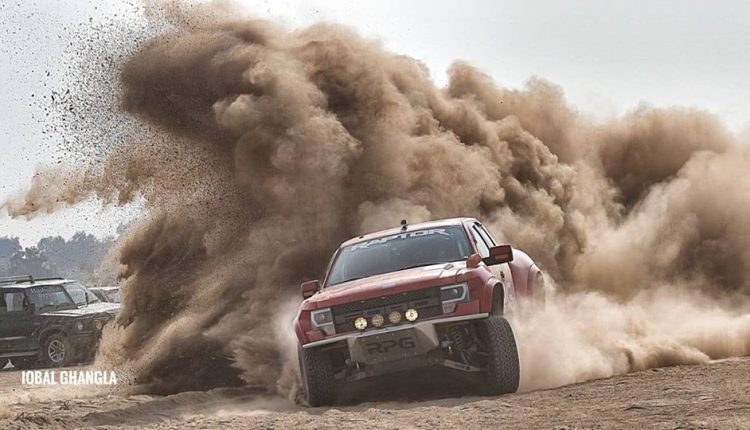 Mismanagement At Jeep Rally Leaves Participants Disappointed With TDCP
Three participants of the 15th Cholistan jeep rally alleged mismanagement at the event reports Dawn.
The mismanagement resulted in inadequate facilities that spoiled the enthusiasm at the jeep rally. These three participants are senior members of the Cholistan jeep rally. They further asserted that such mismanagement at renowned events would possibly affect tourism in the Cholistan area.
These individuals blamed the Tourism Development Corporation Punjab (TDCP) for negligence and inadequate attention to detail for such a major event. People competing in the jeep rally faced problems from the beginning of the event. These contestants had to wait in long queues just to get registered. These individuals are Qasim Sadi from Lahore, Noman Saranjam from Karachi, and Mahmood Majid Chaudhry from Bahawalpur. 
Moreover, senior participants were of the view that their registrations were already done at the time of the submission of the documents. The mismanagement resulted in lower attendance at the rally. This was due to the fact that the rally started before the stipulated time, and most of the drivers could not compete due to dusk. These drivers got their turn the next morning, which created issues for them. As a result, the flag-off ceremony of the prepaid category got delayed and made the event lose its charm. 
At many instances during the rally, animals and spectators were found roaming on the track. This was not only dangerous for both the drivers and the spectators but also marred the competitive nature of the event. The performance of many drivers was also adversely affected due to this.
The Tourism Development Corporation Punjab (TDCP) also defaced the historic Jamgarh Fort. This was done by hanging posters and panaflexes, which were multi-color. The historical monument is already crumbling and is endangered. The senior participants have also demanded an investigation to be undertaken by the archaeology department. 
Participants also asserted that the TDCP should also increase prize money for the winners. This can be done by cutting unnecessary expenses and using that money for this purpose and providing better facilities at the venue of the event. The unveiling ceremony, which was conducted in Lahore, wasted a lot of funds that could have gone elsewhere.
Earlier, the participants also requested Chief Minister of Punjab, Usman Buzdar, to take action against the TDCP on this mismanagement. 
The following image shows that the office of the Chief Minister of Punjab has launched an inquiry into this issue on a top priority basis. This is a good occurrence, so that sporting events get proper attention from relevant authorities, and mismanagement can be eradicated. Sporting events are conducive to tourism and revenue generation for the government. Moreover, to protect the spirit of the sport, events must be organized with the utmost care.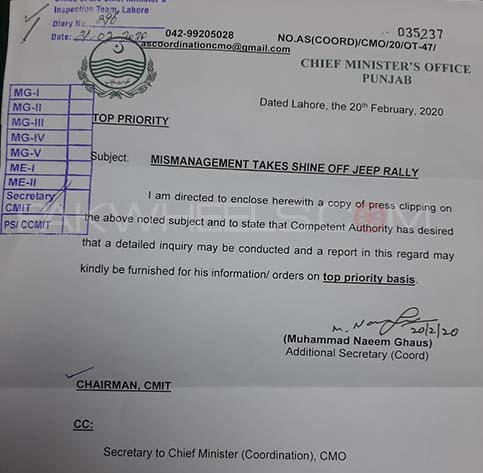 Stay tuned for more news-related and informative content like this one. Drop your thoughts in the comments section below.