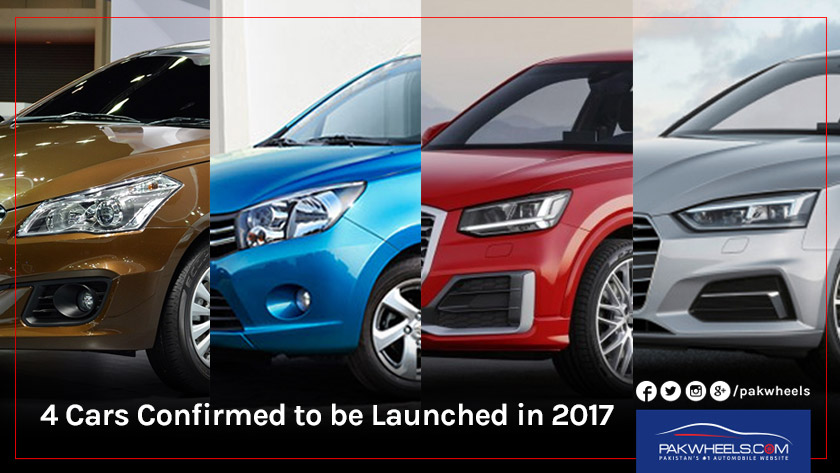 Ever since the implementation of the new auto policy 2016-2021, Pakistan's automotive industry has been reinvigorated. The local auto manufacturers seem to have realised that the market is about to change and the country's growing economic conditions are causing a paradigm shift towards a better lifestyle. So in these circumstances, where foreign investors are scrutinising the country's market heavily to gauge its calibre, things are certainly about to change.
We have the month of December as an example, where Toyota has already launched two vehicles and Suzuki is expected to launch one too.
Granted none of the vehicles was aimed for the entry-level consumer, the fact remains that for the first time in its Pakistan will be witnessing a launch of three new vehicles in a single month. And it seems this frenzy is not going to stop anytime soon because the government has received confirmation of investment from multiple auto manufacturers, the local auto-assemblers are scrambling to sustain their brand followers by launching new products. In the latest development, PakWheels sources have revealed that the following cars will be launched in the year of 2017.
Suzuki Ciaz:
Yes, ladies and gentleman, it's about time that Pakistan receives a much-needed option in its redundant entry-level sedan market. Suzuki Ciaz is expected to be priced competitively and will be launching in the first quarter of 2017.
All New Suzuki Cultus:
The Pakistani market is in desperate need of a small, affordable, modern, economical and locally manufactured car. As the Pakistan's only small vehicle manufacturer, all hopes rest on Pak-Suzuki. The company introduced WagonR in 2014, and the car became an instant hit, which was partly due to Pak-Suzuki brand name, partly because it was locally manufactured and partly due to its relatively modern features as compared to other lower end cars (locally made) in Pakistan. PakWheels sources report that Suzuki Celario will be officially unveiled in the second quarter of 2017 under the brand tag of Suzuki Cultus. The all new Cultus is expected to come with a 1000cc engine and is sure to rejuvenate the local automobile industry.
Audi Q2:
Although the Audi brand signifies a higher end and luxury vehicles, the fact remains that the company is trying to tap into a greater chunk of consumers by offering them a low-end car with a few compromises on power and luxuries. In the latest development, Audi Pakistan has announced that it will be bringing a 1.0L Turbocharged FWD Q2 in Pakistan in the first quarter of 2017. Sources reveal that the vehicle will come at a highly competitive price of 3.0-3.3 million PKR and will offer a new opportunity of owning a prestigious brand.
Audi A5 Sports back:
The coupe cum sedan cum coupe is being described as the trimmed down Audi A7. This car is aimed to cater the medium-higher end German sedan consumers. Audi Pakistan will be announcing its tariff in the first quarter of 2017.