Conquer the Sarfaranga Desert This Summer!
Sarfaranga Desert is all-set to get you in the racing realm this summer. It's one of the biggest car rallies of Pakistan and is organized by PakWheels.com and Mountain Dew in association with Government of Gilgit Baltistan.

Overview Of Sarfaranga Desert Event
Pakwheels is used to organizing such big events with a taste of heavy wheels on the go! Our past events are already a talk of the town, and we again aim to mesmerize our viewers with this grand a journey. A detailed description for you is already available on our website and Facebook page. But, this blog is all about those amazing racers who are a part of this rally and we need to honor their attendance along with a back-drop to their abilities.
But, first thing first!
Sarfaranga Desert At A Glance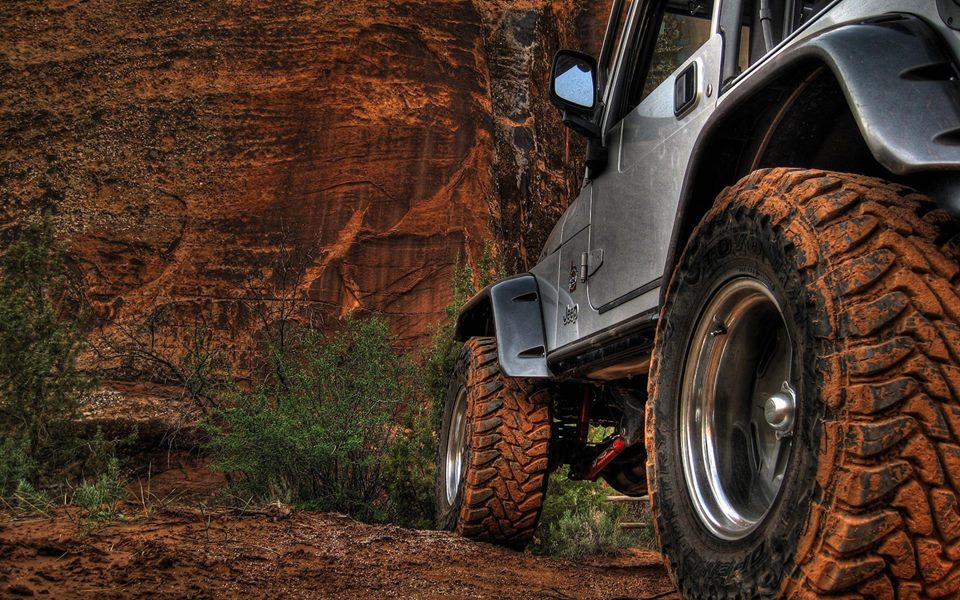 In the northerly extents of Pakistan, with at an altitude of about 1000 feet, is located near the Sarfaranga village. The desert is a part of this beautiful and majestic place and is a site to visit indeed. It is famous for being the highest and coldest desert of the Skardu, Gilgit-Baltistan region of Pakistan. Strong winds keep shifting the dunes, forming various shapes all the time. The winds, the cold, and the scenic beauty – all easily put the travelers through a magical kingdom of splendor.
Sarfaranga Desert Rally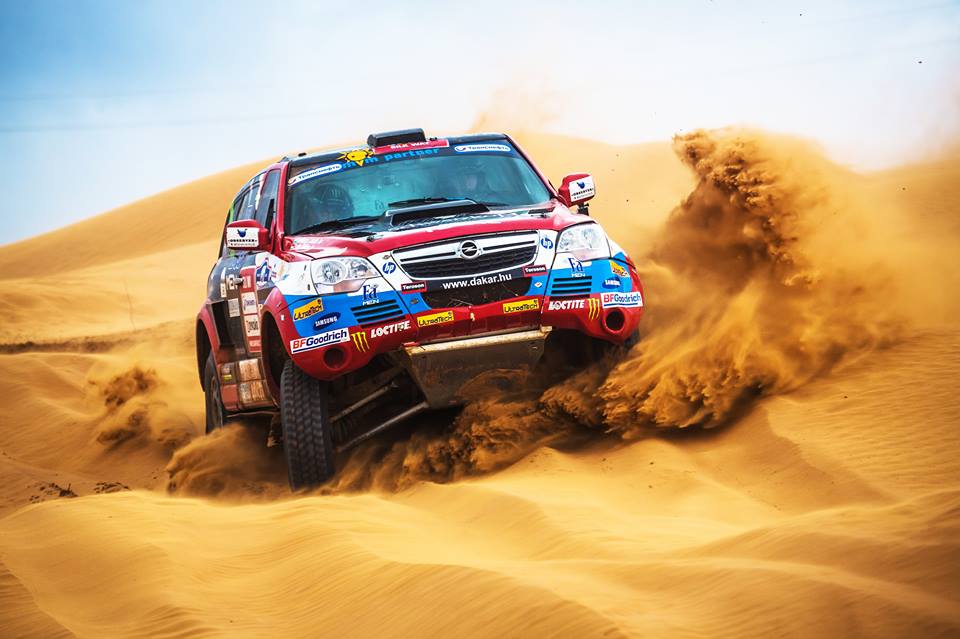 The event is ready to start from Thursday, 17th of August 2017 and the arrival time is pre-set at 04:00 P.M for all the participants. You are welcome to get registered through the website portal and join the rally. The event is going to take place with all general quality guidelines and safety parameters. For an incomparable fun, we urge you all to go through the quality guidelines thoroughly.
Sarfaranga Desert Racers 
Our racers are some amazing persons to be with and we have got the list for your enthusiasm at hand. These guys are going to make this event even more majestic with their dare-of-drive thrill attitude. We can't wait to see them driving through the sand-dunes and creating hype! Our celebrity riders are well-known people of the car-race kingdom and here is what you can't miss about them.
Ahsan Ijaz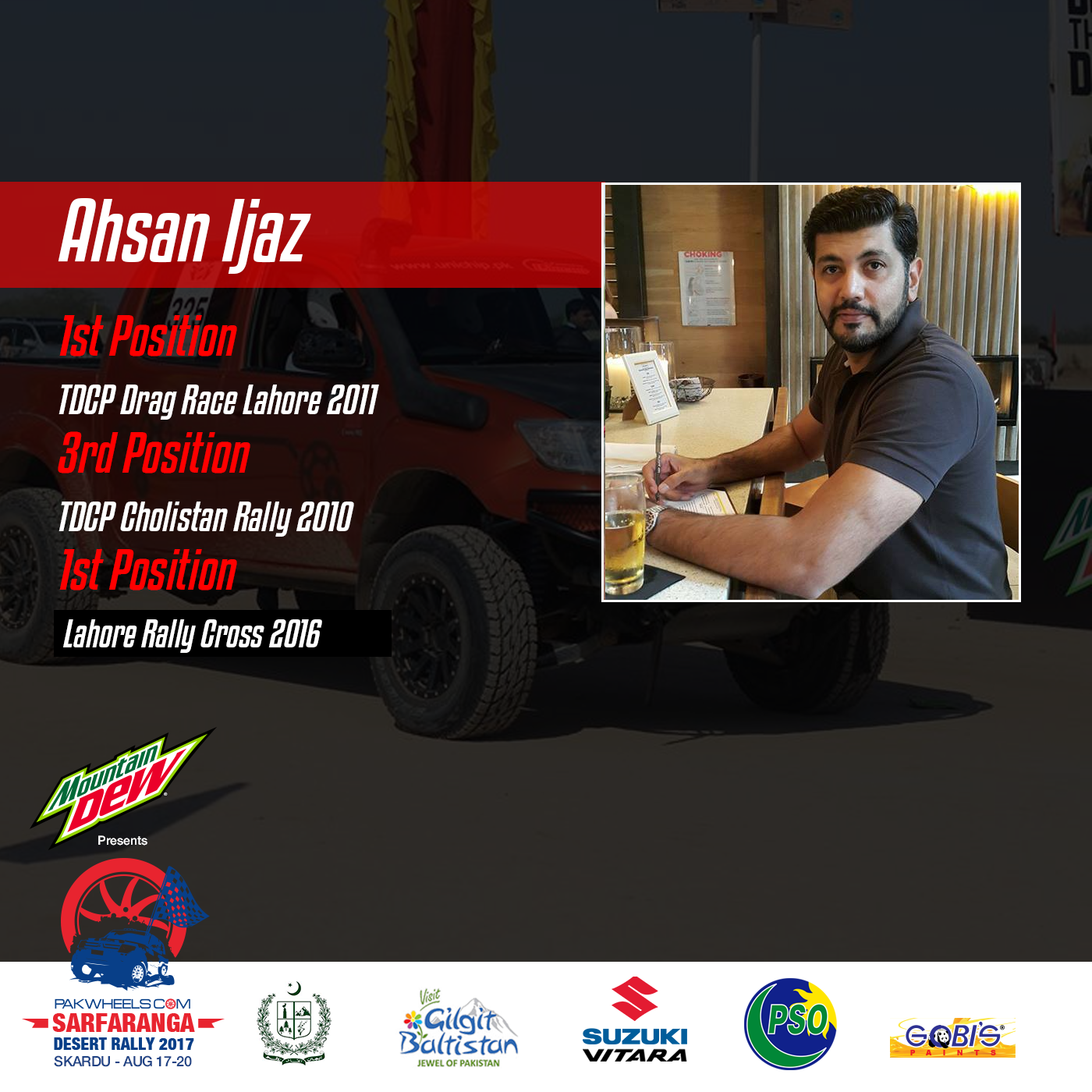 He took part in TDCP Cholistan Rally of 2010 and came out as the 3rd Position holder in the event. The first position holder in TDCP Drag Race Lahore of 2011 is none other than Ahsan. This doesn't end here, and he did come-out as the first-star of the Lahore Rally Cross in 2016 too. We wish you luck for the Sarfaranga Desert Rally Ahsan!
Mohsin Raza Joya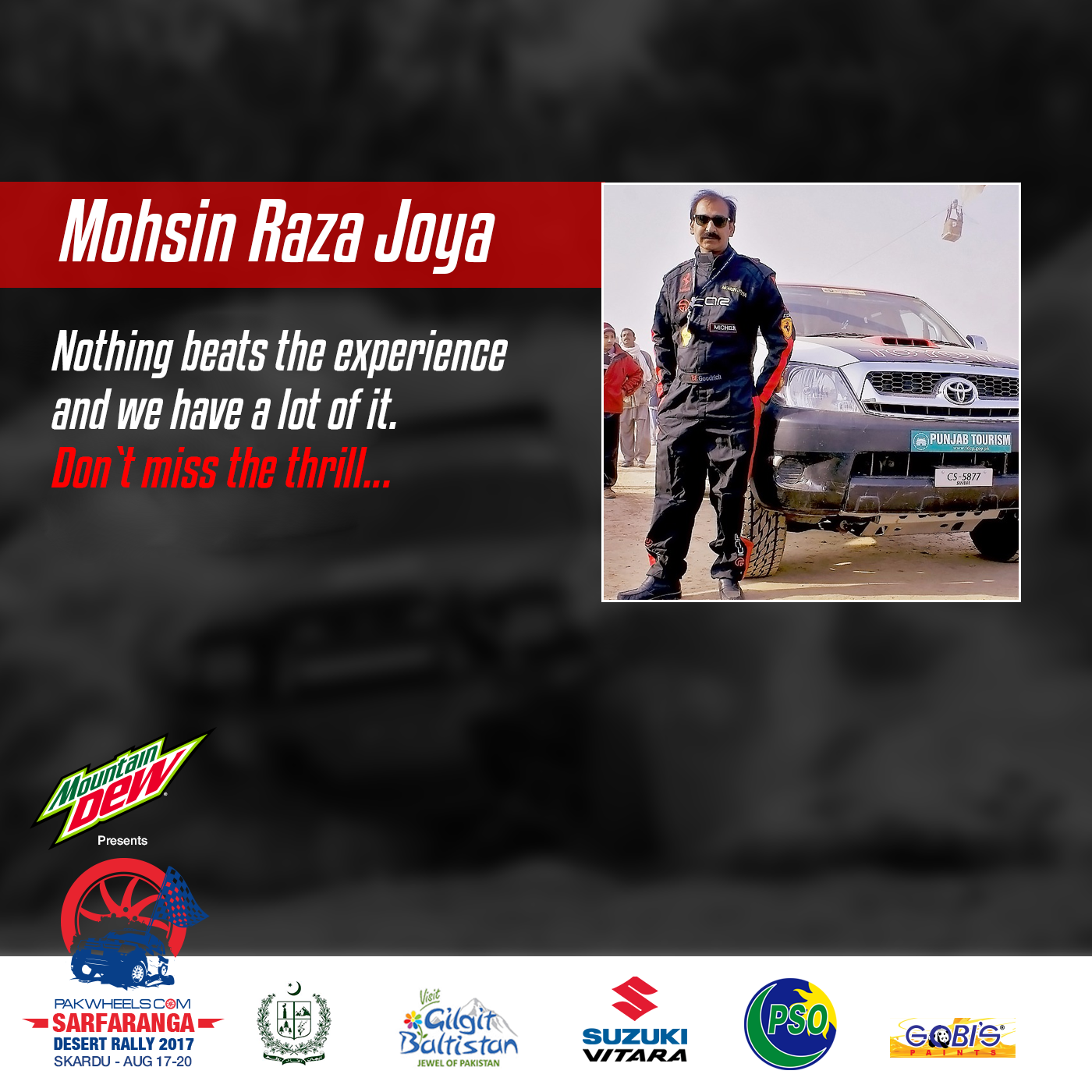 The man with a fully clad attitude to hit the rally is Mohsin. He is full of determination, willpower, and strength. Car racing is his passion and he is well-equipped to rule the throne in Sarfaranga Desert Rally this time. We hope to see him race across the sand and meet his goals.
Mir Nadir Khan Magsi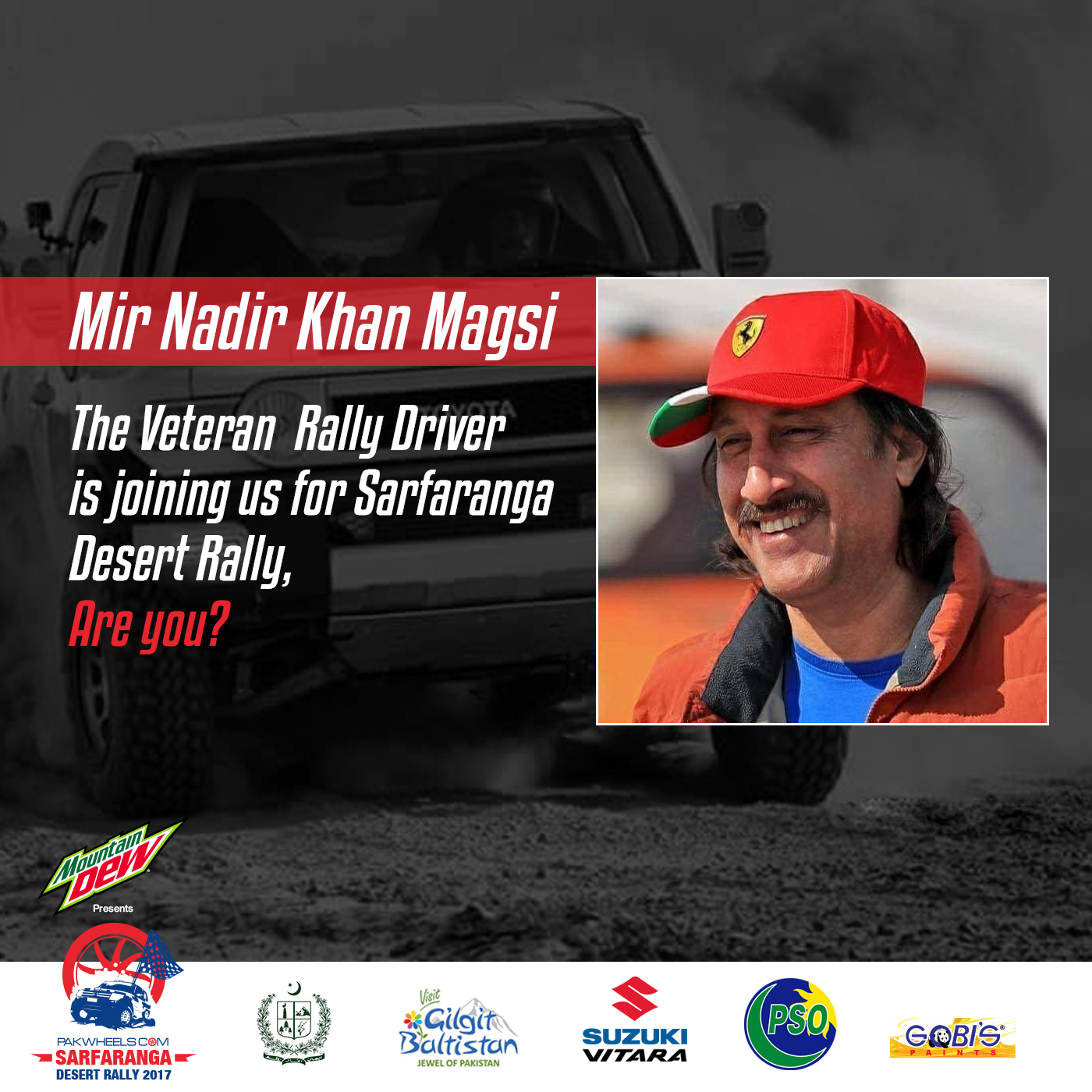 He is a veteran rally driver and has a strong passion for cars and bikes. This summer, his focus is the Sarfaranga Desert. He is going to give you the runs for your cars with his racing attitude.
Syed Asif Imam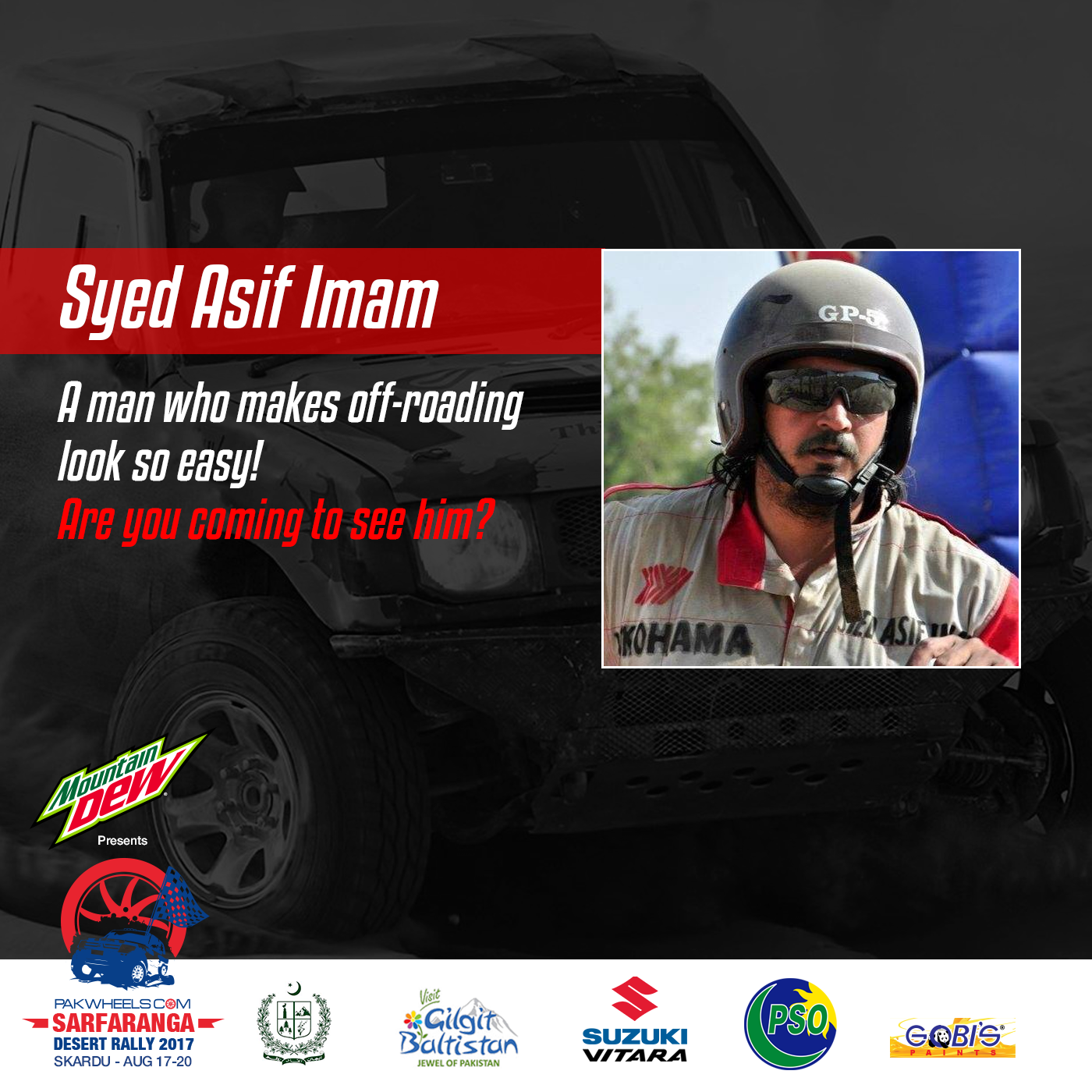 Asif came into view through the Xtreme Autocross tournament held in Karachi. The Round One of the 2012 contest of the B-Stock classification was at that time won by a far-off sideline. The winner was none other than the brilliant Syed Asif Imam, who was at that time driving his Mazda Miata in the championship. We wish you great luck Asif, may the best driver win!
Rashid Abdullah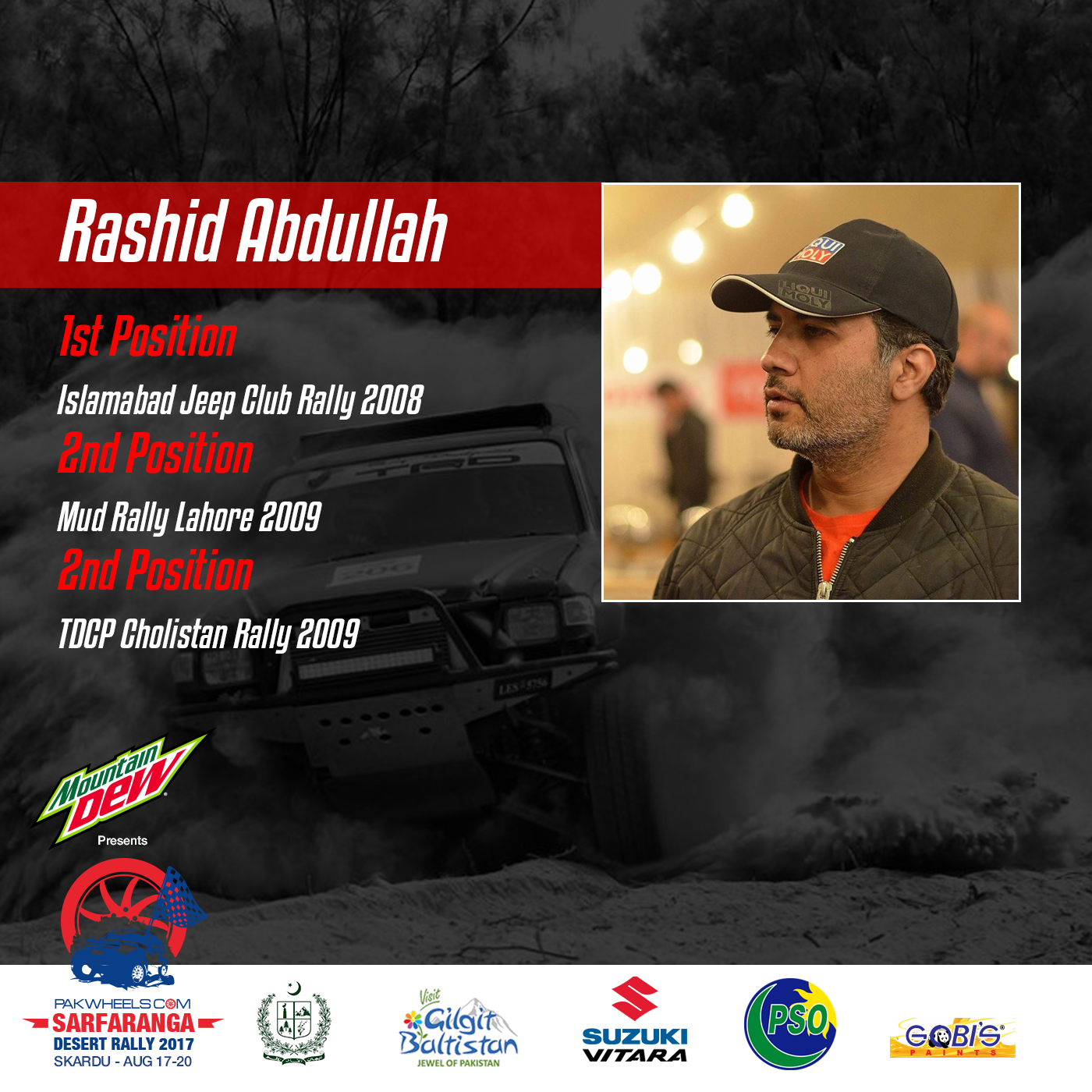 He is not a cup-of-tea for all. This super-car racer held his title in 2008 by winning the 1st position in the Islamabad Jeep Club Rally. Later in 2009, he held his position at the second place with two most significant car shows. One was the Mud Rally Lahore and the other, TDCP Cholistan Rally – both took place in 2009, and were one the high-tide events of the year. Rashid is ready to start this time too and let's see if he goes for the first spot this time!
Tayyab Khakwani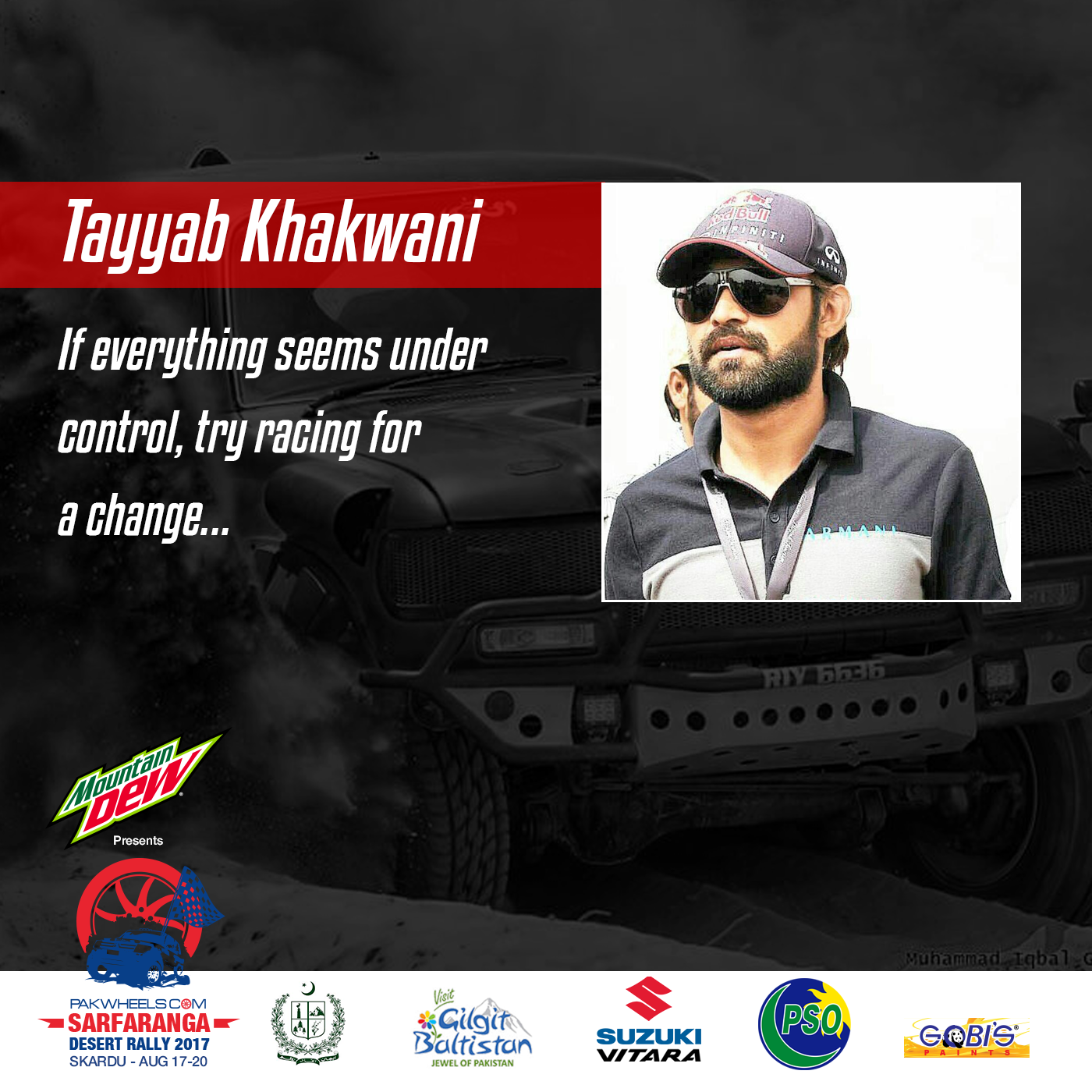 Another sensation of the Sarfaranga Desert Rally is Tayyab Khakwani. Auto racing is an extremely cutthroat and restrained domain, and a well-known name has to work sturdier to be acknowledged in it. Tayyab being a celebrity motorist isn't a celebrity on the trail, but a man with a view if you may say! He is fully attired car-racer and wouldn't let you miss him in millions! May you succeed Tayyab – we wish you all the luck! 
Qasim Saidhi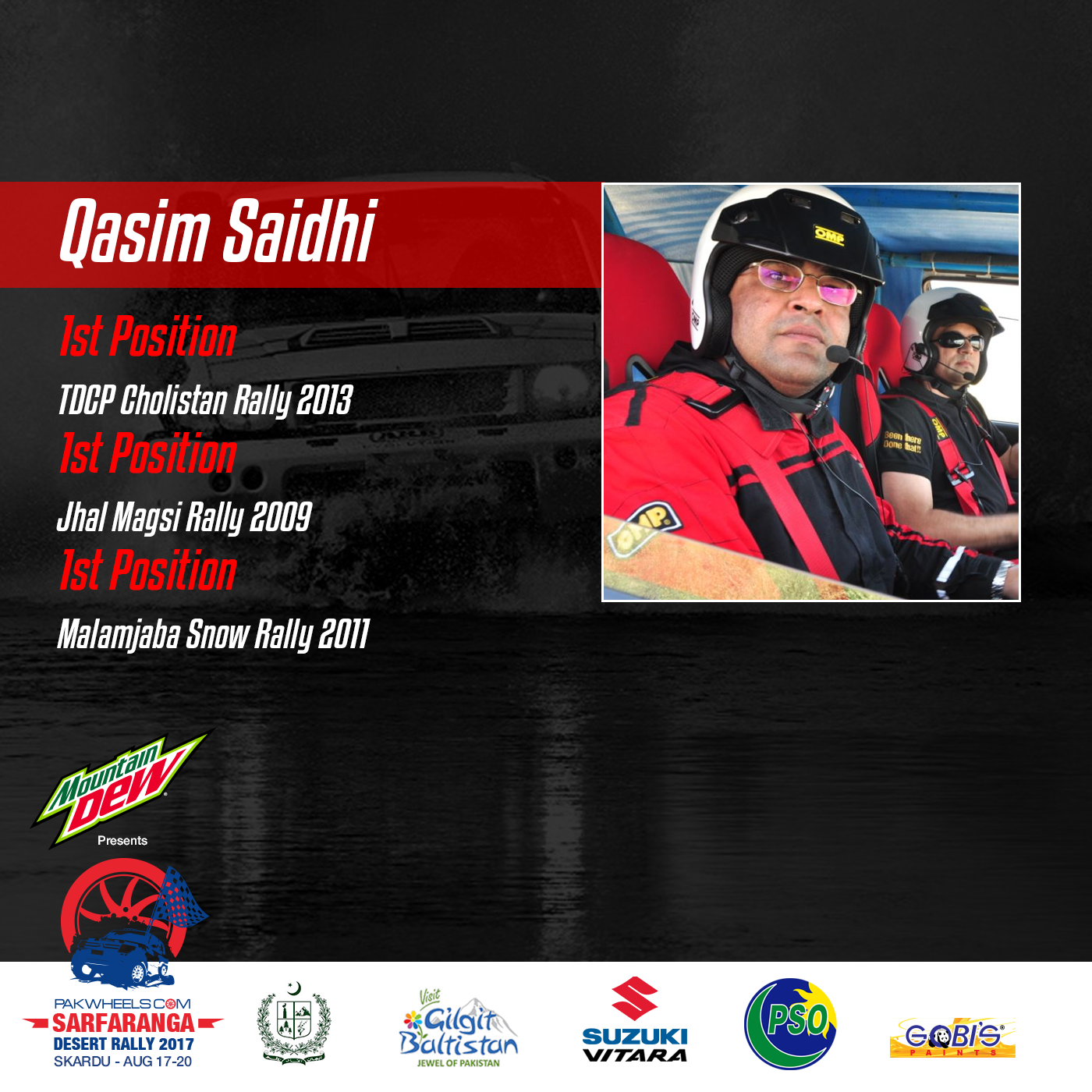 Qasim is a gifted racer. He gave a lot of people thrill with his amazing and remarkable talent. It looks like the second or the third position is not made for him at all. 2013, TDCP Cholistan Rally got him fame with first place. Then comes the Malamjaba Snow Rally of 2011, where he came out as the leading star of the event. Last but not the least, the TDCP Cholistan Rally of 2013 also concluded him with at first position too! We wish you all the best with luck Qasim!
Zafar Khan Baloch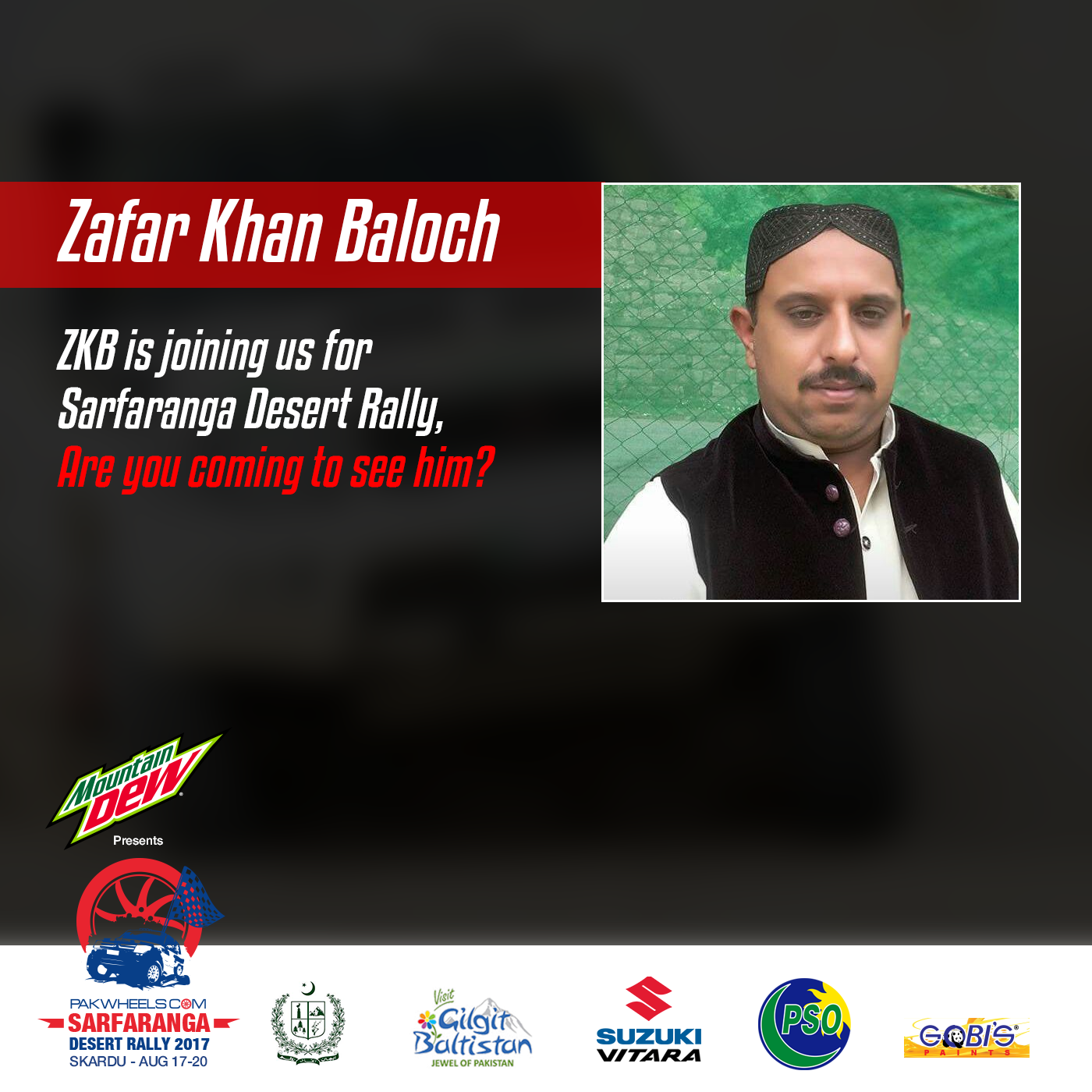 Taking on tough terrains in a rally stage is Zafar's obsession. Acclaimed with fame and knowledge that comes with competing on grand rally events, Zafar has his eyes set on the first position in Sarfranga Desert Rally 2017. We wish you the best of luck for this competition!
Qadir Sangi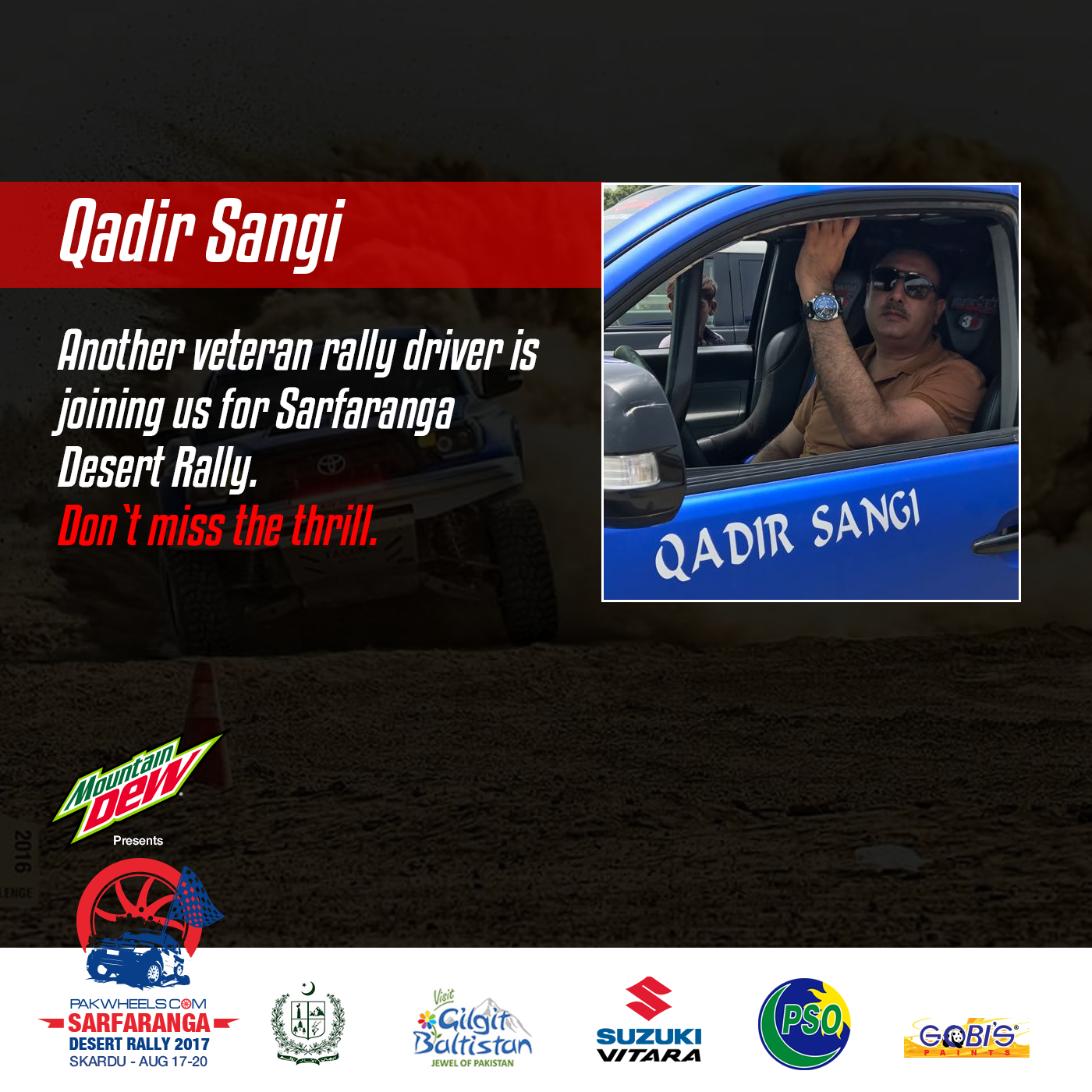 Two traits, car collector and racing enthusiast, make Qadir Sangi a true petrol head. Qadir's success and fame have skyrocketed over the years and now with a bag full of experience and vast expertise, Qadir Sangi is all set to make his presence known in a major rally event. We wish you the best of luck!
Sahibzada Sultan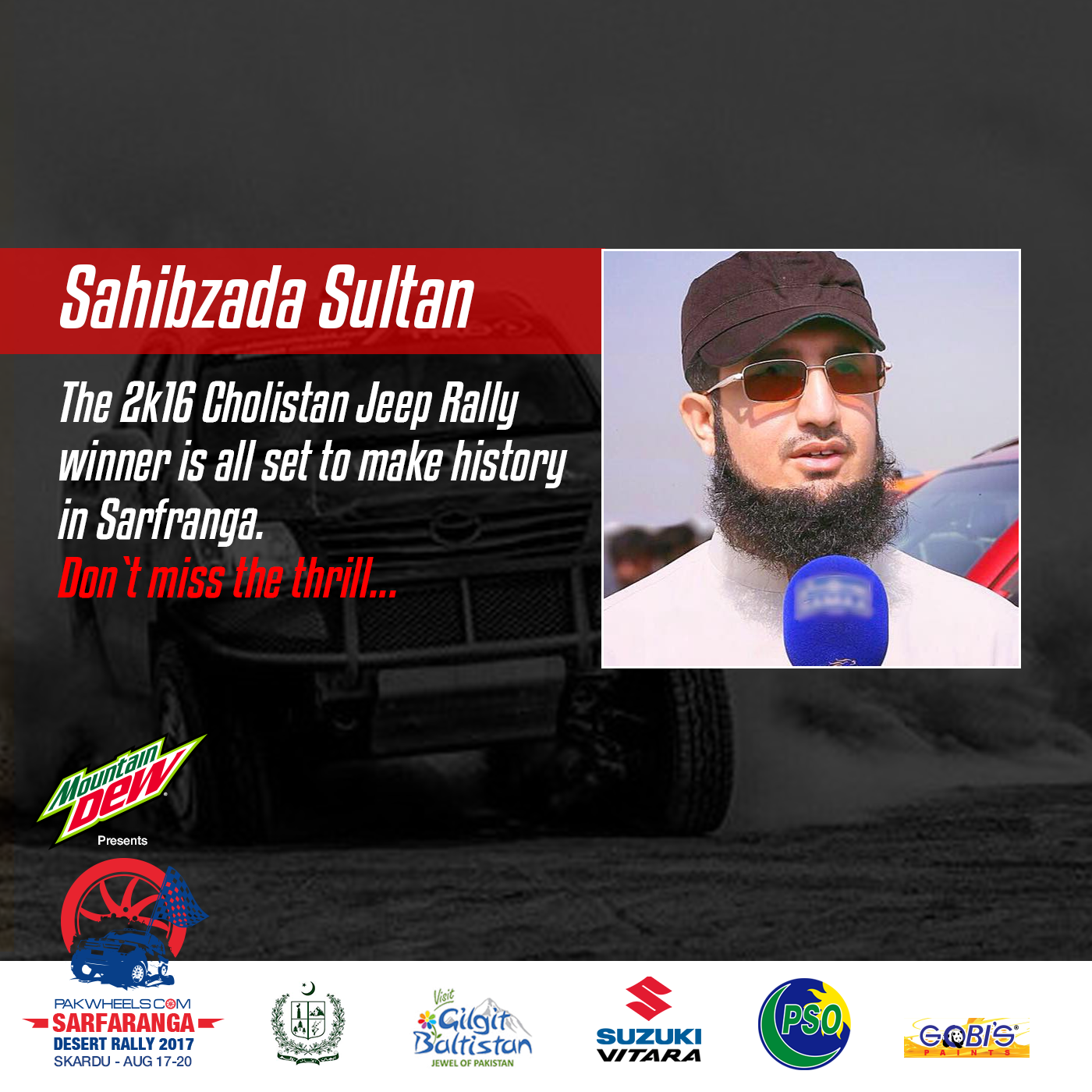 The enigmatic Sahibzada Sultan came under media spotlights when he won the TDCP Cholistan Jeep Rally 2017 and since then there has been no turning back for him. Sahibzada Sultan will be joining Sarfranga Desert Rally 2017 to showcase his brilliant driving skills and add another trophy to his name. We wish him the best of luck for this competition!
Stay tuned for more updates as soon as the stone gets rolling with Sarfaranga desert Rally of 2017! We will have you posted with live details of the event.