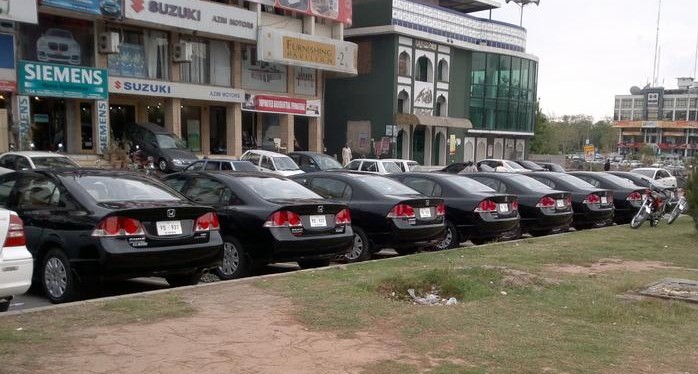 Despite the influx of used imported cars from Japan, the sales of locally manufactured car makers have been enjoying healthy sales. According to Pakistan Automotive Manufacturers Association (PAMA), the local assemblers have increased the production of cars.
Since Pak Suzuki Motor Company Limited (PSMCL) supplies vehicles for Punjab Taxi scheme, private buyers have been facing not only the delays in the delivery of their cars but also the demand for 'on' money or premium if you want to buy the car on the spot. In some cases, delay in delivery is as much as four months. Dealers or investors start asking for 'on' when demand is high and production is lacking behind.
Pak Suzuki's Ravi and Bolan are being delivered after three months of the booking date. But you are in a hurry, you can pay your friendly neighborhood Suzuki dealer extra Rs 35,000-40,000 for Ravi and Rs 30,000-35,000 for Bolan. Suzuki was able to sell 17,146 units of Ravi and 17,180 of Bolan in this fiscal year. Both vehicles have seen an increase in sales compared to last fiscal year's.
Suzuki Mehran on the other hand, our nation's mascot, is being delivered after 2 to 3 months. But as always, pay Rs 10k for non AC or Rs 25-30k premium for AC model and you can have your own new and shiny, probably, Mehran. Suzuki Mehran's sales, however, have remained more or less the same and just moved up by few hundred units (24,903 from last year's 24,202 units).
Suzuki Wagon R is seeing an upward trend in its sales since December 2014. Sales have been recorded at 4,027 units between the months of July of last year and April of this year.
Even though Suzuki Cultus' sales dropped to 11,397 units from 12,521, delivery time is still two to two-and-a-half months from the date of booking, or pay Rs 15,000-20,000 and buy it on spot.
Suzuki Swift hasn't been able to enjoy as much demand as its siblings and sales fell to 2,931 units from last year's 4,120 units.
Toyota Corolla on the other hand has a completely different ball game. If you go and try to buy a Corolla on the spot from the dealer, you will be asked to pay somewhere around Rs 80,000 for an auto car, or as much as Rs 130,000 for a manual car. But since Corolla comes in a lot of variants, you can expect the own money to rise or fall accordingly. New Corolla, as you would expect, has been in demand since its time of launch. Indus Motor Corp sold 41,650 units than last year's 25,674.
In fiscal year, from July to April, 120,942 locally assembled cars were sold. This is higher than the last year's figure of 97,232 units during the same period of months. Whereas the production of cars have increased; from last year's 96,407 to current number of 121,645 units.
Picture for Honda Civic, however, isn't as rosy as for others since the launch of new Toyota Corolla. Honda Atlas was able to sell only 6,399 units in the months July and April of this fiscal year, than last year's 7,956 unit in the same months. Honda City sales, on the other hand, have improved from 10,786 units to 12,382 units.
Not only the dealers stock pile new cars and then sell them on premium when needy customers approach but often customers who book cars as an investment, also sell them on 'on' money; either through their personal contact or ad on websites, or through the same dealership as well.
Source: Dawn