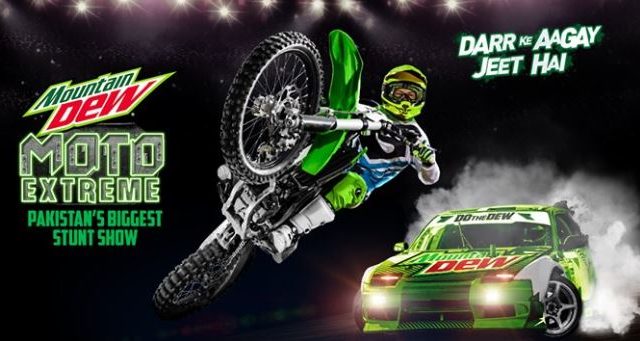 Dew Moto Extreme was a thriller for the Motorsport lovers of Pakistan
The biggest stunt show of Pakistan was yet again arranged by Mountain Dew as Dew Moto Extreme that left thousands of Motorsport lovers thrilled and entertained with its extraordinary performances. The event began from Karachi as it later moved to other cities, including Multan, Lahore, Gujranwala, and Islamabad. The arrangement of such an exciting event in the country has improved the image of Pakistan across the globe as several professional international stuntmen participated in the event. The people of Pakistan witnessed thrilling and spectacular performances from these famous stuntmen. Three bikers, including Dallan Goodman, Nick De Witt, and Frog Bergren, raised the temperature of the arena with their stunning performances on FMX bikes. They were joined by DiDi Bizzaro, who showcased his two-wheeling stunts in the car. Mike Skelton and Jim McFarlane didn't disappoint the spectators at all with their highly professional drifting skills. Stacey Lee, on the other hand, is known for her unbelievable spinning skills, which were witnessed by thousands of spectators in the arena.
Mountain Dew further joined hands with PakWheels in offering an opportunity to the local drifters to showcase their talent in front of their home crowd. The event for local drifters was arranged in the federal capital, and its track was designed by international stuntmen. Nonetheless, it was a real test of nerves for the participants. All the drifters performed extremely well and tested their limits within the safeties. The names of the top three performers of the event along with their cars are as follows:
Taha Ansari (Skyline R33 GTS) (First)
Fahad Malik (Nissan 350Z) (Second)
Sardar Hassan Sadiq (Mazda RX7) (Third)
The above-mentioned distinguished performers were awarded cash prizes. The total amount distributed among these winners was PKR 5.0 Lac. Taha Ansari, who came first, was awarded PKR 2.5 Lac while the Fahad and Sardar Hassan were given a cash prize of PKR 1.5 Lac and PKR 1 Lac, respectively. Note here that Taha Ansari was also given the title of drifter of the year and earned bragging rights as well.
All the attendants highly appreciated the event, particularly the families who arrived to enjoy the fun-filled Dew Moto Extreme. It is imperative to mention here that it was a thrilling event, yet all the safeties of the performers were ensured. It's a great initiative by Mountain Dew as it revives the motorsports in the country and encourages the local talented individuals to showcase their talent within the safe limits. Such sorts of events should be held more frequently in the country to promote motorsports. Share your valuable thoughts in the comments space, particularly if you attended the thrilling Dew Moto Extreme.