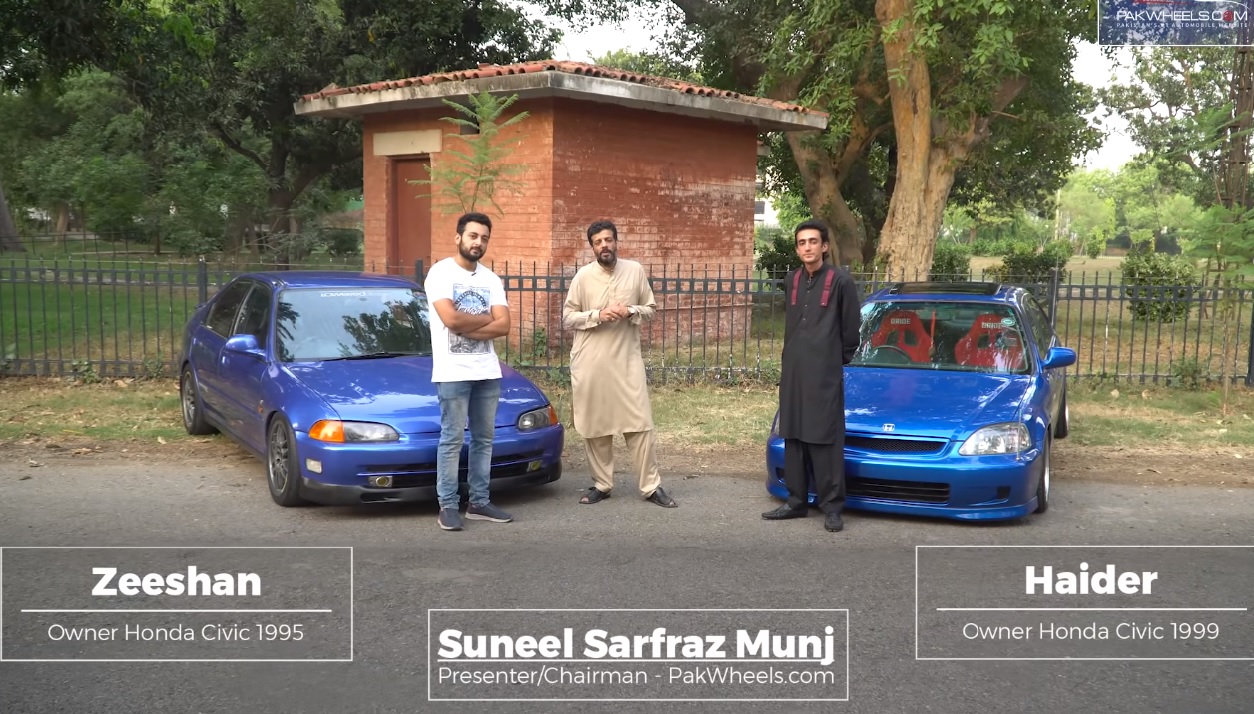 Honda Civic 1995 & 1999 Owner's Review: Price, Specs & Features
Keeping up with the tradition of bringing exclusive detailed reviews of vehicles for our readers, this time too, PakWheels.com has brought an owner's review of the following cars:
Honda Civic 1995 (5

th

Generation) 

Honda Civic 1999 (6

th

Generation)
Fun fact, the 5th generation Civic has also made a debut in the earlier Fast and Furious films. The fifth-generation civic known as an "EG" hatchback, was a serious show car at the time.
Aside from a roster of modifications to help the little pocket rocket go even faster, the paint was something exceptional. Both the cars came in some eye-catching, vibrant royalty colors. The blue-green pearl was extremely liked when it came to the 5th generation Civic. 
Now let's get to the details of these cars.
Civic 1995 5th generation 
This car was one of the first civics to come out with slim front headlights.  With all its changes from its predecessor, this model was just loved at first sight for most car lovers.  It was also loaded with features for a car of its era. It came with power steering, power windows, and a massive AC vent on the center of the Dashboard that would also push air to the rear seat passengers.  This car was seriously customizable for its time, and that is why it was one of the favorite vehicles amongst racers and young car enthusiasts.  
Initially, this car was imported as a 1300 cc variant; however, the vehicle we have reviewed here was Made in Pakistan and had the 1500cc carburetor engine, but the owner changed it with an EFI engine.  Today, most parts for this car are available locally, and its suspension, engine, interior parts, etc. can be easily found in the local market. However, as this model is now 24 years old, some of its cosmetic accessories are not readily available, but that should not bother a normal user of Honda Civic as they would most likely use the car as a standard everyday use car. It may also entertain the racing bunch amongst our youngsters.
This civic model's ground clearance is lower than that of a Toyota; however, it is excellent for most Pakistan roads.  Only the largest and nastiest bumps or speed breakers would impact its clearance.  
Known Faults
There are some common, recurring problems in this model.  These are listed below: –
Power Window Replacement is required almost every year

Headlight visibility is low

There is no armrest for the driver so long drives can be uncomfortable 
Overall
This car is still a wonderful drive, whether in the city or on long routes.  It gives an average of 12-13 KM per liter in the city – very impressive even against some recent models.  Today a standard 1995 Honda Civic is available between 5 to 5.5 lakh, depending on condition. It is still a very good buy compared to say a used Suzuki Cultus as you get the interior of a full Saloon Car along with a full trunk.  
See the video review of both of these cars below:
Civic 1999 6th Generation
This particular 1999 model that is under review is the Civic VTI Oriel Prosmatic – one of the most loaded and sought-after cars of its time here in Pakistan.  It has an elegant, balanced body with a spacious and comfortable interior. It was one of the first locally assembled civics with a sunroof, among other accessories.  
This model was also the first automatic civic to be launched in Pakistan. It came with four-wheel disc brakes – an attribute that Honda publicized actively, and it also had an EFI Engine Control System – also a first of its kind in civics.  In this model, Honda also added adjustable steering columns. This locally assembled 6th generation civic also had comfortable leather seats.  Overall, for its time, it was one of the most technically advanced and feature-loaded civic of its time.
Resale
Selling this car wouldn't be that hard a job as it's still in high demand in Pakistan. Depending on its condition, the price can easily go up to 10-10.5 lakhs. 
Comparatively speaking, in today's time, other car models cost more than this civic. Most importantly, this shape is such that it has not aged as quickly as many other cars do.  So, it is still a sought after civic.  
Known Faults
Not that the 5th had a long list of issues, this one has an even shorter list. The only issue so many people were concerned about was its fuel average.
That's it from our side, drop your thoughts in the comments section below.