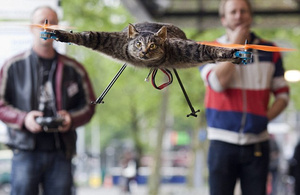 Dutch artist transforms his dead cat into a R/C helicopter
There's a fine line between art and a grotesque behavior displaying absolute no refrain towards mutilating a dead cat's body. Dutch artist, Bart Jansen crossed that fine line when he decided to transform his cat which died when his cat was killed by a car.
He named the cat after the famous aviator, Orville Wright who now would be very turning in his grave after Dutch artist first stuffed Orville before teaming up with radio control helicopter flyer Arjen Beltman to build a specially-designed flying mechanism to attach to the cat.
Ultimately called the Orvillecopter, is now on show at the Kunstrai art festival in Amsterdam where visitors can watch Orville flying for themselves.
Almost all the responses received at the Daily Mail who originally run the article are saying that this is not art, this is a display of a man with sick imagination.
For more pictures; click here.