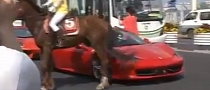 Horse kicks Ferrari 458 in China
There has been a huge outcry against Ferrari after they left their tire marks on an ancient wall in China significant as a national monument. Ferrari launched the 458 Dragon Edition, meant to commemorate the 20th Anniversary of the Italian brand in the country, as well as the arrival of the Chinese Dragon year. Only 20 will ever be built, but you don't want one because it will forever be considered an insult to the country's culture.
To promote the car, Ferrari payed officials $12,000 (€9,300) and they were thus allowed to put the car on top of Zhonghua Gate Tower in Nanjing. We don't know if they wanted a launch party or a photo shoot, but what they got was a media fiasco.
What followed afterwards was the word Ferrari being banned by Chinese government officials from various social websites and blogs and Ferrari releasing an apology and insisting the dealer to take strict action who performed this act.
Although it's just a random case of an animal unknowingly kicking a car but the quite hilariously, it couldn't come at a time worse than right now for Ferrari in China.
There's not much damage to the car but that damage is fixable, because losing goodwill in the largest car market is very hard to get back.