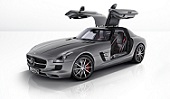 Mercedes Benz reveals 2013 AMG SLS GT, no more AMG SLS
First things first, automakers release bucket full of expensive special edition super cars, this however is not that case. Mercedes Benz is done with calling the AMG super car 'SLS' and from now on, it will be known as 'SLS GT' instead of just SLS.
In an automotive world already flooded with tons of acronyms, automakers are always in a hurry to write patents for the names they have a slight of hint of using in the future but not necessarily use it.
So with the addition of GT to it's name, we wonder why Mercedes Benz has focused to call it a Grand Tourer, maybe the lack of it's track worthiness led them to focus on it's Grand Tourer abilities rather focus on breaking track records.
Anyways, the car will go on sale by mid-november 2012 and will be available in both Coupe and Roadster form however, the 20 more precious horsepower is added to take it from 563 bhp to 583 to make sure the old non-GT version SLS may not haunt you on the autobahn.