The Dynamic two-wheeler of the era title swings towards both – Suzuki Hayabusa V/S the Ninja Kawasaki Zx14r. We bet the names aren't new to you.  They are famous for their magnificent swiftness and are regarded for their super-power thrill for ages. Even at present, Suzuki Hayabusa has the status of a champ amid all other bikes. In the empire of racing, it has the title of the 'fastest horse'. The skillful experts of Japanese auto engineers have furnished this super-fast bike with cutting-edge features and specs. Whereas, The Kawasaki Ninja ZX-14r is made by the Japanese manufacturer Kawasaki. Both of these are super-fast and are a thrill to drive.
For Sale on Pakwheels: Motorcycle
For Sale on Pakwheels: Heavy Bikes
Suzuki V/S Kawasaki – An Overview
Both of these stand their own stance in build and new editions. Kawasaki is famous for its strong engines, whereas Suzuki is simply fast. Suzuki Motor Corporation is a Japanese international company. It specifies in engineering automobiles, four-wheel drive automobiles, motorbikes, all-terrain vehicles (ATVs), and external marine engines. Whereas, Kawasaki Heavy Industries Ltd. is a Japanese public transnational corporation chiefly known as a maker of motorcycles, heavy gear, aerospace, and defense gear. Both of them are known internationally for their heavy bikes and are trusted globally for quality.
Availability In Pakistan
Both of these manufacturers supply their products globally, in Pakistan we have to import their products. Suzuki Motor Corporation has recently launched some very powerful group of fabulous sports bikes in the country, and the most lavish member of this launch is Suzuki Hayabusa GSX 1300R. Its price in Pakistan is approximately PKR 2,600,000. However, with Kawasaki Zx14r the approximate price is PKR 2,000,000. typically not so high in demand, you will need to find a dealer who will go all the way to import the bike.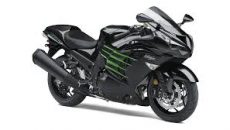 Comparison – Suzuki V/S Kawasaki
"What's the super-fast bike you got?" Customers question this on a daily basis at showrooms across the nation. Usually, the answer used to be quite simple and easy since the Hayabusa was announced in 1999. The conclusive answer used to be "The Hayabusa."  Suzuki's giant was and is still matchless. Hayabusa easily defeated Honda Blackbird, Kawasaki ZX-12R, and Yamaha. The hype in the sports class stands with Hayabusa. But, for now, it is 2017 and the specs, price, engine all has been updated and renewed for both. Let's take a heavy bike ride to see for ourselves!
Neck-To-Neck Comparison
The Suzuki Hayabusa GSX 1300R is armed with a 1340cc DOHC liquid cooled engine. Whereas with Kawasaki you get a 1441.0 cc engine. The top speed for Kawasaki Ninja ZX-14r is 186 mph (299 km/h) With Hayabusa speed is approximately around 188 – 194 miles per hour. Hayabusa beats Kawasaki heavily in speed!
Overview & Design
The massive Suzuki Hayabusa comes with a modern design and up-to-date look. Hayabusa is engineered for both, stylishness and top performance. You get to choose colors from a decent white to the bold-black, and groovy yellow. With Kawasaki Ninja ZX-14r you have limited choice of Flat Ebony only.
Engine Comparison Kawasaki Zx14 V/S Suzuki Hayabusa
Both the bikes are armed to thrill their riders with speed, and by the speed we mean SUPER-FAST. Suzuki Hayabusa has an engine with DOHC 16 Valve; 4-Cylinder and Liquid Cooled formula. With Kawasaki, you get a 4-stroke engine with 4 cylinders, DOHC, 4-valve and Liquid-cooled system. Both of these heavy bikes come with below specs:
Displacement                      1340 cc                                                                             1441cc
Bore & Stroke                     84 x 65 mm                                                                  76.0 x 55.0mm
Compression Ratio             12.3:1                                                                               13.0:1
Transmission                        6-speed                                                                        6- speed, return shift
Frame                                    Twin Spar                                                                     Aluminum perimeter
Ground Clearance               120 mm                                                                                4.9 in
Petrol Capacity                       20 L                                                                                 22 L
Tyre at Front                         4.7 – 17                                                                               120/70 ZR17
Tyre at Back                          7.5 – 17                                                                              190/55 ZR17
Dry Weight                            220 KG                                                                                    269 KG
Security & Brakes
Suzuki Hayabusa is a sports bike with a groundbreaking prototype. It is modernized by the latest spherical brake calipers and anti-lock brakes. These make the ride tremendously secure and comfy. It has a 6-speed gear transmission and is supplemented by a Suzuki clutch assistant system. This formation certifies even and supple shifting of gears. The bike comes with a wheelbase of 1480mm and delivers utmost road grip for an out-and-out performance. It's not a piece of cake for all!
Whereas, Kawasaki Ninja ZX-14r, you get the electric rider aid. This includes of:
Kawasaki Launch Control Mode (KLCM)
Kawasaki Intelligent anti-lock Brake System (KIBS)
Kawasaki Sports Traction Control (S-KTRC)
Kawasaki Engine Braking Control
Kawasaki Quick Shifter (KQS)
Kawasaki Corner Management Function (KCMF)
Conclusion
Both of these ferocious and fastest bikes are regarded as the BEST in the racing realm. You get style, safety and strength all-in-one with both of them! There is no reason to overlook even one of these masterpieces because of the price. Their looks are breathtakingly spectacular, and the ride is equally swift and fast! Let us know what you think of both of them, and which of these maybe your next thrill ride.
Also Check Out: Heavy Bikes for Sale in Pakistan