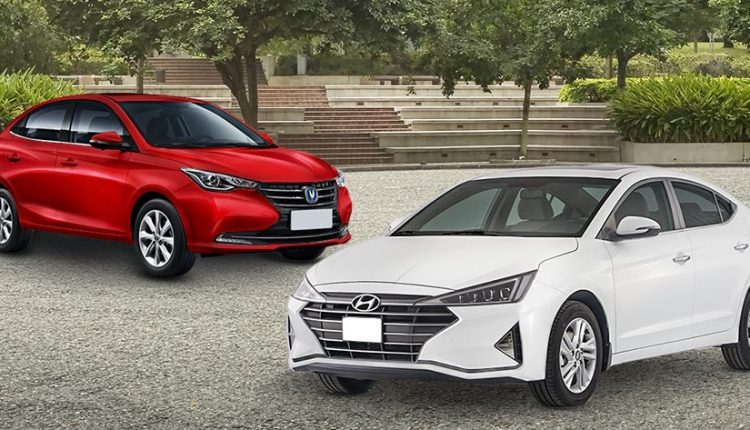 Elantra 1.6L GL ⚡ Alsvin 1.5L Lumiere – A Comparison
In this article, we are going to compare newly launched Hyundai Elantra 1.6L GL with Alsvin 1.5L Lumiere. The former is the base variant of a C-segment sedan, while the latter is the top variant of a B-segment. However, most sedan buyers compare these two options, so we are here with a detailed Elantra vs Alsvin comparison.
Dimensions 
Elantra GL is 4620 mm long, 1800 mm wide, and 1450 mm tall, while in comparison Alsvin is 4390 mm long, 1725 mm wide, and 1490 mm tall. So, Elantra is longer and wider than Alsvin, but Alsvin has a better height than Elantra.
Engine and Transmission 
Elantra GL has a 1.6-litre MPi engine that produces 126 horsepower and 155 Nm of torque. Alsvin Lumiere has a 1.5-litre MPFi engine, generating 105 horsepower and 145 Nm of torque. Elantra has a 6-speed automatic transmission against 5-speed DCT in Alsvin.
Elantra GL has more power than Alsvin Lumiere. But both cars have smiliar acceleration.
Exterior
The Hyundai's sedan has auto Tetra LED headlights, LED DRLs and LED tail lights, while Changan's vehicle has Halogen Projection headlights, LED DRLs and Halogen tail lights. Both don't have fog lamps.
The side view mirrors in Elantra are auto retractable and powered compared to powered only in Alsvin. Furthermore, both vehicles have jack knife with trunk release, and sunroof.
Finally, the wheel size in Elantra is 16-inch alloys against 15-inch alloys in Alsvin. Overall, both cars have their unique beautiful looks.
Interior
The seat material in Elantra is fabric compared to faux leather in Alsvin. Meanwhile, the newly launched sedan has 6-way manual adjustment in driver seat and 4-way manual adjustment in passenger seat, in comparison to 4-way manual adjustment in both driver seat and passenger seat in Alsvin.
The steering wheel in Elantra has Tilt and Telescopic adjustment, while Alsvin's has Tilt only,. However, both have steering media controls.
The size of infotainment touchscreen in Elantra is 8-inch, compared to 7-inch floating LCD in Alsvin. The climate control in both cars is manual, but Elantra has rear AC vents as additional feature. Clearly, Elantra GL has better interior features than Alsvin Lumiere.
Safety
Both cars have dual airbags, ABS and rear camera as common features. But Alsvin has a lot of additional features like cruise control, traction control, vehicle stability control, rear parking sensors and tyre pressure monitoring system, making it safer car then its competitor.
Price
Hyundai Elantra GL has been launched in Rs. 4,299,000, while the current rate of Changan Alsvin 1.5 Lumiere is Rs. 2,939,000. Elantra GL costs 13 lacs more than Alsvin Lumiere.
Which car will be your pick in this Elantra vs Alsvin showdown and why? Let us know in the comments.