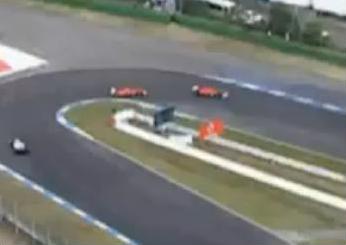 FIA vs Ferrari: The Team Order Controversy
In F1, controversies are normality and even for some fans these just make F1 even more exciting. The controversy ranges from rule violations to some minor infringements, from technical innovations to some controversial ways of driving. The most uproar happens when teams are found guilty of violating rules, not just because it deserved penalties but also because sometimes same violations were been overseen in the past or the interpretation of rules has been done differently by different teams because the method of writing the rule by FIA is quite vague and sometimes have so many loopholes that different interpretations are not unexpected. In the current season, we have already seen every kind of controversy including driving methods, minor infringements, technical innovations and rule violations. The most recent rule violation took place during German GP some 2 months back by Ferrari.
When the voice of Massa's Race engineer Rob Smedley told Massa during the German GP that Alonso is faster then you, do you acknowledge???. And Massa coming out of slow hairpin slowed intentionally and gave Alonso the chance to overtake him and then Rob's voice echoed sorry lad, now get back to racing. These few seconds were the start of a controversy between FIA and Ferrari. The race result was decided on that lap and Massa then has to maintain the gap and also have to defend his position against Red Bull's driver Sebastian Vettel who was closing on him in the later stages of the race. Neither of the 2 drivers were looking happy on the podium ceremony. But during the press conference Alonso deny that there were any team orders for position swapping when both drivers face some really tough questions about the incident while Massa don't reply on such questions.
According to FIA's regulations, team orders that intervene in any way with the outcome of the race are prohibited, but this rule is so loosely written that there is no way to stop such things because during the race, teams have to give different kind of information to their drivers about race and track situation, technical information regarding engine, fuel, tire wear etc, any of such information can be used as a way to change the out come of the race, as it is not necessary to use simple words asking a driver to slow down and give way to his team mate for the better position or for win.
This rule of banning team orders was brought in 8 years ago when Ferrari was found guilty of using team orders for race altering result in Austrian GP during the 2002 season, when team ordered Rubens to give way to Michael Schumacher to win the race. At that time the championship situation was quite easily in Schumacher's favor with 4 wins and a second position finish for first 5 races of the season and even a second place finish in Austrian GP would extend his lead but Ferrari used team order to give Schumacher an undeserved victory, FIA investigated the matter and then came to conclusion that team orders are illegal if they intervene in the race results.
This time however the situation was not the same, although fans were split whether the orders are necessary or not, as those who think these orders are necessary are of the opinion that the points difference between Alonso and the championship points leader was 47 points while Massa was another 30 points behind Alonso. While those who are against the orders say that Massa was still in the title hunt according to mathematical calculation and Ferrari's decision to impose team orders made a full stop on his chances as now he has to play second fiddle to Alonso throughout the rest of the season. Realistically the orders are inevitable but Ferrari should have given them out in a more sensible manner then they did by asking Massa's engineer to give the orders to him. Most F1 experts are of the opinion that the order should have come from the team boss Stefano Domenicali rather then Massa's race engineer Rob Smedley. Coulthard have said the same thing at the end of the race during the post race show that when I was at McLaren, whenever team orders were necessary Ron Dennis came on my radio and asked me to do what he wanted me to do instead of my race engineer.
FIA's stewards for the German GP have deemed Ferrari have done a violation of FIA rules and handed them a fine of 100,000$ while referring them to World Motor Sports Council (WMSC) for further investigation. On September 8th 2010 WMSC hears the case and after hearing concluded that although Ferrari have been guilty of using illegal team orders, there are not enough evidence against them to give them further punishments. FIA's boss Jean Todt who was the team boss of Ferrari back in 2002 when the Austrian GP controversy happened says,'there is not enough proof that Ferrari has violated the FIA regulation for team orders', while also saying that,'FIA will look into the regulation and discuss whether the regulation should be made tighter or dropped altogether making team orders legal'.
I might conclude this by saying whatever they do please never think of dropping the rule which even in its vague form at the moment still insure one thing that teams try to implement team orders in a hidden manner and not as openly as what Ferrari has done in German GP, and also from robbing the fans of some exciting racing as team orders will certainly hamper that.