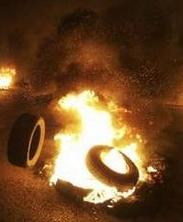 Why General Tyre is a P.R. Disaster
Uncle Ben told Peter Parker that son, 'with great power comes great responsibility'. Similarly, Our President also told his son, 'with great power comes absolutely no responsibility'.
Perhaps our President spoke a bit too loud that most chiefs of Pakistani companies took the oath of loyalty to the infamous quote of our President.
The constant brouhaha about social responsibility, innovation, creativity, etc through various advertisement campaigns by our companies are to improve their sales, as only innovation the companies do is changing sales figures, creativity is something known to the graphic designers and they bunked the class of social responsibility.
Product innovation does not exist in Pakistan, hence, R&D isn't functional. Current C.E.Os are usually appointed from the bunch of best blokes in the marketing or sales department as they can bring revenue through sales, so does Pakistan has any space amongst the world?
Apparently no, our pride rests with the exports of agricultural and depleting textile exports, and oh yes, mangoes, sugar and flour; we export all of it and then import it back, some ruthless black-profiteering innit? This whale of a fact is accepted by almost the world except the folks involved.
So back to the main question again which is, where does Pakistani mafia madness stands? I am not going to go ahead of Asia; the figures to follow in the next few paragraphs speak a success story of hard working people with a destiny to take their countries in the ring of industrial titans of the world in their respective industry.
Such way even the people deem their support to the companies, for example; In around 1999-00, Nissan Motor Co. was going through a severe financial disaster, with plants shutting down . The Japanese people were really worried about their brand which once was their pride. Then Carlos Ghosn stepped in to perform a miracle and won the hearts of Japanese people. Today, he is considered as a hero and enjoys celebrity status in Japan.
The world accredits him with Man of the year 2003 by Forbes followed by his addition in the Japanese automotive hall of fame in 2004.
Mind you Carlos Ghosn didn't do it through a sales pitch, because in the Automotive Industry there are several types of buyers, many of those are seldom found but there are two most popular type's worth mentioning. One; you cannot pitch to sell because that would be outrageous to their knowledge and the other type buys it through advise or other user's(preferably relatives) experiences, pretty much nothing to do with sales aye?
Carlos Ghosn stabilized the company through new innovative products, distinguishable targeting of products among regions and people, created brands within everyone's reach. Every kind of person got what his need be.
But we're here talking about a company that produces tires and only tires since the last 53 years which is General tyre of Pakistan, founded in 1963 and has been in production since 1964. The only brands that they could launch in those 53 years were the XP 2000 and the recent Euro series, and that's all I have to talk about General Tyre because that's what they have accomplished apart from a forbidding reputation of their tires over the decades.
There is a tyre company in India which was founded a decade later after General in 1976, named Apollo, the guys went on to conquer the world with annual revenues over 1.8 Billion US $ today.
Similarly, Yokohama Rubber Company was founded in 1917 in collaboration with B.F. Goodrich and by 1969 they had extended their operations to USA followed by Hankook Tire Manufacturing; which began as Chosun Tire Company in 1941, renamed itself in 1968 as Hankook Tire Manufacturing and has sales revenue surpassing 3 billion $ followed by Toyo Tire Company; was founded in 1945, and just 2 years later they exported their first tire embarking upon their plans to become one of the largest brand operators in the world which they did, followed by Kumho tires; was founded in 1960 and today they have operational R&D centers in 4 countries around the globe and in 2009, Kumho introduced its first SUV concept named; Fortis, which had pretty innovative sets of conceptual wheels for an SUV.
Now, I must tell you that I've been a user of General's XP 2000 tire and they worked absolutely fine, found no faults until the day they turned grey and that's when the mess began with number of punctures increasing everyday but those punctures aren't General's fault but over usage.
Masroor Gilani, an avid member of Pakwheels shares the following experience, "When I got a new Corolla, a friend who had a new Baleno told me to change the tires immediately as they skid and he had an accident in Nathia Gali due to Generals. Panicked, I rushed and spent some 10K and changed to Yokos. A year later two friends bought the same car, but they did not change the tires and say that they do not see any problems with Generals. Both are road lovers and keep traveling from one part of the country to another on Generals. Sometimes I repent; I should have not thrown Generals so soon and saved that money".
But the Pakistani consumer doesn't accept that General can be a reliable tire and they always recommend imported tires over General. Let's face it; we have a severe disorder of imported goods being of superior, long-lasting quality over the locally produced goods. There is a probable reason for atleast Generals;
53 years have gone by and General is not behind a single motor sports event or was available to the engineering students. Going to the engineering student today won't help much either because the Automotive Industry has revitalized, much more of a quite revolution with designers taking over shape and product creation while engineers are used to bring the visioned products by the designers in daily use, some call it teamwork.
53 years have gone by but Continental AG is still the father of General Tire's technology. Where Continental AG itself evolved into a major supplier of transport correlative products to Tires, i.e. brakes, vehicle stability control systems, tachographs (Read: Speedometer), Chassis and safety, powertrain, etc, while General has only scored XP 2000, recent Euro series and some tires for the rural sector.
53 years have gone by and we are still importing motorcycle tires which are one of the most used means of transports in Pakistan.
The way to redemption for General Tyre maybe tough but not impossible; product innovation in the transport industry through folks who are eager to bring the country in the ring of titans. But what can we do when the company itself lacks vision, or vision itself is useless unless you try to pursue it.
As Tony Stark rightly said,"It's not about me. It's not about you, either. It's about legacy, the legacy left behind for future generations. It's not about us!".