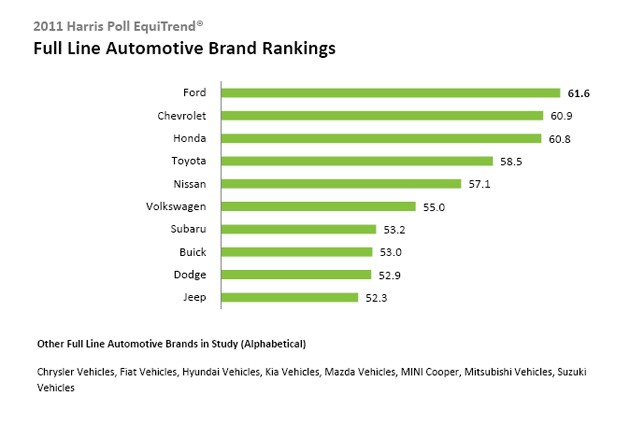 Ford, Mercedes Benz named best out of 1,273 brands
The latest Harris polls have arrived after interviewing a total of 25,099 people aged 15 and plus. Each brand was given a total of at least 1,000 responses, rankings were distributed based on the calculation of familiarity, quality, and purchase consideration.
In the automotive sector, Ford came first in full-line automotive brand followed by Chevrolet while Toyota fell at 4th behind Honda. Even though Hyundai and Kia didn't made into the top 10 of full-line automakers, but they were shown as fast risers.
Mercedes Benz won the best luxury brand award after Lexus slipped to number two position followed by BMW, Infinity and Acura at 3, 4, and 5 respectively.
The brands that made to the top of full-line and luxury automakers made by scoring the most in terms of customer connection, commitment, equity and trust.
Here's the press release:
Domestic brands grab the top two spots in the 2011 report; Mercedes-Benz ranks highest among Luxury Brands; Kia and Land Rover show largest brand perception improvement among consumers.
New York, N.Y. – March 22, 2011 /PRNewswire/ – Continuing their steady climb back into the hearts and minds of consumers, domestic brands Ford and Chevrolet nabbed the top two spots in the 2011 Harris Poll EquiTrend® study while last year's highest ranked brand, Toyota, fell to fourth in the rankings, behind Honda. The 2011 Harris Poll EquiTrend® Full Line Automotive Brand of the Year is awarded to the highest ranked brand in this category. Overall, awards are given in each of 46 different categories.
Mercedes-Benz ranked highest among Luxury Automotive brands and was named 2011 Harris Poll EquiTrend® Luxury Automotive Brand of the Year with last year's highest ranked company, Lexus ranked second, followed by BMW and Infiniti.
"Improved product among the domestic automotive manufacturers is clearly having a positive impact on consumers and their perceptions of Ford and Chevrolet," said Carol Gstalder, Senior Vice President of Business and Industrial Research at Harris Interactive. "Both award recipients – Ford and Mercedes-Benz – have faced recent challenges, but both have introduced strong new and redesigned products. The opportunity is sustaining this improvement in the face of increased competition."
Automakers that showed the greatest improvement included Kia, Land Rover, Acura and Audi. Hyundai and Subaru have also shown steady improvement each of the past four years.
"Traditionally strong automotive brands are being challenged by up and coming brands, Kia and Hyundai, that are offering strong value propositions with improving product quality," said Gstalder. "If the economy continues to remain stagnant and gas prices continue to rise, these brands will be positioned to increase their market share."
Additional automotive categories measured and awarded "Brand of the Year" include Automotive Service Centers (Goodyear), Automotive Tire Brands (Michelin), Gasoline Retailers (Speedway Gasoline), Motor Oil (Pennzoil Motor Oil) and Motorcycles (Harley Davidson).
Methodology
The EquiTrend® study evaluates measures including: Equity, Consumer Connection, Commitment, Brand Behavior, Brand Advocacy, and Trust. The keystone to the program is Equity, which provides an understanding of a brand's overall strength and is determined by a calculation of Familiarity, Quality, and Purchase Consideration.
This year's Harris Poll EquiTrend® study was conducted online among 25,099 U.S. consumers ages 15 and over between January 11 and 27, 2011. A total of 1,273 brands were rated in 53 separate categories. Each respondent was asked to rate a total of 60 randomly selected brands. Each brand received approximately 1,000 ratings. Data were weighted to be representative of the entire U.S. population of consumers ages 15 and over on the basis of age, sex, education, race/ethnicity, region, and income, and data from respondents ages 18 and over were also weighted for their propensity to be online.
These statements conform to the principles of disclosure of the National Council on Public Polls.
The EquiTrend® study results disclosed in this release may not be used for advertising, marketing or promotional purposes without the prior written consent of Harris Interactive.
Product and brand names are trademarks or registered trademarks of their respective owners.
For a complete listing of all the brands covered in the study, contact Dagney Cassella at 212-539-9600 begin_of_the_skype_highlighting 212-539-9600 end_of_the_skype_highlighting or [email protected]
About Harris Interactive
Harris Interactive is one of the world's leading custom market research firms, leveraging research, technology, and business acumen to transform relevant insight into actionable foresight. Known widely for the Harris Poll and for pioneering innovative research methodologies, Harris offers expertise in a wide range of industries including healthcare, technology, public affairs, energy, telecommunications, financial services, insurance, media, retail, restaurant, and consumer package goods. Serving clients in over 215 countries and territories through our North American, European, and Asian offices and a network of independent market research firms, Harris specializes in delivering research solutions that help us – and our clients – stay ahead of what's next. For more information, please visit www.harrisinteractive.com.