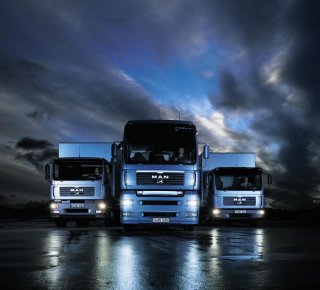 German truck and bus maker 'MAN' to set up production plant in Pakistan
Despite the lackluster economy, cars and motorcycles sales have seen record figures this year even though the prices are unreasonably high at a level which doesn't justify the value for money they are priced at.
Still though, German trucks and bus making giant, 'MAN' is looking forward to open up a production plant in Pakistan. It is still not clear whether will it only entertain the Pakistani demand of trucks and buses or use this plant to export to other countries in the region.
Majority stake was acquired by Volkswagon in July 2011 and according to our intuition, MAN already has Joint ventures set up in various countries in our region, India and China to name a few. The sales of trucks and buses are very slow due to the economy so we believe that this is a venture by the German automaker to create it's foothold as the small cars market is very huge here and later on, VW may also follow once MAN has become operational.
The Head of Commercial Section, German Embassy, Samy Saddi revealed this news while talking to LCCI President Irfan Qaiser Sheikh here on Wednesday.
The investment deal would be finalized when the German agricultural minister will come to Pakistan while the diplomat also revealed that the German companies are interested in investing in alternate energy sector of this country to help overcome our energy crisis.
Moreover, there are many more companies interested to invest in this country and so far, we'll remain optimistic that our options for new car buying may increase after the German minister's visit.