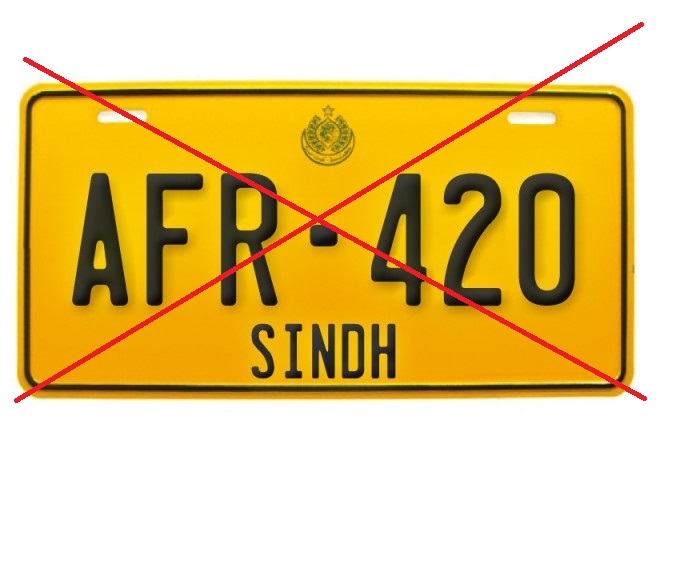 Sindh government to introduce 'Secure' license number plates
Tempering of number plates has been a common security problem in Pakistan. Therefore, the Sindh government has decided to introduce 'Secure' licensed number plates to prevent tampering of number plates for security measures. Tampering of number plates has been commonly practiced for stolen vehicles.
Confirmed sources revealed that the new secure licensed number plates will have an ingrained security feature to be scanned by scanners and planted equipment at different toll plazas. The Sindh excise and taxation department is going to launch these plates by the start of next fiscal year i.e., 2015-2016. The department is expected to sign a contract with one of the German companies for the manufacturing of these plates.
According to the Sindh Excise and Taxation department, the new secure licensed plate will have multiple security facets. The plate will be affixed with the body of the vehicle which will minimize the chance of it being stolen.
The Excise and Taxation department's director general, Muhammad Shoaib Ahmad proclaimed that the new license plates will comprise of a laser serial number that will be scanned by a security camera once the vehicle comes at face to the toll plaza. Furthermore, the plate will be made from a special material that would make it difficult to be replicated locally. The plate will have a prominent Sindh Government's logo as well, he added.
The allotting of number plates will be categorized in three phases particularly: The first phase will focus on newly registered cars while the second phase will include rickshaws and motorcycles. However, in the third phase, vehicle owners who want to get their number plates replaced will be allotted new secure licensed plates for a certain sum of rupees.
Let's hope that this endeavor of Sindh government proves fruitful in bringing peace and reviving the law and order situation of the province.