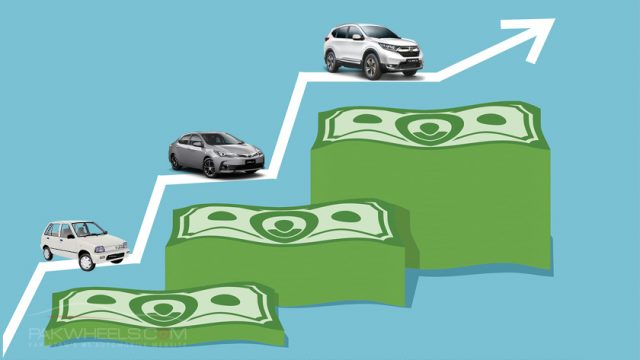 The federal government and local car manufacturers will reportedly discuss the increasing car prices in the country at the end of this year in December. Both sides will hold negotiations before discussing the new auto policy.
Pakistan First Auto Development Policy (ADP) 2016-2021 will expire on June 30, 2021; hence, two sides will sit and negotiate the new policy.
Talking to media, Toyota Indus Motor Company (IMC) Chief Executive Officer Ali Asghar Jamali stated the companies are increasing the prices due to high taxes. "A relief in the tax will eventually result in price reduction," he said.
Jamali further said that auto sector has submitted its proposal for rationalizing the taxes to the government. "If government will remove federal excise and additional customs duties, the manufacturers would decrease the car rates," he asserted.
The IMC CEO further said that the government has agreed to review the taxes in December, when the government and auto industry will renegotiate the auto policy.
Recent Car Prices Hike:
It is pertinent to mention that, despite decrease in dollar price, IMC and Pak Suzuki increased the prices of their different models. Last week, IMC increased the prices of its latest model, Yaris, by Rs40,000. The company hiked the rate of all variants of the car.
According to a notification, the company implemented new prices from October 13, 2020.
The notification read that the base variant Yaris 1.3L MT now costs Rs2,509,000, comparing to its old price of 2,469,000. Meanwhile, the 1.3GLI CVT's new price is Rs 2,689,000, after a jump of Rs40,000 from Rs2,649,000.
Furthermore, the revised rate of 1.3 ATIV MT is 2,619,000, compared to oil price of 2,579,000. The notification also read that 1.3 ATIV CVT now costs Rs2,769,000, 1.5 ATIV X MT will cost 2,829,000.
Meanwhile, the price of top-of-the-line variant 1.5 ATIV X CVT has reached near Rs3million as its new price is 2,999,000 from its old rate of Rs2,959,000.
Moreover, Pak Suzuki increased its car prices up to Rs42,000 earlier this week. The company has revised the prices of Alto Wagon R and Swift. According to the company's notification, the new price of Alto VXR and Alto AGS has seen a jump of Rs35,000 and now costs Rs1,433,000 and Rs1,633,000 respectively.
Meanwhile, the new price of WagonR VXR is 1,640,000 after an increase of Rs42,000 from its old rate of Rs1,598,000. Moreover, WagonR VXL now costs Rs1,730,000, compared to old rate of Rs1,695,000.
Furthermore, Swift MT has seen a jump of Rs35,000 and now costs Rs2,030,000, while Swift AT's new price is Rs2,140,000 after witnessing a hike of Rs35,000.