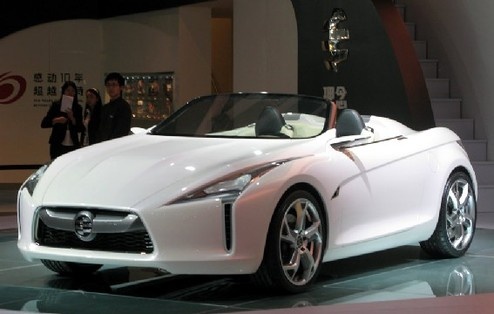 Guangzhou Auto Interested In Exploring Pakistan Auto Market
At the recently held Asian Games in Chinese city Guangzhou, the Chairman of Guangzhou Automobile Industrial Group (GAIG) Zhang Fangyou called on President Asif Ali Zardari and showed keen interest in explore business opportunities in Pakistan. President Zardari appraised the head of the Chinese auto and truck manufacturer of huge potential of automobile industry in Pakistan. He directed the Chairman Board of Investment Saleem Mandviwala to stay back and discuss the prospects of GAIG's operations in Pakistan.
GAIG is one of the largest auto manufacturers in China and is engaged in research and development, manufacture and sale of passenger vehicles, commercial vehicles, engines and auto parts. The Company also engages in a range of automobile-related services and other businesses, including car rental, after-sale services, import and export of automobile-related products, logistics services and auto insurance brokerage services.
GAIG has joint ventures with leading auto manufacturers of the world, including Honda, Toyota, Fiat and Mitsubishi & dominates the Southern Chinese auto market with its Honda branded vehicles. GAIG also has a huge portfolio of manufacturing buses using Isuzu & Hino technology, light duty trucks, motorcycles and special purpose vehicles.
GAIG possesses 112 subsidiaries and numerous enterprises, including Guangzhou Honda Automobile Co., Ltd., Guangzhou Toyota Motor Co., Ltd., Honda Motor (China) Co., Ltd., Guangzhou Isuzu Bus Co., Ltd., Guangzhou Denway Bus Co., Ltd., Guangzhou Yangcheng Automobile Co., Ltd., Guangqi Toyota Engine Co., Ltd., Guangzhou Automobile Group Component Co., Ltd., China Lounge Investments Limited, Guangzhou Automobile Group Business Co., Ltd., and Guangzhou Automobile Industry Park Co., Ltd., etc.
While looking at the current GAIG offerings in China, it seems as if they will be just another Chinese auto manufacturer selling their buses & trucks in our country, obviously we cannot expect GAIG to sell Honda or Toyota badge cars here. But we do see the light at the far end of the tunnel.
In addition to what GAIG produces with their joint ventures, they have bigger plans creating their own brand cars. They have purchased rights of an out gone Alfa Romeo 166 platform from their joint venture partner Fiat and have come up with a high-end saloon called Trumpchi. The Trumpchi is powered by a 2.0 liter twin-spark engine while GAIG is also working on a 1.6l & 2.4l as well as a 2.4 liter diesel engine for the Trumpchi. Production of Trumpchi has already started and is expected to hit the market soon starting from just 130,000rmb which is only around 16.6 lac PKR (straight conversion). In addition to Trumpchi, GAIG showed an array of concept cars at recent auto shows including Cabriolet, Cabrio-coupe & SUVs, all of which are expected to go into the production after Trumpchi.
Not only this, but GAIG is also working closely with Honda on another independent range of vehicles, called as LiNian. The LiNian concepts, including the hatchback & the roadster stunned the crowds at recently held auto shows. In addition to the mentioned two, LiNian is working on Everus sedan which is based on the 4th generation Honda City. The Everus first appeared at the Beijing Auto Show earlier this year and recently, spy-shots of
camouflaged Everus have leaked on the internet which affirms that the car is in the final stages of testing and will hit the market by the beginning of 2011 as stated by GAIG. Everus will likely be the center of attraction at the upcoming Guangzhou Auto Show, scheduled to start from December 21st 2010. Guangzhou Auto Show is supposed to be the second largest auto exhibition in China after Beijing Auto Show.
GAIG works with mature global auto industry leaders like Honda, Toyota, Fiat & Mitsubishi and enjoys the technological benefits thus having an edge over other independent Chinese auto manufacturers like Chery, Geely & Greatwall. They are very quickly moving on the coarse of producing a range of impressive vehicles. Trumpchi & Everus will be available in the market by 2011 while the rest of the lineup may come to production very soon.
At this stage it is all too early to say anything since we have just got the news of GAIG showing interest in exploring our market; we will have to wait to see if anything shapes up. And if it does, then probably four or five years down the line we might be able to see the above mentioned GAIG products on our roads.
New Car buyers in Pakistan have the least possible options to choose from compared to the rest of the world. We are quite sure if given a chance, they will definitely opt for something different, something better, something new & something Chinese.