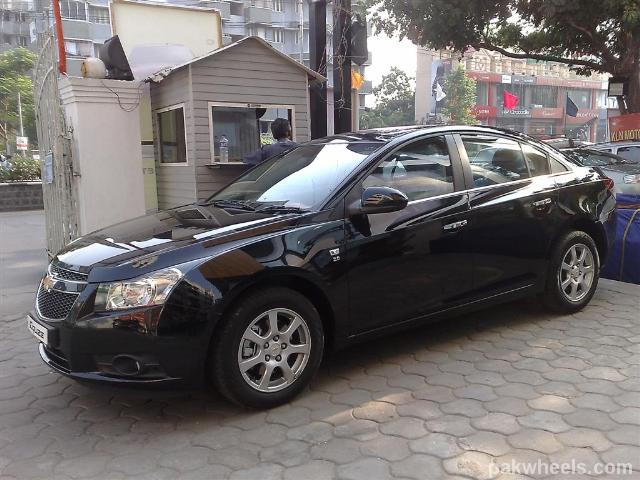 Chevrolet Cruze – Test Drive Review
A review of the first Daewoo Chevy that is world class and merits special treatment.A great effort , i might add. Had the opportunity to take a test drive this afternoon and sharing my impressions and pics for many who requested clearer pics and some more info on the car. The car is loaded to the gills with features of all kinds, but thankfully the audio controls are simple and easy to locate for neanderthals like myself.
Car Driven: 2010 GM(India) Chevrolet Cruze 2.0 LTZ/Diesel sedan, made in Halol – Gujarat.
What i like:
Overall looks(front especially), fit and finish.
Excellent brakes.
Powerful and throaty 150bhp 2.0liter diesel powerplant for a car of it's size.
Dash board and controls.
What i don't like:
Rear design(too heavy).
Rear seating space.
Quality of plastics in door panels.
Storage space is limited. Hard to store water bottles and the like.
Price on the road ex-Chennai RS12.99lacs, Cruze costs 2.5 Million approx through dealership.
Design:
Exterior(Front & Rear):
This is what gives the plot away, a bit, IMO. I could think up of several design elements that would have complemented the excellent and aggressive front than this typical boxy rear end design. I guess the designers had to bow down to practicality. All the pics in this thread are of the test car which i had the pleasure of driving.
Interior/Dashboard:
The dash board makes up for lack of leg space and other minor niggles in the interior as i see it. Dollops of chrome surround every gauge and knob. There's every kinda geegaw from tripmeter, cruise control, distance to efficiency(dte), multi-information display, tachometer, speed/temp gauges and parking sensors, which is a big plus for making parallel parking a less gut wrenching experience. There is no ignition key in this car(keyless entry). You get a small plastic box like a fob and as long as you carry it with you, will automatically unlock the doors as you walk towards the car(1 meter distance). Walk away and it will automatically lock the doors. You press a 'Start" button on the left of the dash to power the engine.
Interior seating is a little tight for really tall drivers but adequate for others upfront. In the rear is a different story.Ingest a tub of biriyani with brinjal curry and you will be hard pressed when trying to exit. I blame the seats more than space.The car does have adequately high ground clearance and one feels quite high up while on the road though it does look like a low slung car in stance.
The factory fitted 6-cd/mp3 changer is really good and unless one's a sound freak, there's no need to replace it.All controls are easy to locate and operate. The sound system is speed/noise sensitive and automatically adjusts itself accordingly.
The LTZ model is equipped with a factory fitted electronically operated sunroof.The test car has one. If you look closely you can make it out.Also, there is better sun-proofing in this car than many other new models i have seen here recently. The glare is much less.Add, airbags, ABS/ABD, steering mounted audio controls, electronically adjustable/foldable mirrors and leather seating to the never ending list of features in this car, including emergency exits!
I'll give the interior ergonomics an 8/10
The gearshift in the test car was a bit notchy, but a vast improvement over the Optra. The Indian Optra has a rather nice aero front end, but in comparison with this car the Optra now looks like an old hand maiden long past her prime. The Optra will continue to be sold at a much lower price (RS8-9lacs) for the budget conscious buyer. Suspension is taut and i can visualize this car being taken for a spin on a track and holding up rather well.
Engine:
Push the 'start' button and the CRD(Common Rail Diesel-150bhp & 327Nm of torque @2600rpm) beast comes to life. This is the best part of this car. Sheer joy and you would never feel you're driving a diesel.You can floor this thing and it leaps like a cat going after prey. The braking is awesome and specs can be found in the website. I drove this car in congested Saturday afternoon traffic and didn't feel any turbolag as mentioned by other drivers. Maybe i was gentle on the pedal. I wouldn't bother waiting for the petrol and pray for an early release of the automatic tranny version, which is awaited.
Boot space is 450 liters:
The little yellow lever is the emergency exit helpline. One has to crawl through the rear seat and pull that thingy to freedom.
I wish there was less of the globs of plastic and the rear was more contoured to complement the coupe stance of this car. Notice the absence of 'amber' turn signal lights on all new Indian cars as GOI regulations permit only 'red' lights now. Same in the new TATA Manza sedan too.The Cruze is 100% all-Indian equipped with locally sourced components and manufactured at GM(India)'s factories located at Halol in Gujarat state. The price is cheaper by approx. RS50,000 in north-central and western India compared to the South as transportation and other State taxes are added on. Hyundai, Ford, Mitsubishi and BMW cars are cheaper in Chennai as compared to the rest of India as they're made locally. Overall, i rate this car 8/10 for looks, 9/10 for the CRDi powerplant, 8/10 for ergonomics, 7/10 for rear seating and 10/10 for equipment and trim levels. The price is reasonable for the features on offer. This is my review of the Cruze.