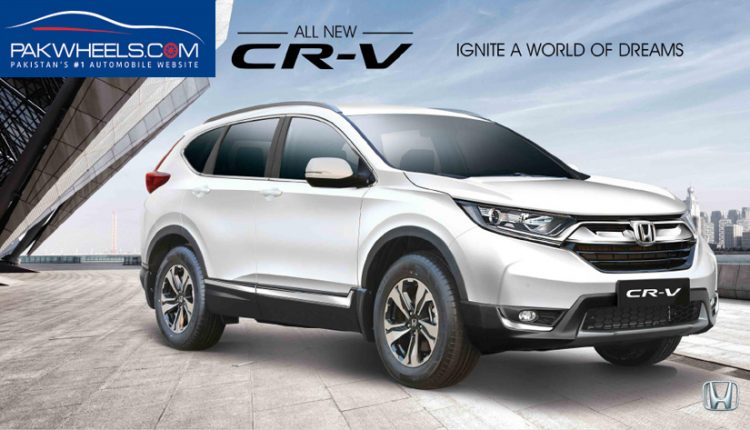 Has Honda Pakistan Missed the Bus in SUV Race?
Did Honda Atlas Pakistan underestimate the segment and the market trend? Is it too late? I think there is still time to correct the course of action to remain relevant.
Global SUV Craze: 
The craze for the Crossover Utility Vehicles / CUV and Sports Utility Vehicles/ SUV is increasing day by day. Every other manufacturer is bringing in their version of SUV or crossovers simply because there is a lot of demand. Globally conventional sedans sales have hit negative, and buyers are more towards anything riding high off the ground. The brands like Toyota and Honda already have a decent number of offerings in the CUV/ SUV range.
Honda Atlas, KIA, Hyundai and Pakistan: 
The new entrant in Pakistan took the opportunity, and Sportage's introduction has shown the same trend in our market. Tucson will further solidify that consumers in the Pakistan market also move towards this new segment previously unknown. Corolla and Civic's sales decline statistically verify that buyers are moving towards crossovers currently available in the market.
In our market, Sportage and Tucson are well known and attractive options, but globally, bigger players are ruling. Products like Honda CR-V and Toyota RAV-4, which sold over 700,000 units globally and best-sellers, are way ahead in sales. And no one needs to prove their success, refinement, and acceptance. Briefly, Tucson and Sportage are not bad vehicles at all but globally, and in other markets when it comes to options, CR-V and Rav-4 take priority among buyers.
What Honda Atlas Could've Done? 
Arrival of Sportage and Tucson in Pakistan was well known and crystal clear since the start of 2018 when Hyundai and KIA just started erecting their assembly plants. We should appreciate KLM for their very aggressive operation. Within 18 months since the signing of their contract with the Government of Pakistan, they established a new plant and produced a locally assembled vehicle.
The existing player like Honda and Toyota, with decades-old well-grounded footing in the country, was well aware of all the upcoming competition from Hyundai and KIA. Did they take it too light and irrelevant? Or like the same old mindset and typical cartelization, never bothered about moving in a different direction?
Well, Honda City, with ten years in production, explains it. Although both Toyota and Honda are relevant here, I will go over what Atlas could have done since 2018 after the market trend changed within the country and by new entrants.
Honda Atlas and CR-V:
CR-V is a very well-known and awarded vehicle in the compact crossover segment. If it sells over 350,000 units just in the US per year and sold over 750,000 units in 2019 globally, we must accept there is some flare in the product. Currently, it is the 5th Generation and is produced in multiple countries and sells over 150 countries.
The 5th Generation was revealed in October 2016 in the United States in 2017 onwards, and it started showing up in different markets. CR-V costs around the same as Sportage or Tucson in the overseas market, and they compete with each other is the same segment.
Honda and CR-V (CBU): 
Honda Atlas also introduced it in Pakistan but as CBU in May 2018 for Rs9.5 Million, which now costs near Rs12 Million. The company is importing a 2.0L Naturally Aspirated front-wheel-drive model with around 151Hp and CVT transmission.
Obviously, at this price,  no one would buy it as CBU when Sportage and Tucson options are available at half the price, regardless of how well built, profitable, and better equipped is the CR-V.
The Honda Atlas could work it out "IF THEY WANTED" and locally assemble it at Manga Mandi Lahore as CKD. The current fifth-generation CR-V shares platform, engine options, transmission, and other components with the 10th Generation Honda Civic, which Honda Atlas is already assembling locally. The CR-V sits higher from the ground; but driving dynamics wise, it is like Civic, well planted to the road.
Local Facilities for CR-V:
CR-V is available in different engine options globally, and the 1.5L Turbo engine is one of them, which is the same as in Honda Civic. In CR-V, the same engine produces around 190HP and uses the same CVT transmission as in the Civic. The 1.5T is also available both in AWD and FWD options.
Furthermore, CR-V is also available in 2.4L Petrol, 2.0l Petrol hybrid, 1.6L Turbo diesel. Interestingly, the CR-V is also available in third-row options in limited markets like Indonesia. Just an added info, Honda Atlas follow Honda Indonesia for the development of their local Pakistani products. Honda Atlas could have developed a 2.0L CR-V as well as 1.5T CR-V.
So, although CBU is not the winning formula and will never be, Atlas could have worked on the development of CR-V as PKDM instead. As I said, it shares components with Civic and shares a platform as well. We can say some work was already there while developing a local Civic. In other words, a CKD CR-V would have lesser developmental costs. The current CR-V will remain in production for the next two years globally.
Has Honda Atlas Missed the Bus? 
If Honda Atlas wanted and took things seriously back in 2018/2019, they could have produced a CR-V locally and given another option to buyers. I am sure if they did their homework correctly and precisely, CR-V could have given a very tough competition to Sportage and, for that matter, Tucson or another entrant. A 3-row version would have made things attractive as well.
Global CRV and Honda Civic prices are close to each other depending upon market and variant. That is why people are jumping onto crossovers because of their utility over sedans. And that is the main reason for lower sedan sales. I think a good market research and development work by Atlas could have resulted in PKDM CR-V.
The only major problem I see with all this is "The Intentions," which lacks Atlas. They still think the market is the same, and consumers have no options, but that's not the reality. If they want to survive as a company and brand, they need to work and think seriously about their offerings and explore the broader segment now wide open for playing.
I didn't bring Toyota RAV-4 into this equation because that's an entirely separate subject and requires groundwork for TNGA, which is also the basis of the 12th Generation Corolla. For them, Corolla Cross as CBU might not work as well. We can discuss that next.
Would you take CR-V if you have an option?
*This is an opinion piece and it is not necessary that company agrees with its content.