The prospect of owning a car is very special, as it represents the financial independence of an individual in a lot of countries. Recent years have been very kind to the auto-financing in Pakistan. When the auto financing was launched back in 2004, the banks decided to open their auto-financing based on easy credit, which turned out to be a real benefit for Pakistanis, because car loans were sanctioned by 14-18% by banks. But this market leading expansion was brought to a sudden halt in 2010-2011, when the country's banking sector decided to adopt extreme measures to counter high default rates. The reason being, till 2010 more than 265.5 billion rupees had totalled up the consumer finance sector, which included Car loan of approximately up to 66.4 billion rupees. Because of the strict measures to fight high default rates, car financing became more difficult and market displayed a dismal picture of -3.9% growth in the year 2011.
But these strict policies weren't imposed for very long; the country's improving economical footing had brought in some investors who saw the potential. Companies had started to invest more in auto-financing to afford their fleet of cars. At the end of fiscal year 2013-14, auto-financing sector witnessed a momentous growth of 371.4 billion rupees and the credit to private sector posted an all-increasing growth of 11.1%. In 2015, when the government decided to allow car loan of up to 9 years old vehicles by making some amendments, the growth of the market increased by 20% as compared to previous year's market.
So according to the picture that is painted above with market statistics, you might be wondering how is it related to this blog entry? Well, a little bit market insight was needed to pave the way for this particular entry.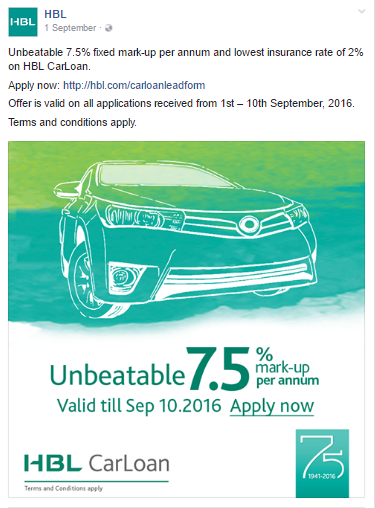 And now, we come to address the 'elephant in the room'. Earlier last month, HBL launched perhaps the lowest mark-up rate auto-finance scheme in the recent history of auto-financing in Pakistan. And as per company's advertisement, this scheme had an unbeatable 7.5% mark-up per annum and lowest insurance rate of 2% on HBL Car Loan. The offer was valid from 1-10th September, 2016.
This blog entry is particularly aimed at why and what has HBL achieved by introducing this scheme. Apparently, the bank -celebrating its 75th birthday- decided to launch this scheme. And, as per a company official
The response we received in the short duration of this scheme was unexpected
As per an industry specialist:
HBL has managed to convince people (with this scheme) who were planning to apply for a car loan next year, which in simple words mean that HBL has managed to capture clients in advance and is in quite a lead as compared to other banks
Till now everything seems to be fine for the bank and the consumer. However, in reality things aren't as smooth as the bank is trying to portray to its customers. There is a TAT (Turn Around Time), which is a time limit allotted to each case and normally it is off 10-15 days for the processing of a case. However, in the context of this scheme, the time frame for a normal TAT has elapsed (As the scheme started lasted till 1-10th). And sources report that so far not a single car has been released under this scheme. Moreover, a select few people have been approached by the bank with the following message:
It is to inform you that your Car Loan application under the HBL 75th Anniversary special offer is in process. You are requested to please contact your branch for provision of further information or documents in relation to your application.
As we mentioned earlier, this message has been delivered to a few people and so far, (according to our sources) no car has been released under this scheme. Apparently, the bank has played it safe by getting people to sign on a clause in their 'Terms and Conditions' -TAT does not apply to this scheme-. In simple words, that avenue of legalities has been closed and now the only thing customers can do is to withdraw their cases or inquire about the case updates from their relevant branches. It should also be noted that customers should expect to hear something along these lines:
Sir/Madam, you will be notified once any progress is made. In the meantime, you are advised to have the recent salary slip with you
Before we move on, it is imperative to mention that the acquisition of salary slip from the customer at the month turnover, is not a discrepancy. It is required (by almost all banks of Pakistan) to attach recent salary slip with each case for its processing and approval. With legal grounds closed, it seems that the bank is trying to hold its customers with stalling tactics by utilizing the new salary slips, which is very strange as the agents are compensated for the clearance of each case.
And now, we come to the question we asked in the topic of this blog entry "Was HBL 7.5% Car Loan a Marketing Tactic?" It would seem so, as the bank managed to gain a lot of applications with its lucrative offer of the lowest mark-up rates of 7.5% (per annum). The only point of concern is, that the bank managers themselves do not seem to be educated on the bank's policy on this scheme and the lack of evidence of any released car under this scheme is painting a very bleak picture and raising a point of serious concern. We hope that the bank management releases some sort of timeline or some solid words in this regard, as a lot of Pakistanis will be waiting anxiously to hear about the progress of their cases.