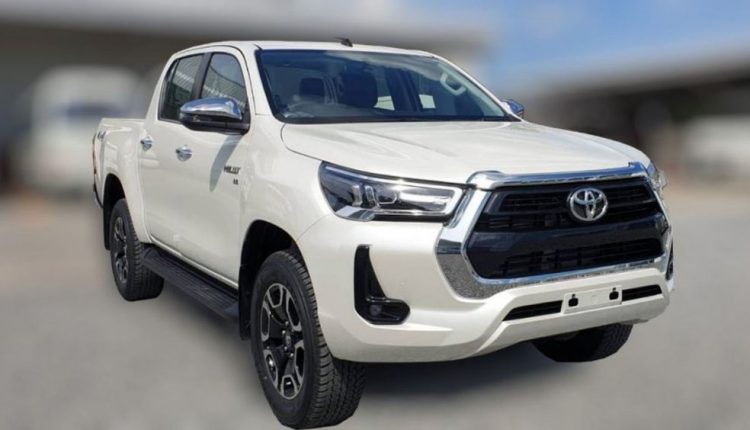 Here are Specs and Features of Toyota Revo Facelift
Recently, the reports emerged that Toyota Indus Company (IMC) has launched the facelift of Toyota Revo. As per details, the new car has a number of changes, including exterior, interior and engine power.
In this article, we would highlight those differences between the old Revo and the new one so that you can understand the new vehicle properly.
It is pertinent to mention that this comparison is between old and new variants of Revo V Automatic, which is the top-of-the-line variant of the car.
Engine and Transmission: 
Both old and new cars come with a 1GD-FTV 2755cc 4-cylinder engine. However, the company has added 27hp and 50Nm Torque in the facelift, making it more powerful.
Meanwhile, both machines have 6-Speed Sequential transmission.
Headlights and Fog Lamps: 
Furthermore, old and new one, have LED Headlights and LED Foglamps. It means the road visibility at night would remain the same.
Power Steering: 
IMC has installed Variable Flow Control Power Steering in the new Toyota Revo V, which was not available in the old one. This type of steering becomes stiff at high speed, which means the car would deviate less at the high-speed, reducing crash or accident chances. It implies the facelift would be safer as compared to its old version.
Limited Slip Differential: 
The new Revo V would also come with the feature of Limited Slip Differential, as the previous variant did not have this option. The Limited Slip Differential gives equal power to both wheels, increasing the car's reliability, especially in an off-road situation.
Speed Auto-Lock Torque Convertor: 
In the facelift, IMC has also introduced Speed Auto-Lock Convertor, which was not offered in the last variant. This convertor helps the car in maintaining one-gear at a constant speed. In the old variant, Revo V's automatic transmission used to change the gears as per its understanding, for example, changing to 5th gear from 6th, if there is even a slight change in the speed. However, this new feature will set a gear and will not change unless there is a major change in the car's speed.
Follow Me Home Headlights: 
The new car has Follow Me Home Headlights, meaning the car's front lamps would remain on for sometime after being parked. IMC hadn't offered this feature in the last variant.
These are changes in the new Revo V, and we hope that this would be helpful for you.