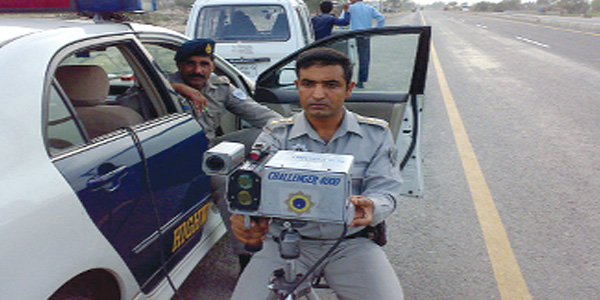 Here's how to escape a speed camera on Pakistani motorways
Note: The views expressed by the writer do not necessarily reflect the views and policies of PakWheels.com.
Maintaining a speed limit of 120 Km/hr is a true battle of nerves, especially when we don't have cruise control in our cars. For people who have a vast experience of traveling on motorway; also know a handy bit of tips for escaping an over speeding ticket on motorway. Although we at PakWheels do not recommend law evasive behavior however, its no harm in giving people some friendly advice like people do all over the world by blinking to notify other drivers of a speed camera upfront.
• The set speed limit for LTV's is 120 Km/h and we all assume that the one crossing 120Km/hr would be liable of an over speeding ticket. If you are driving around 120-130 Km/h or even 131Km/h, they won't stop you. But as soon as you touch 132Km/h you will be stopped for over speeding if you are in range of a speed camera.
• Speed guns used on motorway detect your speed from a range of 95 to 100ft. And don't think that if you have had a slight glimpse of speed gun from a distance, you are going to escape it. Your speed has already been recorded. One main reason behind this fact is that speed guns on motorway are usually set up on sharp turns which don't give you enough distance to take evasive action.
• Two most common points of speed cameras are chakkri and Salt range. And majority of tickets are issued in salt range for violating the speed limit of 50 Km/hr.
• Use of radar gun can also help avoiding a speed ticket. I recently experienced it along with a friend who bought a radar gun from Dubai, radar gun detects the active speed cameras from a distance of 150ft so you can just slow down before you get into the 100ft range of speed camera. Radar gun gives you a beep if a speed camera is active ahead. But I have heard that such instruments to detect speed camera are illegal on motorway.
We do not advise people to be dangerous and a potential hazard to everyone else around you, but rather we publish such tips so those who get fined for unknowingly being over the limit with a margin of few kms, can be ready.